'DIY PROJECTS PAGE'~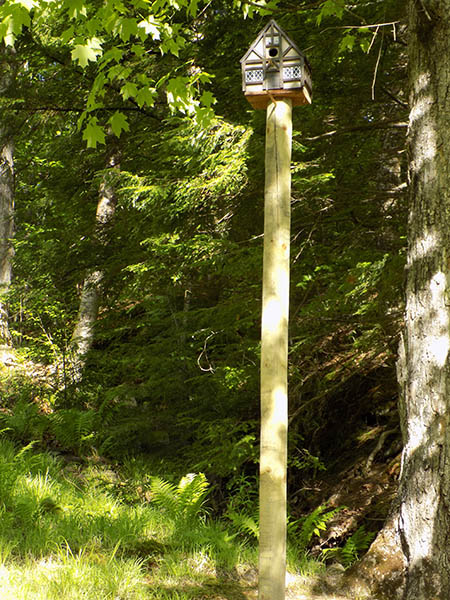 ________________________
Please note~
We are NOT on Facebook. The Country Lady Antiques on Facebook is an entirely different person and business.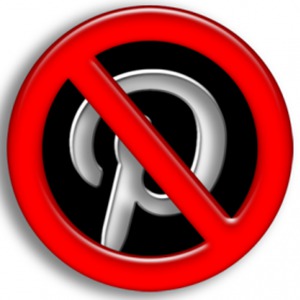 THIS SITE DOES NOT ALLOW PINNING TO PINTEREST.
Unauthorized use and or duplication of any photos/material on this copyrighted site without our permission is strictly prohibited.
__________________________________
TO VISIT OUR GALLERY PAGE, SCROLL ALL THE WAY DOWN TO THE BOTTOM OF THIS PAGE AND CLICK ON THE RED LINK THAT SAYS 'OUR GALLERY PAGE'.
_________________________________
ON THIS PAGE WE PERIODICALLY FEATURE PHOTOS OF JUST A FEW OF OUR MANY PROJECTS.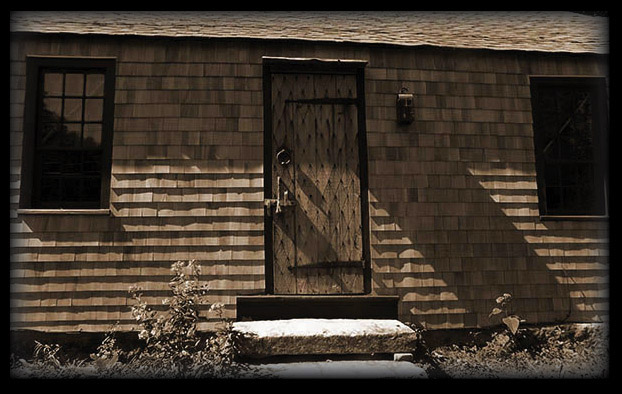 READ ABOUT OUR OWN STORY , THE HISTORICAL RESTORATION OF OUR OLD CAPE, AND TAKE A TOUR OF OUR EARLY HOME AND GARDENS ON OUR TOUR PAGE~
IN OUR OPINION...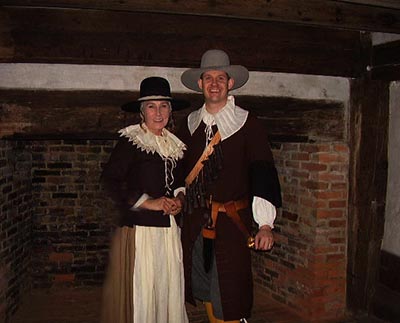 PERIOD DECORATING ADVICE~
I taught a class on antiques in a community college at one time, and I have received many kind compliments over many years on my home, projects, and antiques. We are longtime history geeks.
Our early cape is the oldest standing house in our little town. I had 17thc. antiques and decor---the 'cringe-y', so-called "pilgrim style" many years before it suddenly seemed to (sadly) became a 'trendy' thing.
SOME 'CRINGEWORTHY' DECORATING FAUX PAS WE WOULD NEVER DO AND NEVER RECOMMEND~
(We'll add to our list)
Most importantly, surround yourself with the things you truly love and have an affinity for. Don't follow the 'trends' or current fads. Don't 'decorate' in 'formula' styles, imitating each other. We see far too much of that out there.
All my life I have done my own thing and not cared what anyone else thought.
---Don't use old army blankets as bed hangings. (In the book 'New England Begins: The Seventeenth Century, Volume 1' you will see in brilliant color a photo of 17thc. bed hangings with similar colors and motifs to my own.)---The first colonists did not hang tatty 'army green blankets' on beds for hangings!
---Don't hang children's chairs (or any chair) on the wall.
---Don't try to replicate a 'Plimoth Plantation 'hovel look' in your HOME. Conversely, we often see inappropriately 'fancy' antique furniture in simple homes---We suggest you don't put a heavily, ornately carved Elizabethan table or an overly carved, too-tall 'castle' /mansion bed in your home, for example.
---JUST BECAUSE YOU SEE IT AT PLIMOTH PLANTATION DOES NOT MEAN IT'S ALWAYS 'CORRECT'------Plimoth not long ago had the renowned Stuart Peachey from the UK come and give them help and advice to correct some of the things they were doing wrong and portraying inaccurately.
---Resist the urge to put a lot of hornbeams, sacks of grain , foodstuffs, hanging rags, etc., all over every room of your home instead of in a buttery or the like, where they belong.
---No one back in the day would have owned umpteen hornbeams, or have too many pieces of iron at their hearth. A few well chosen and good pieces speaks far more eloquently.
---Don't put too many 'fake food' "vignettes" all over as if your home were a living history museum.
---REGARDING 'WALL-AGING'
~ I came up with an idea and formula to 'age' my walls/ceilings, and did them initially in 2000. I had not seen anyone do this before. After they were featured in a couple magazines, the idea exploded and it seemed everyone was doing it. The main problem I see is that so many are cringe-ingly overdone;
I have since re-done all my walls with a more refined formula. I've used believable color and a light hand, as well as a careful techinique and they look very authentically old, as I am often told.
Overdone 'aging' just looks, messy, unnatural, and not at all attractive. I use only 2 products on my walls, and none is paint or food. ---DON'T use paint or ANY food products to 'age' your walls---(I know one woman who diluted her trim paint with water and smeared it all over her walls, and another who used coffee, which will mold in time), and remember that less is more. Go easy. Be subtle, and you'll achieve a look that is warm, realistic, and believable.
---Don't 'ding up', break, stain, etc., reproduction pottery pieces that you buy, attempting to make them look 'old'. The fine craftsmen who make the pieces worked hard on them; Don't disrepect their work. Enjoy them as they are and allow them to 'age' on their own and become antiques in time.
---Resist the urge to buy modern lumber---boards from a home center or lumber company, such as 1 by 4's or 1 by 6's ---and put them on your walls in an attempt to create a 'half timber' or 'tudor look'. If you cannot save for or find original old boards, try to come up with a different way to bring an 'old' feel or character to your home.
---A big mistake---"Staging" your home instead of trying to blend your 21stc. life with the endearing elements of a past you love---If you have 'decorated' to the extent that you are forced to live in a 'modern' upstairs or basement room, you have gone too far.
---Don't make every room into an 'all purpose room'. Rooms in a home had specific function(s), especially if you are not living in a one-room hovel at Plimoth Plantation. An example is putting your best table and some of your finer accessories/possessions in your 'best', or social rooms. Don't make a bedchamber into a food or goods storage room as well.
---Along those lines, don't pile inappropriate things on every piece of furniture---I see so many piles of baskets on a cupboard, rumpled replica period clothing on chests or blanket chests, wadded blankets or bedding as well. This is some misguided attempt by some who should know better to again replicate a Plimoth Plantation one room hovel. The colonists were quite sophisticated people from England, and then having lived in cosmopolitan Holland for many years before 1620. They were neat, and wanted a nice home just as we all do. They only piled things willy-nilly because they only had one room initially and no choice for several years until they could construct the homes they desired.
---More is not necessarily better.
Resist the urge to put duplicates of one certain piece in a room. A good example is our triangular stool on the main room hearth---No one would have had 2 or 3 or more of those. Don't get a 'set' of what should be a rare and interesting addition to your period room.
Below, Mary and Adam hired to present 17thc. program at the historic Fairbanks house, Dedham, Mass.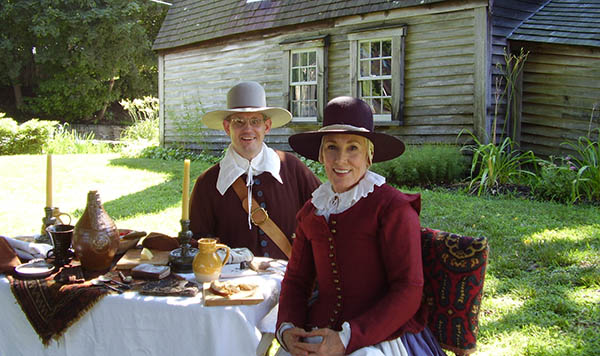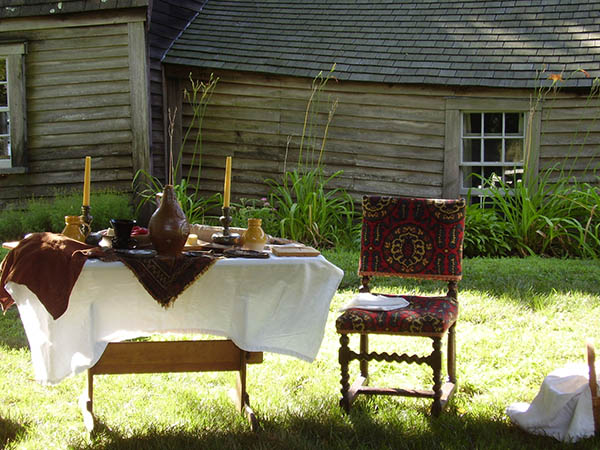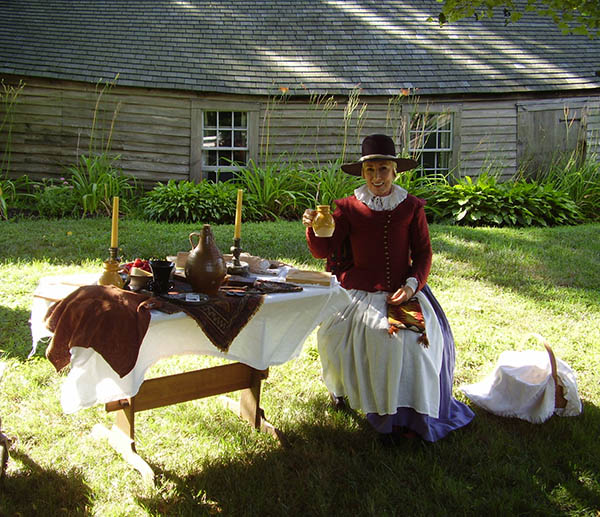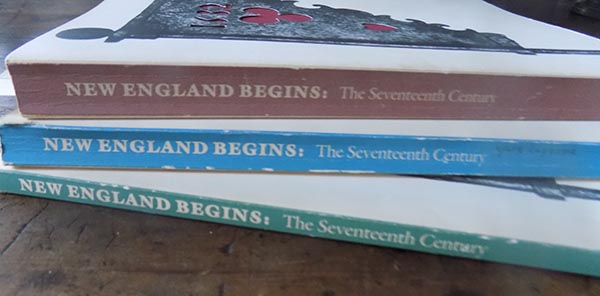 We are fortunate to have a set of 3 books that in our opinion are the best reference books we have in our own collection, and that we highly recommend to anyone interested in the history and antiques of early New England.
'New England Begins: The Seventeenth Century', Volumes 1, 2, and 3 are out of print, but you may be lucky enough to find them out there if you search. We can't stess enough how wonderful these books are.
HOUSE IS FOR SALE~
Contact Adam and Mary at
countryladyantiques@yahoo.com
PHOTOS OF US WITH STUART PEACHEY OF
'TALES FROM THE GREEN VALLEY'~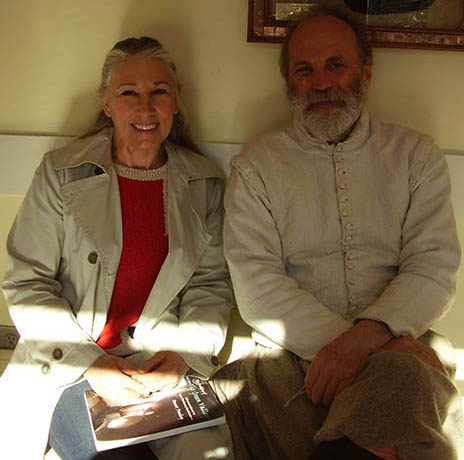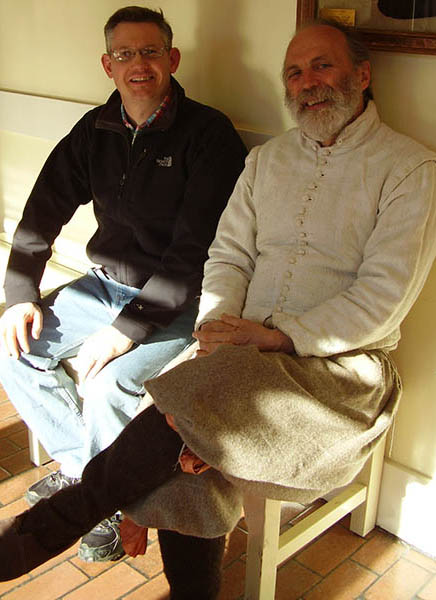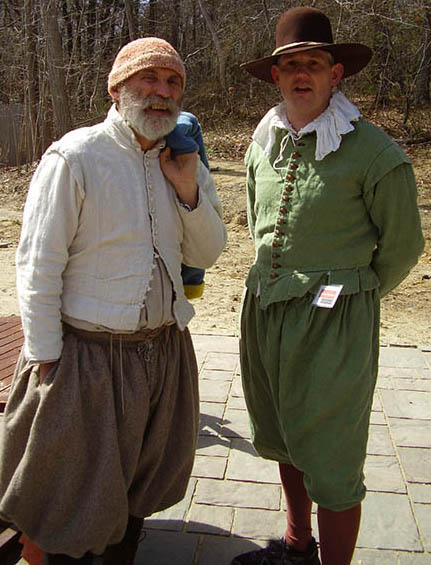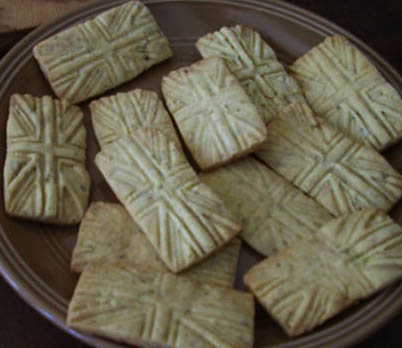 Adam and Stuart Peachey.
'Union jack' shortbread cookies we made as a present for Stuart.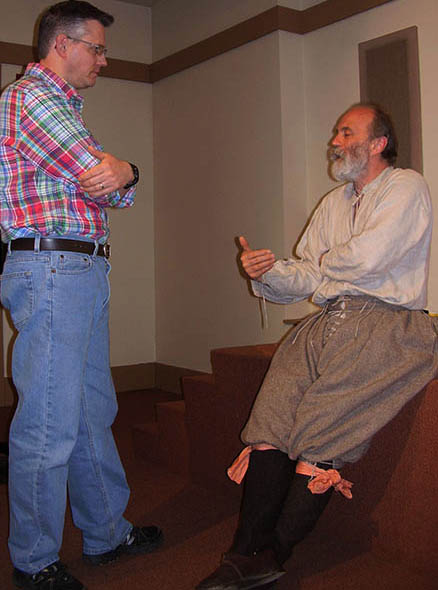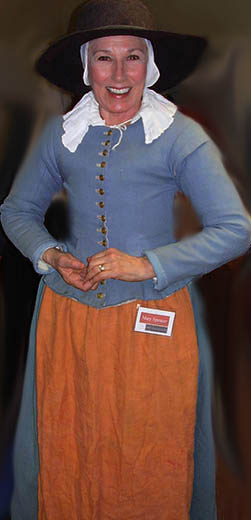 Adam and Stuart Peachey discuss the fine points of 17thc. clothing in England and America~
_________________________________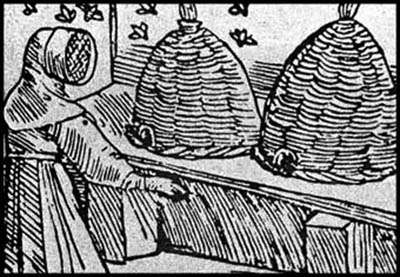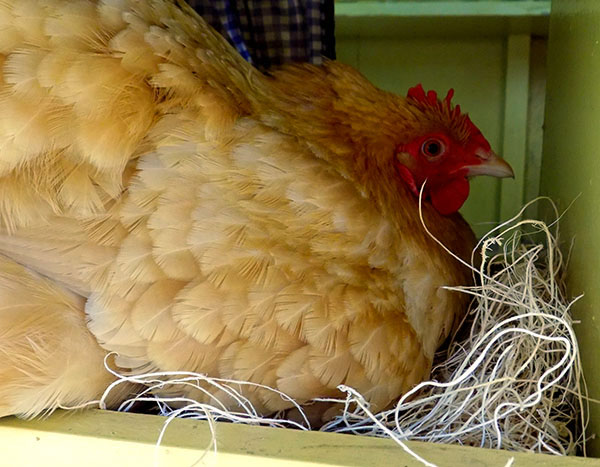 I will no longer be writing a newsletter, but thank you so much to everyone who enjoyed it and so kindly let me know.
___________________________________
A FEW PROJECTS~
We have DIY restored our entire 18thc. home ourselves. Periodically we feature some of our changing projects on this page.
EARLY SPRING 2019~
Projects we're doing now.
This year, we've added a baby Pilgrim goose, Mayflower, and 2 ducklings, Jemima and Charlotte to our 'old homestead flock'. We've developed an area for their own little coop and run, and are building a duck pond.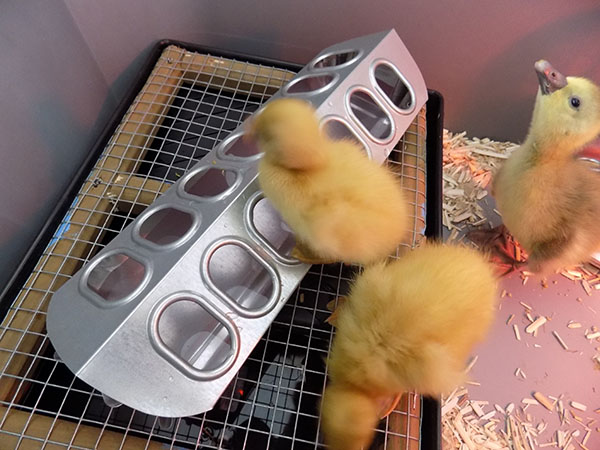 From this...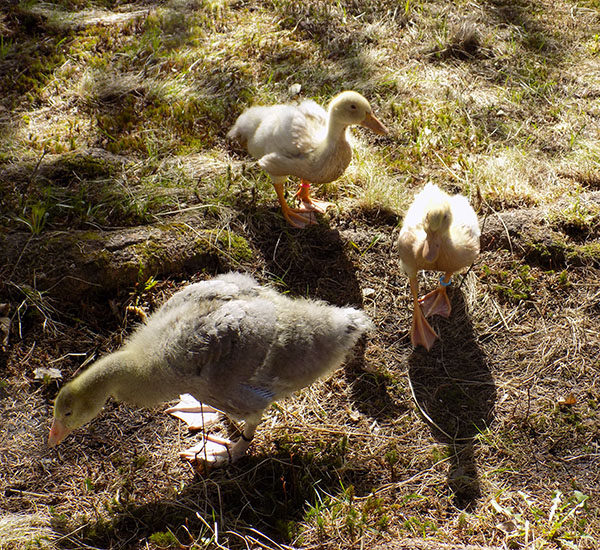 to this, in ONE MONTH!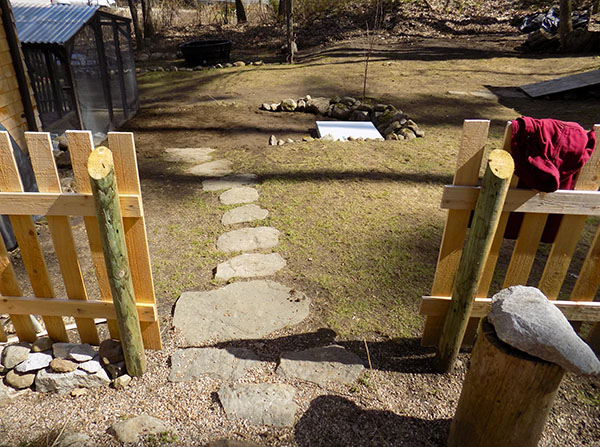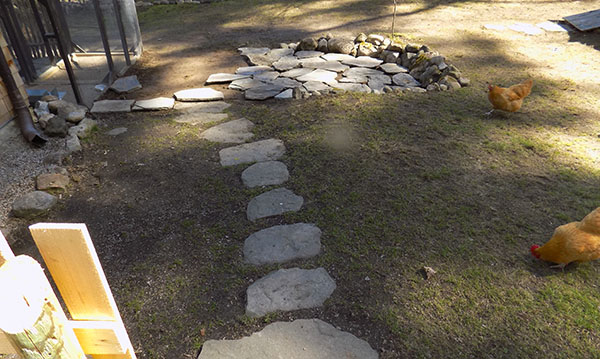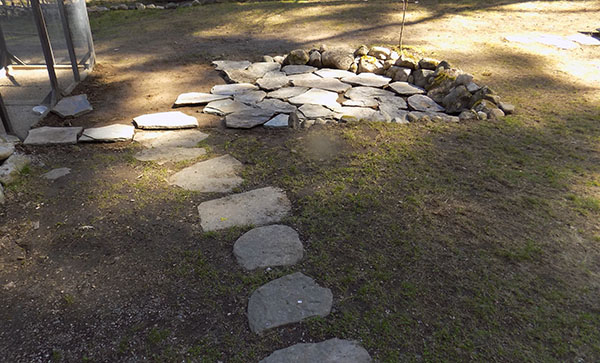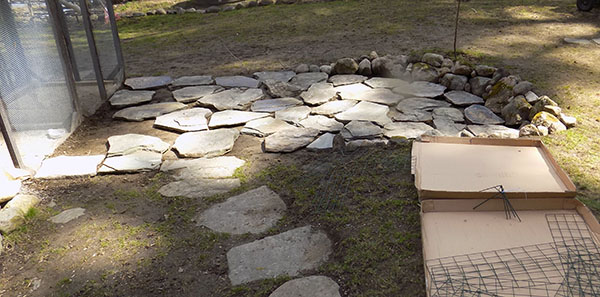 Laying New England natural stones in the new duck and goose coop/run area. They will be set into the dirt once laid out. When this is done we'll put up the coop and run...
We worked on the new little duck/goose coop last winter and painted it, etc. We'll put it together when this spot in the yard is all ready...
Adam is putting together the duck/goose run that will go in the same area, next to their coop.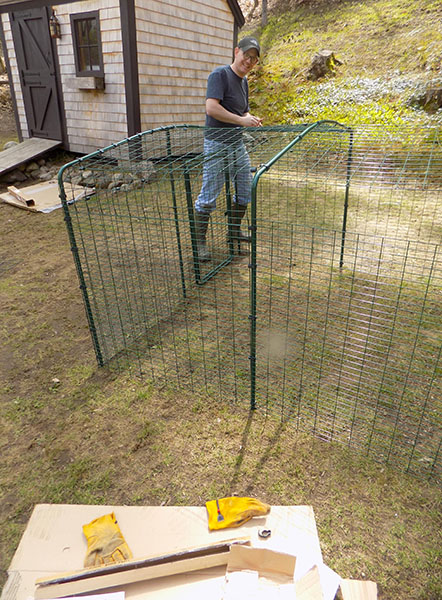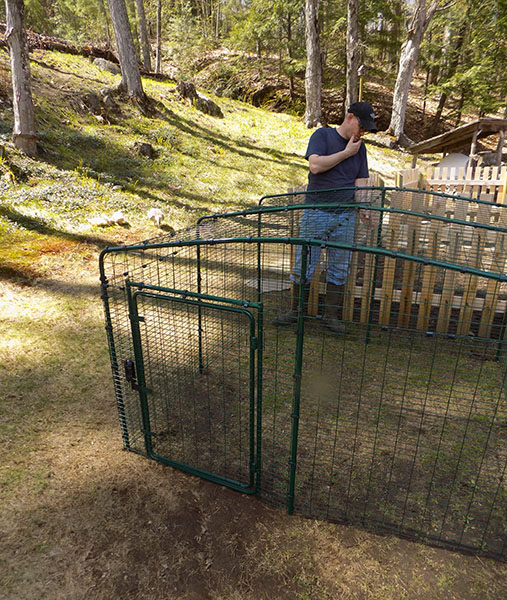 Working on the duck/goose run...
They are getting so big and will move out into their own coop and run in mid May~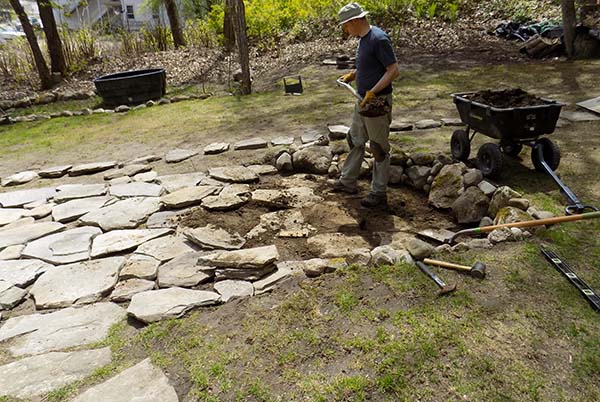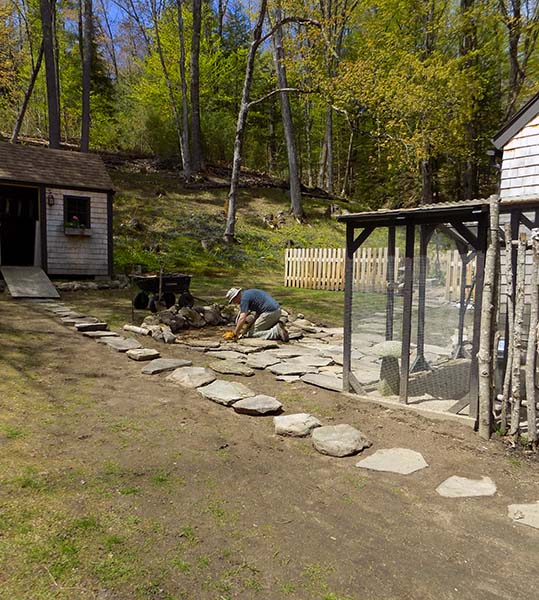 Adam laying the stones in the new duck/goose coop and run area, and then he'll set the stone path you see. Grass seed will then go down. It will look really nice in summer!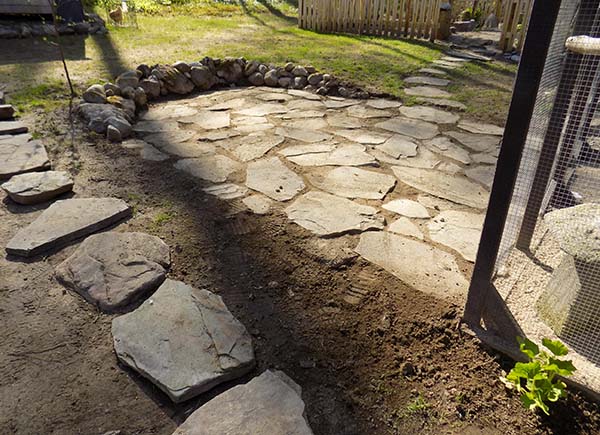 The finished spot for the duck/goose coop and their own run.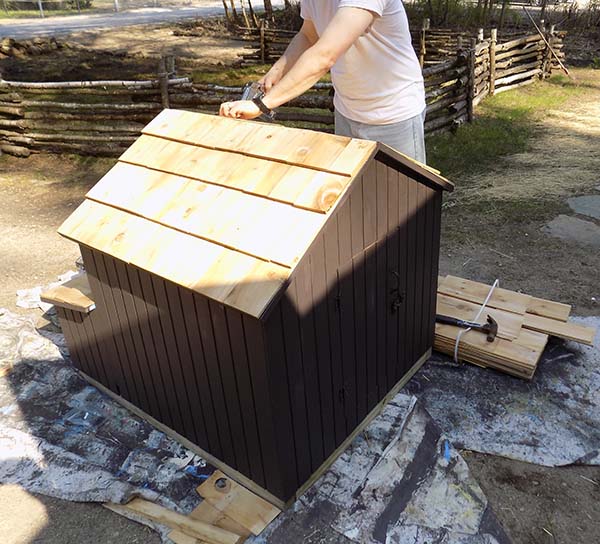 We worked on the "little goose coop" (Lol, bad pun!), all day...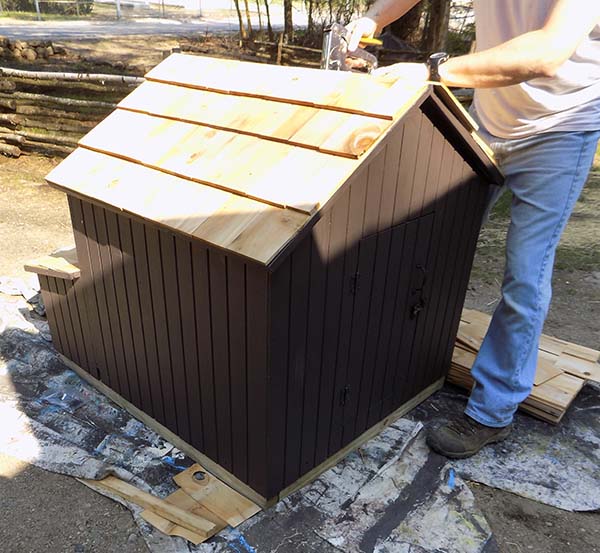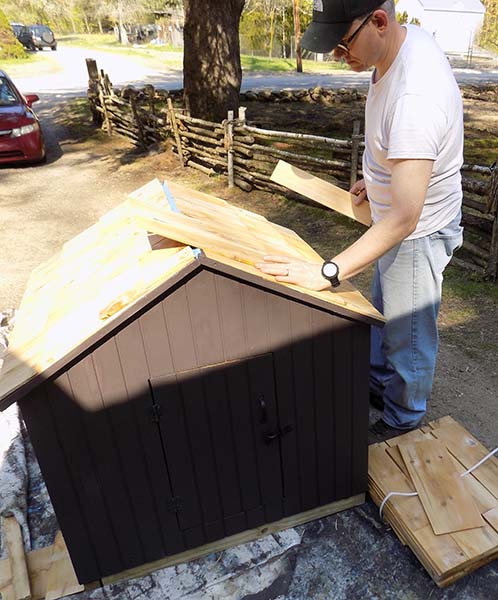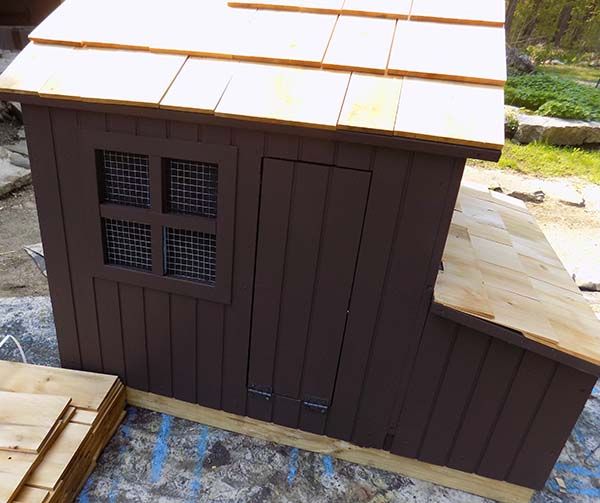 Now it's time to move the finished coop and the new run to the area in back that we prepared...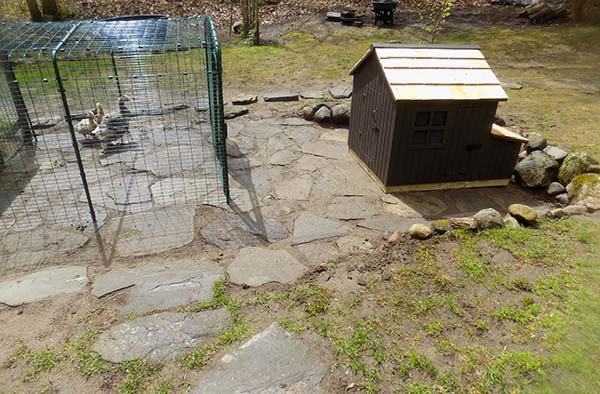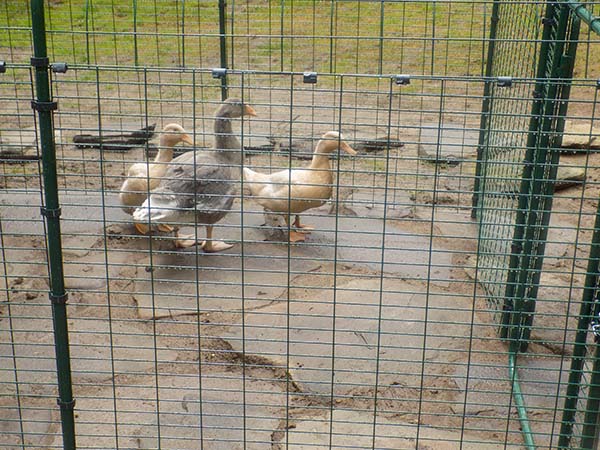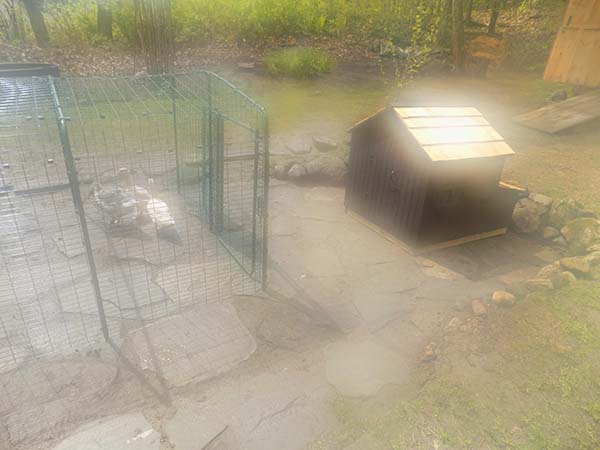 The duck coop and run area turned our really great and we're proud of ourselves for this project. Now, grass seed can go down on the lawn and we're starting on the in-ground duck pond!
COMING HERE SOON~
THE BEAUTIFUL, IN-GROUND DUCK POND PROJECT---
A LOVELY LITTLE POND WE'RE WORKING ON IN THE AREA RIGHT IN FRONT OF THE HOPS POLES, THE POND WILL HAVE A DRAIN, AND BE SURROUNDED BY THE SAME NATURAL NEW ENGLAND STEPPING STONES WE'VE USED EVERYWHERE ELSE. IT'S ALSO IN THE MIDDLE OF A SMALL, NATURAL WILD FLOWER AREA OF OUR YARD.
PHOTOS WILL BE UP HERE SHORTLY.
_______________________
Our babies are getting bigger every day.
May, 2019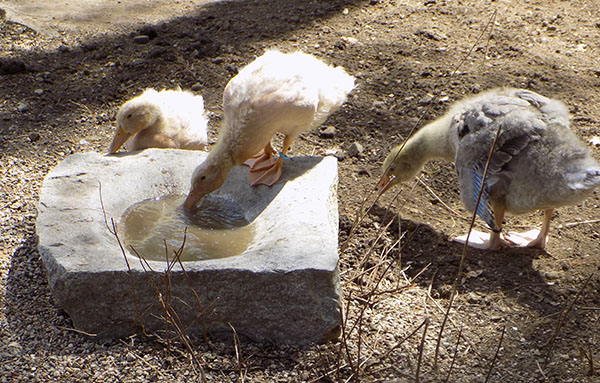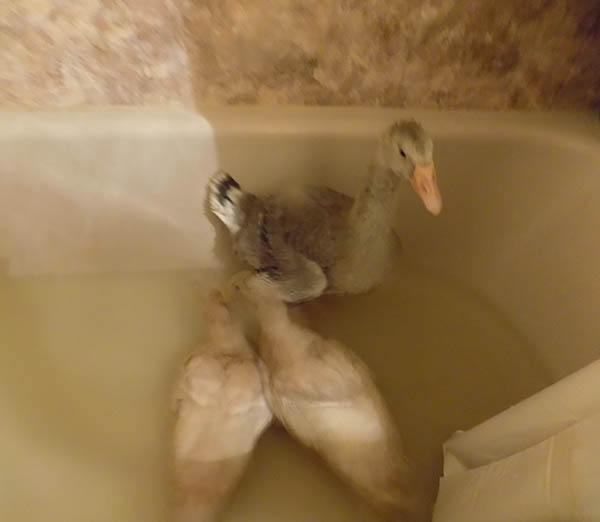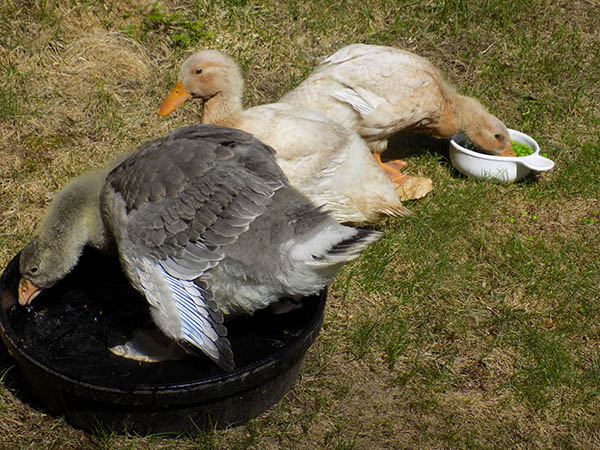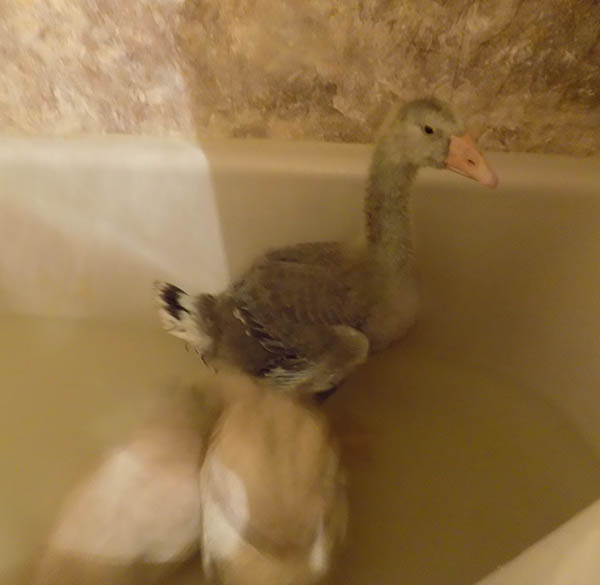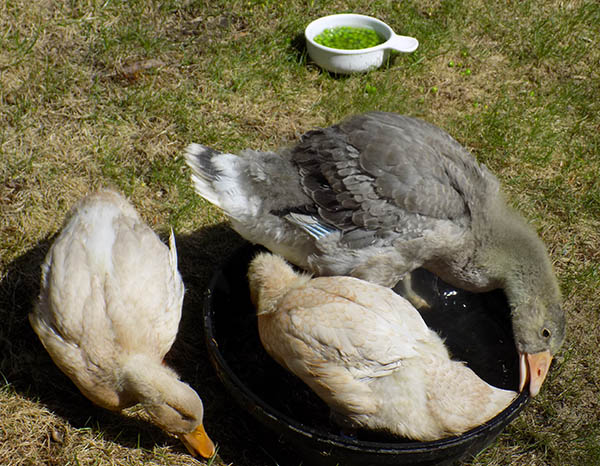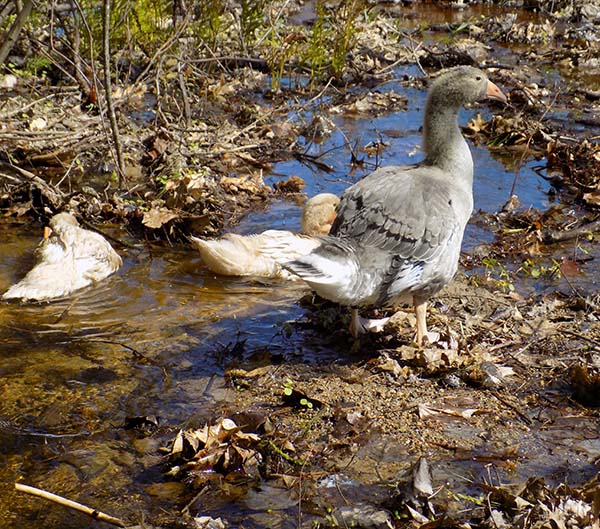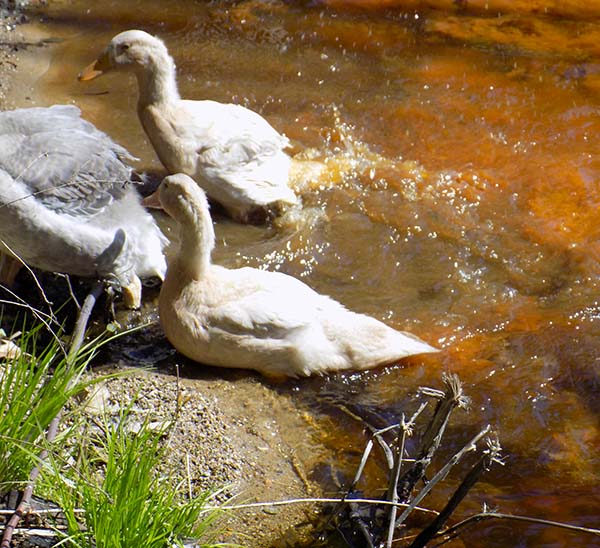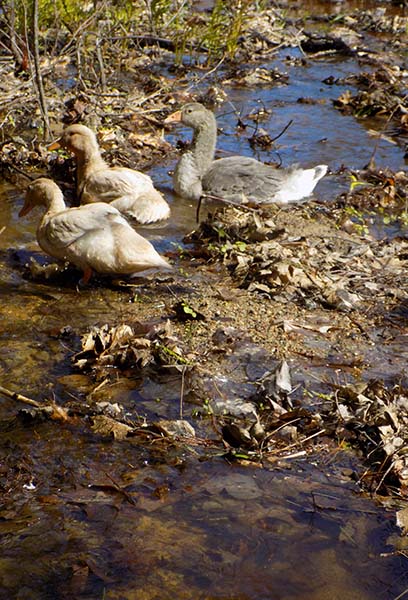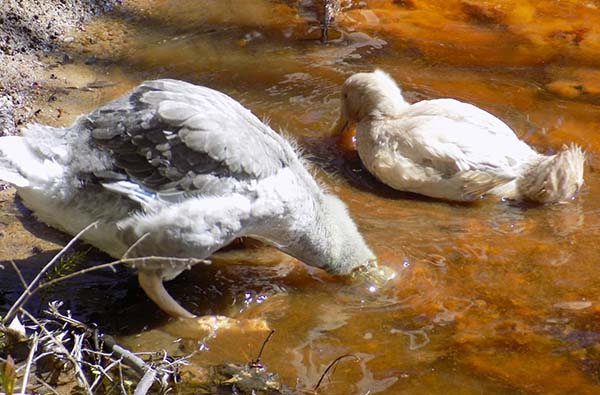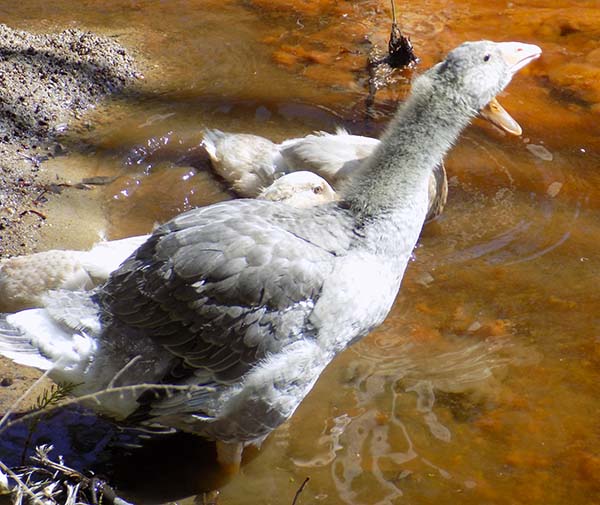 _______________________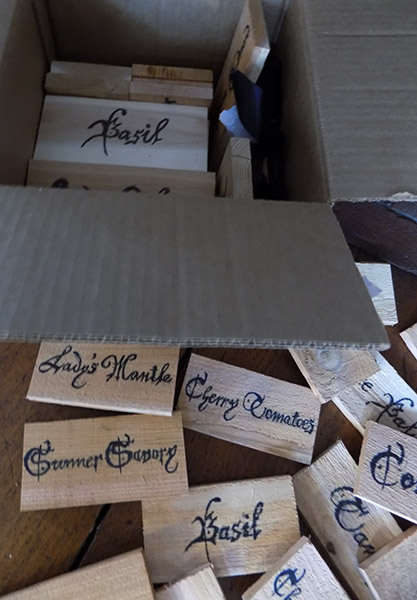 Adam hand made and painted over 50 herb signs for the garden in period script on cedar boards...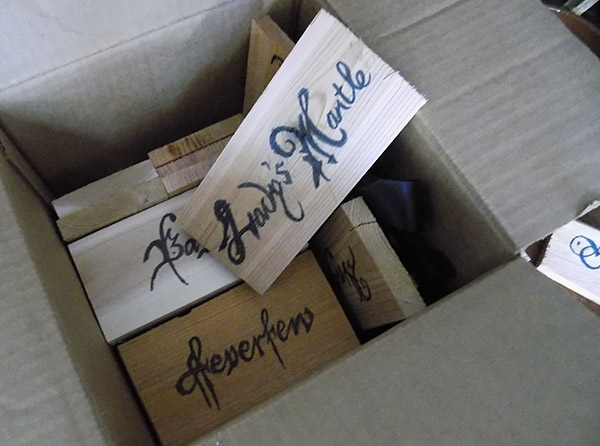 He's attaching them to cedar sticks and they'll be up in the gardens any day now.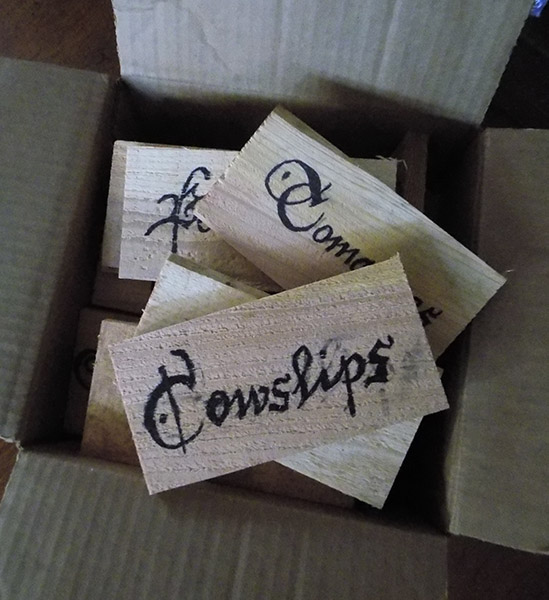 _________________________________
2018
TIME FOR A NEW FENCE AROUND THE GARDEN...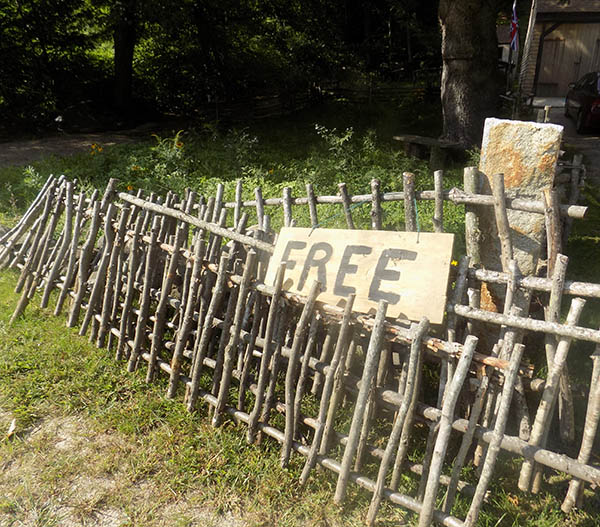 Sept. 1~ We put the old fence out at the end of the drive for free...It was gone in less than an hour.
NO pre-fabs, NO kits, NO fencing panels---We built the new cedar fence with rails and attached each picket one at a time.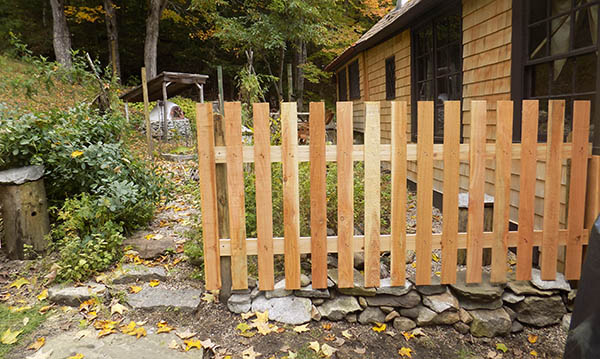 Where the land was lower, Mary built the stone wall under the fence panel, keeping everything level and straight.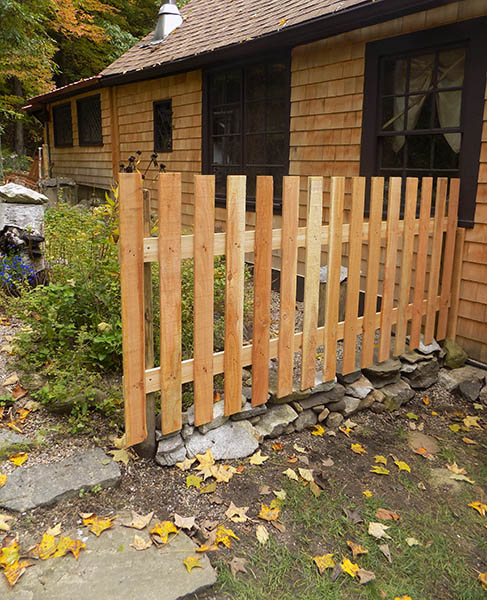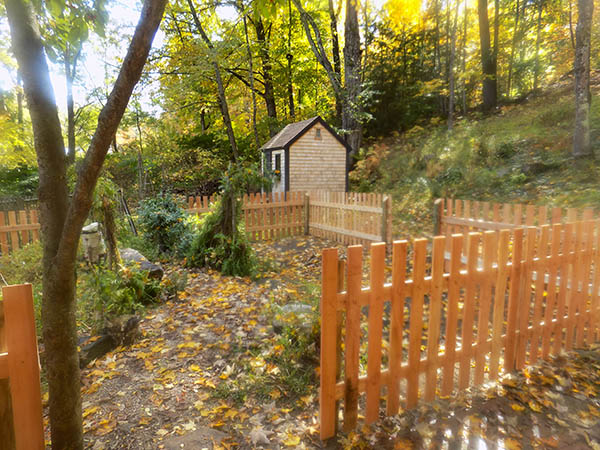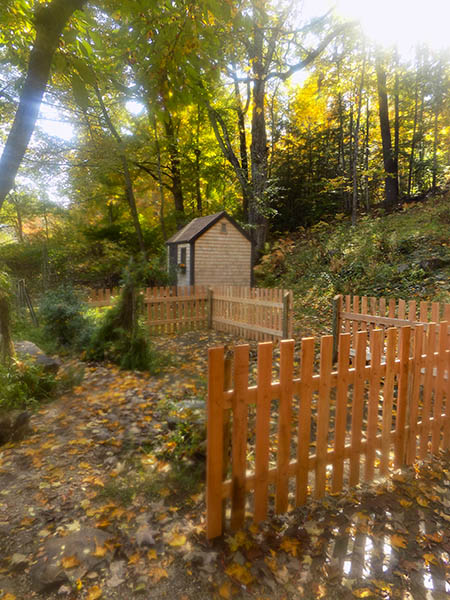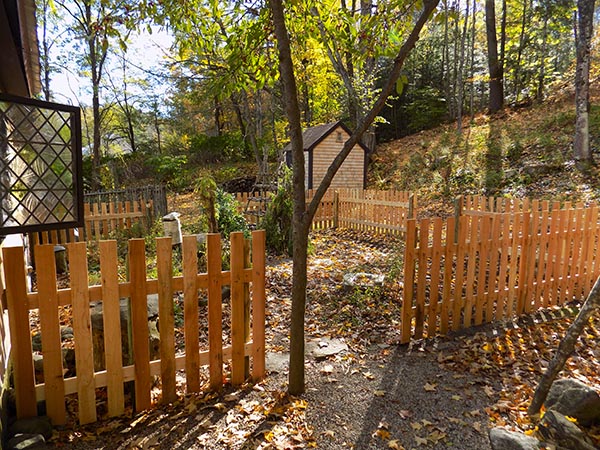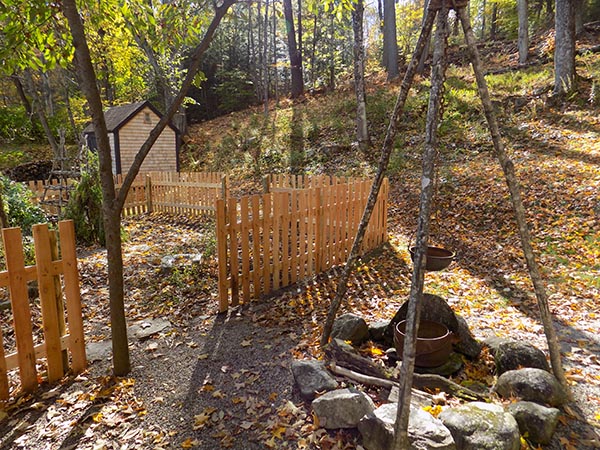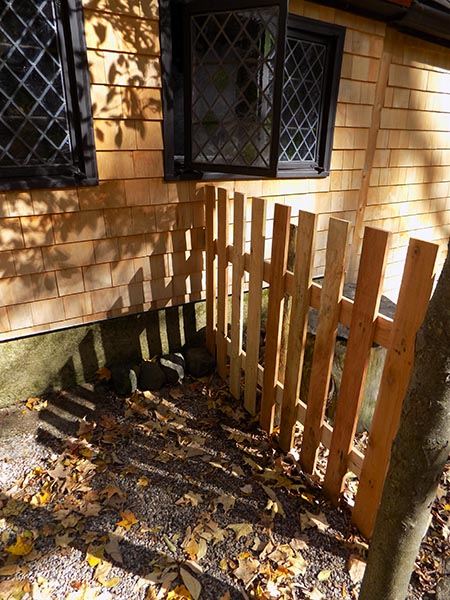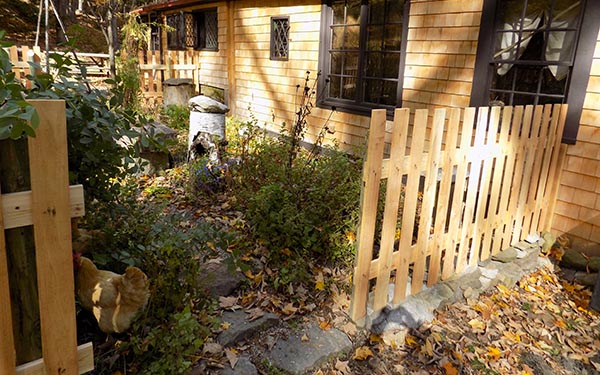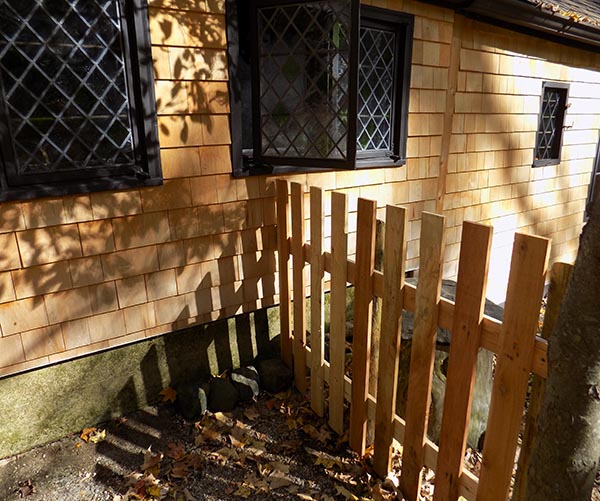 Fence will weather in time~
__________________________________
CHICKEN RUN EXTENSION PROJECT~
Summer, 2018
The 2 of us built an L shape addition to our chicken run.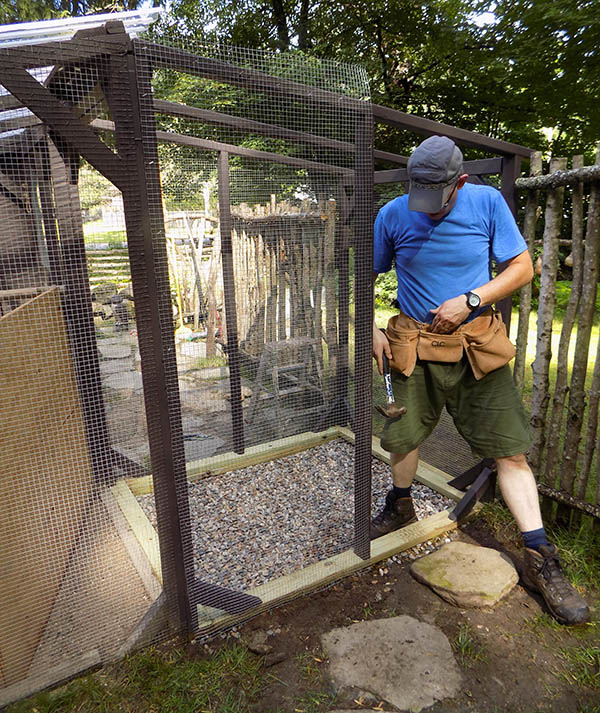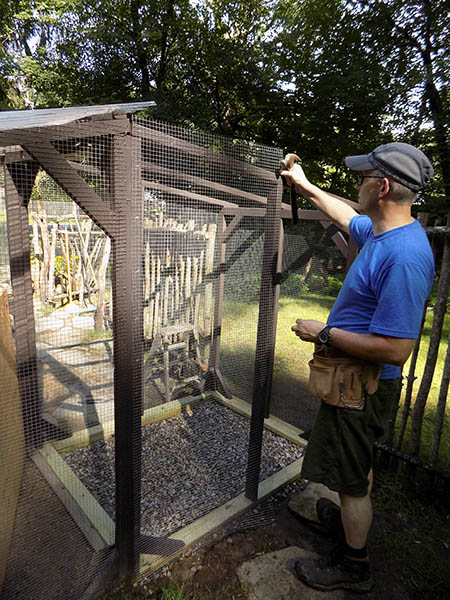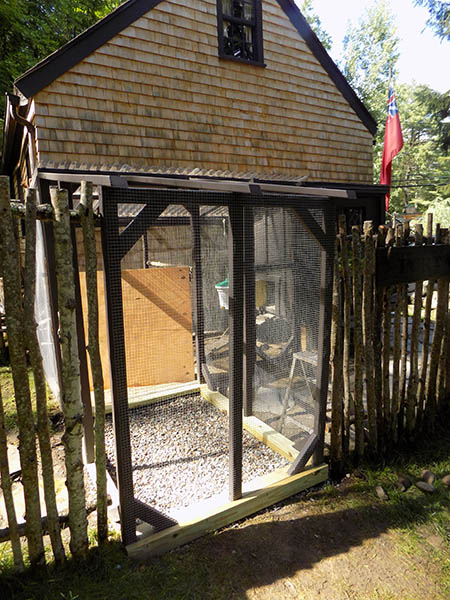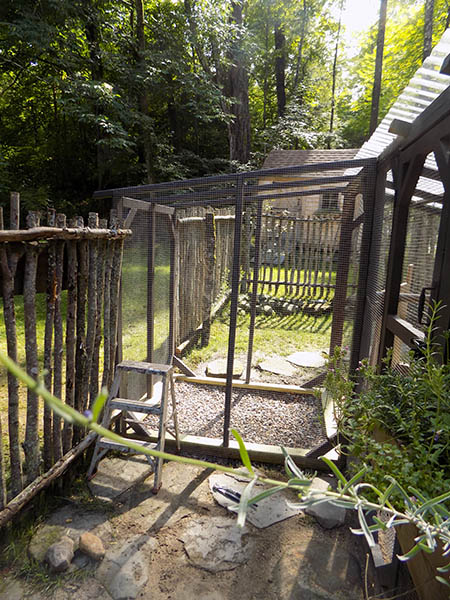 We both worked hard at digging out the gound, putting down rocks for drainage, and constructing the frame, attaching it to our existing run...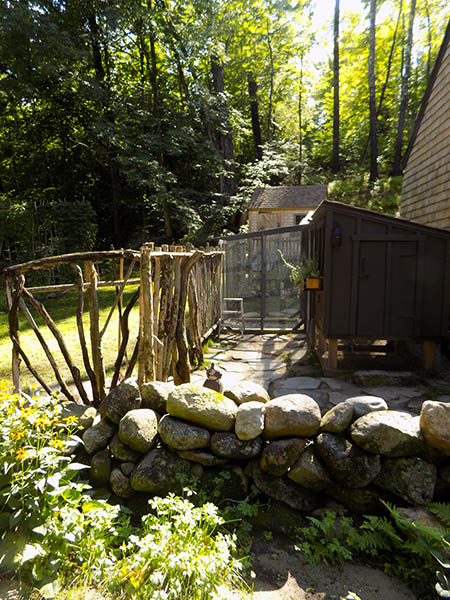 We put up secure hardware cloth on all sides, just like the original.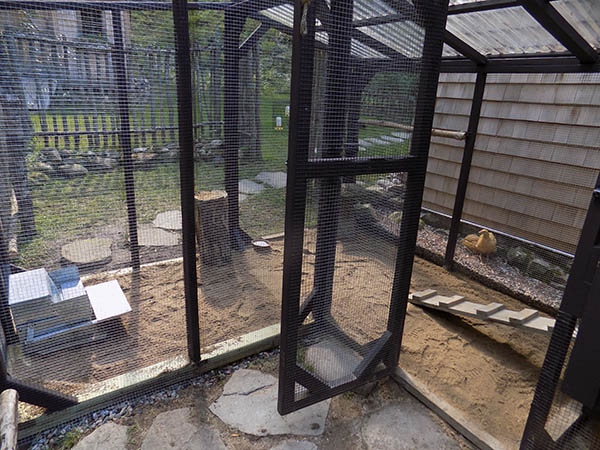 The L shaped addition we built (to the left).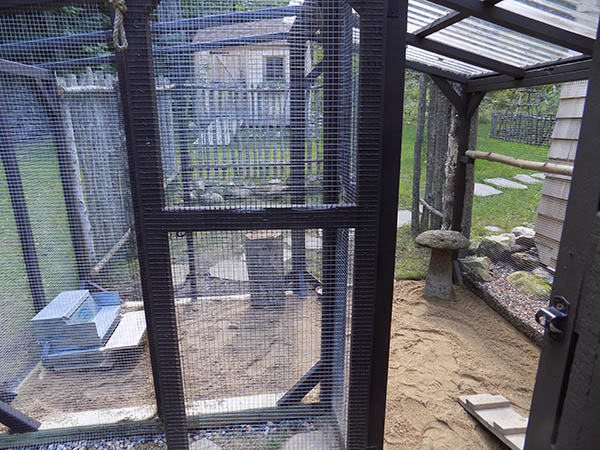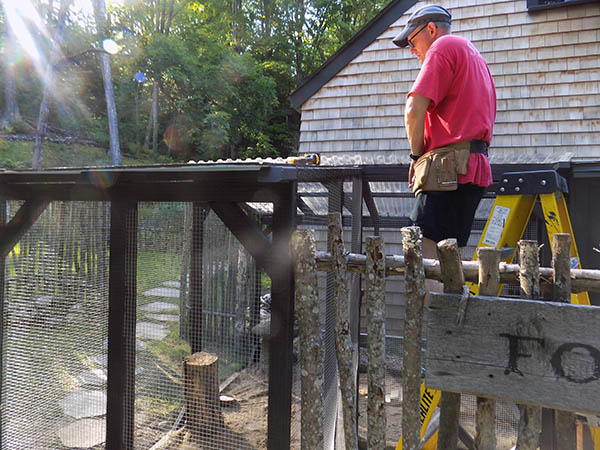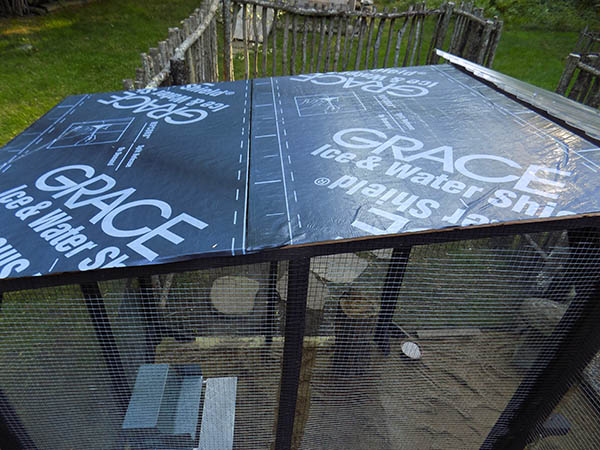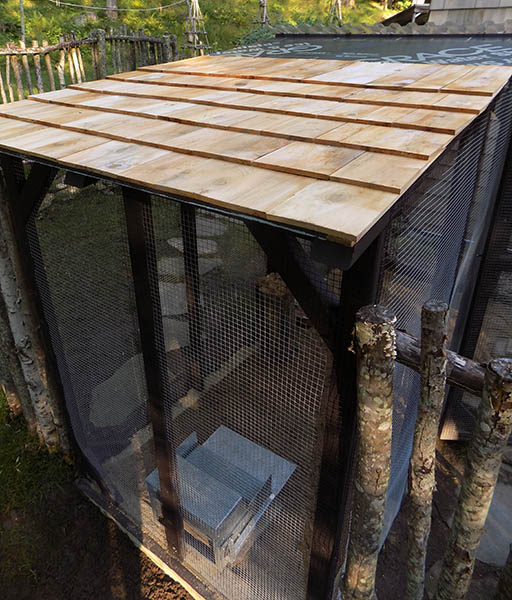 ~Mary painted the underside of the plywood roof (the ceiling) pale blue with clouds.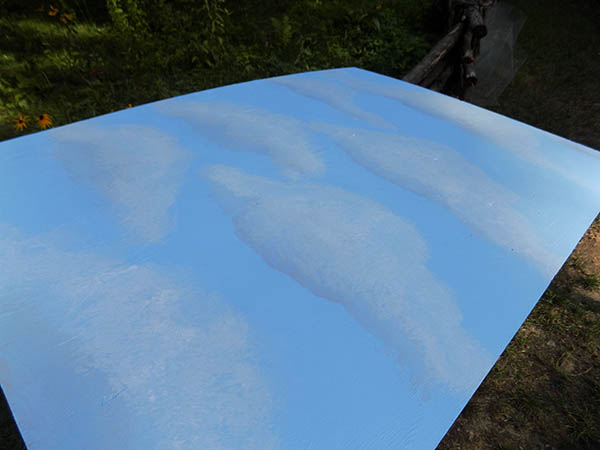 Mary's whimsical artwork for the ceiling in the run extension we built for our hens.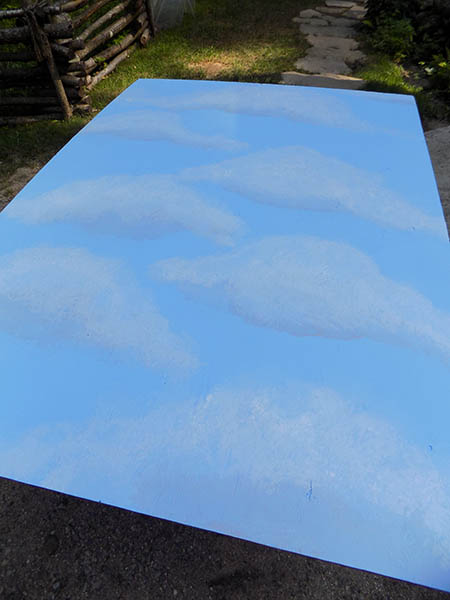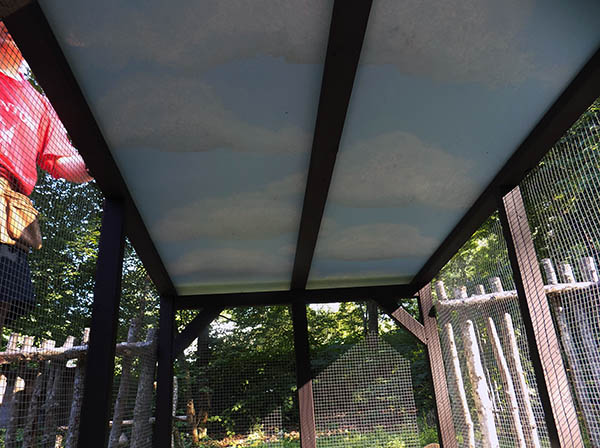 I am so chuffed at how my 'cloud' ceiling turned out!
We're finishing up with fixing the landscaping, moving an old granite step we have to the back of the addition and eventually putting a pot on it with a honeysuckle climber in it that will grow up the entire back side, come back each year, and provide some leafy green shade for the chickens.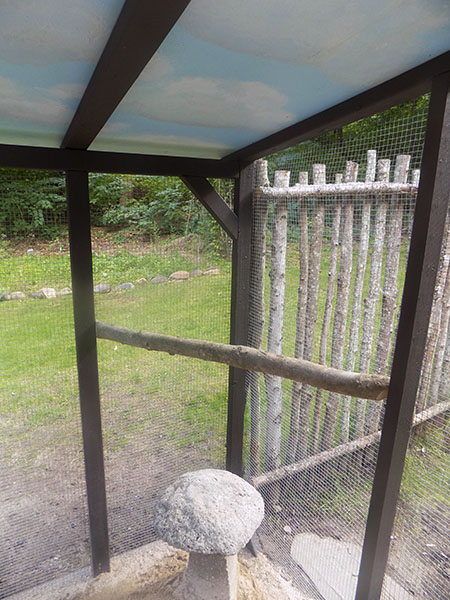 We added a maple branch as a diagonal perch...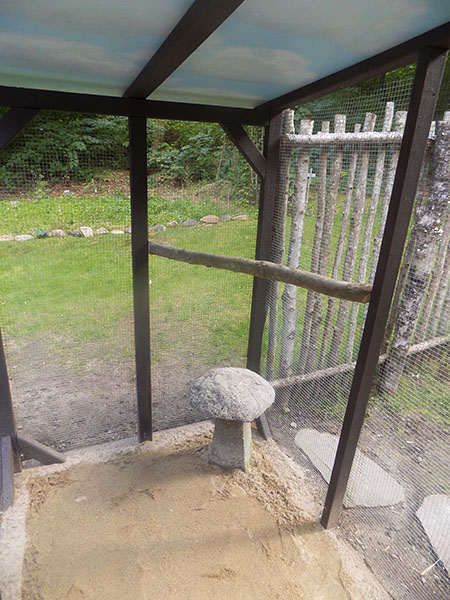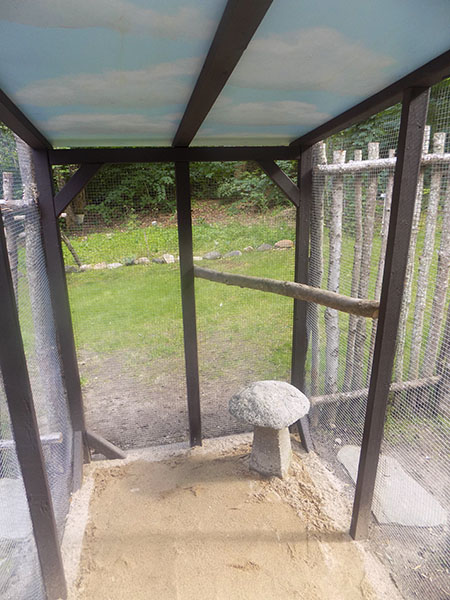 Inside the addition...
We wanted to be able to partition off the addition easily so that when we had new chicks to add to our flock they could have their own space until they were old enough to be put in with the grown hens...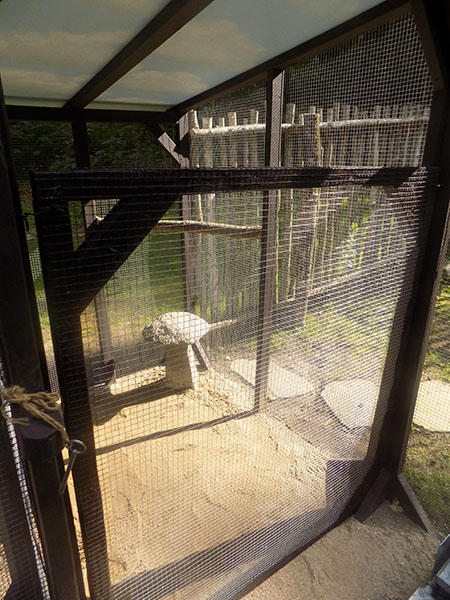 We built this removable, 3/4 height wire and frame partition...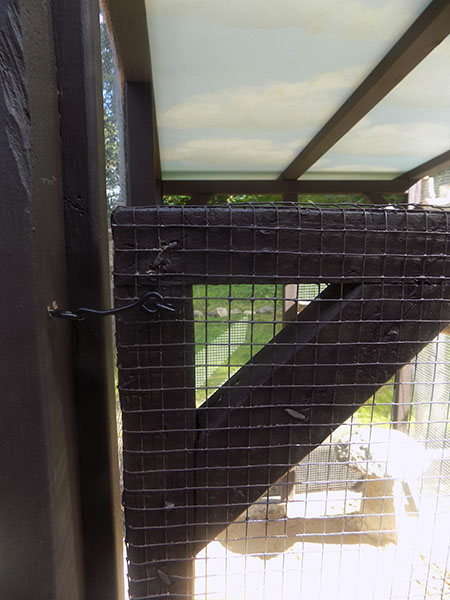 We attached it top and bottom with black screw hook and eyes...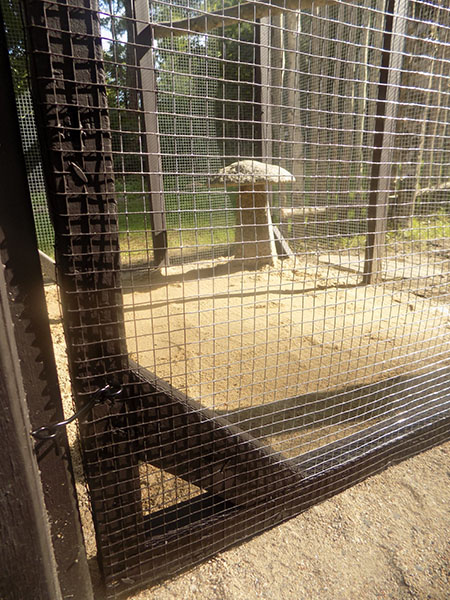 Now it is securely in place, but is easily removed to once again open the whole run to the entire flock.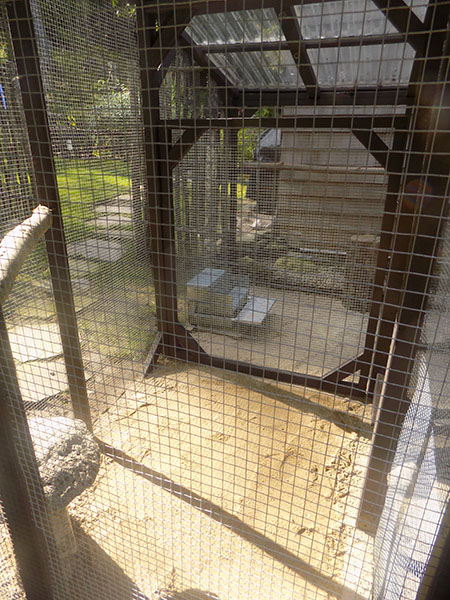 Here is a view from the yard, looking into the run addition at the partition in place.
We're really proud...It looks great!
_________________________________
THE INTERIOR BATTEN DOOR PROJECT
Building the last 2 period batten doors for the interior of the house.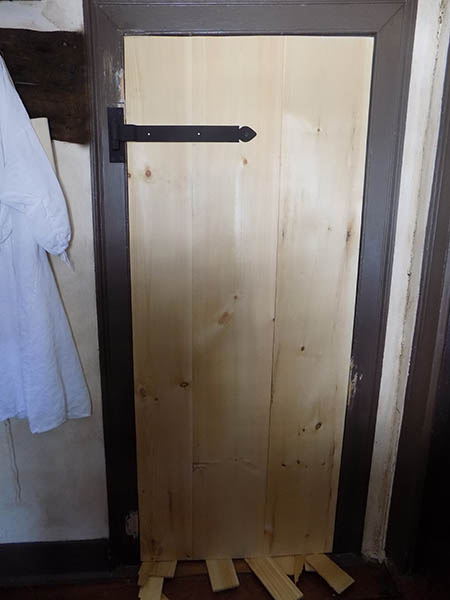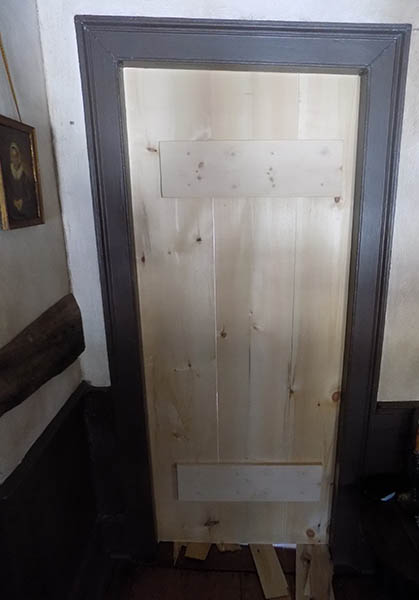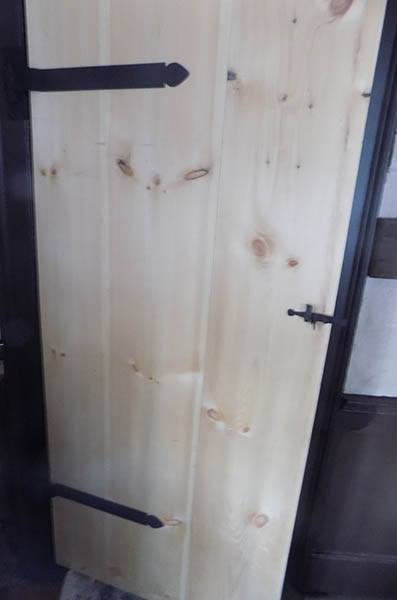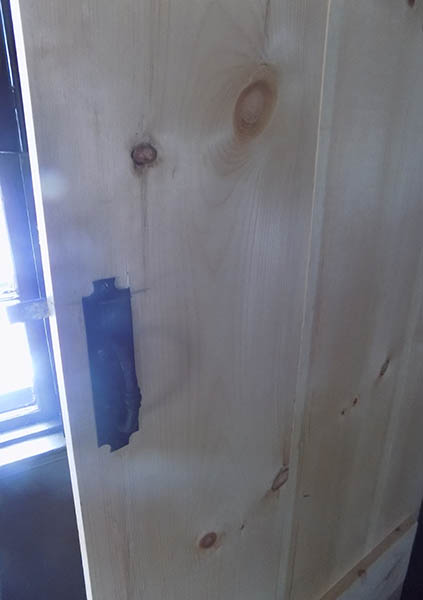 Antique 'Norfolk latch'.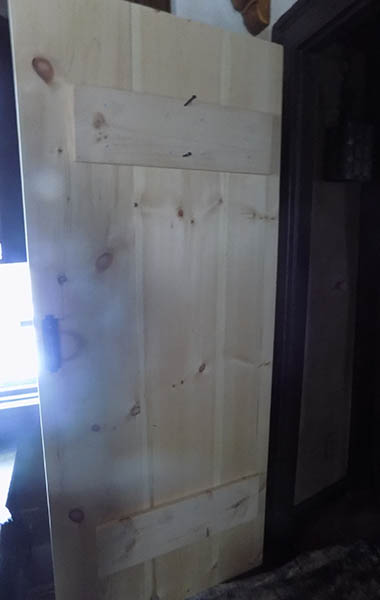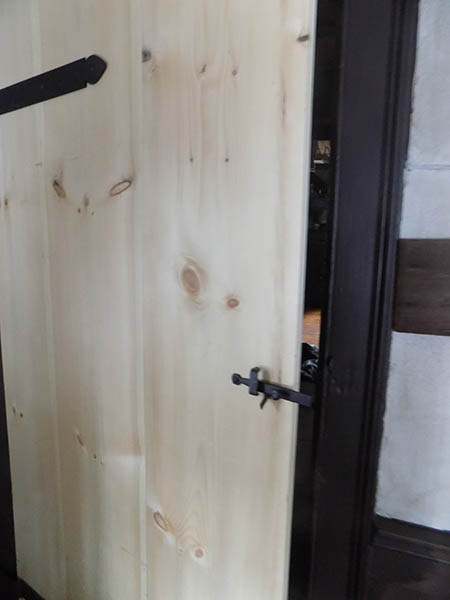 Part of the antique 'Norfolk latch'.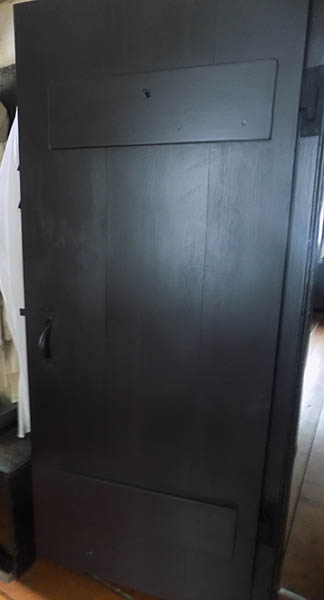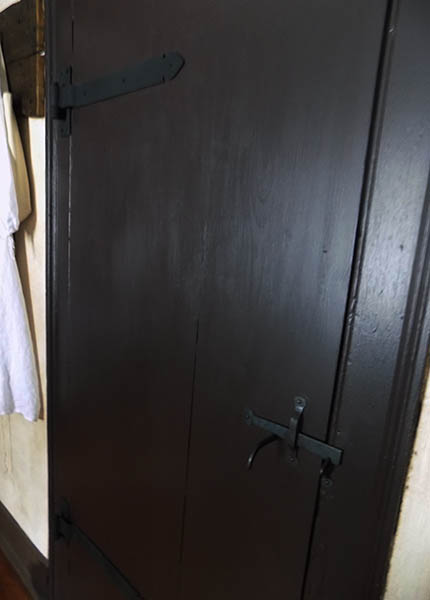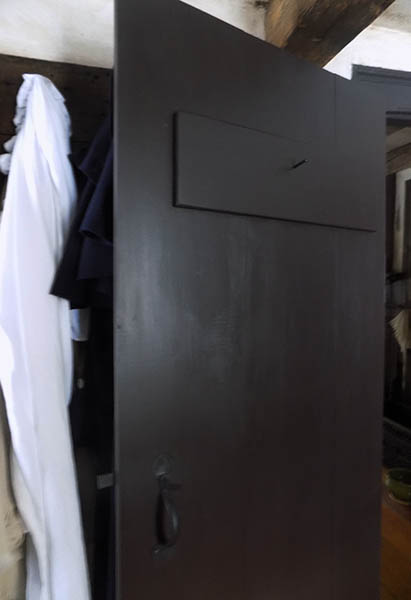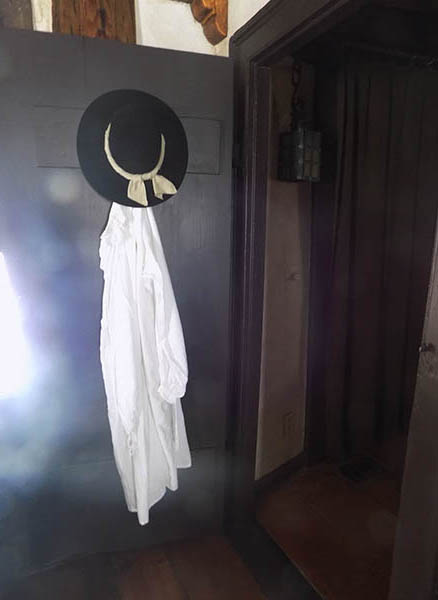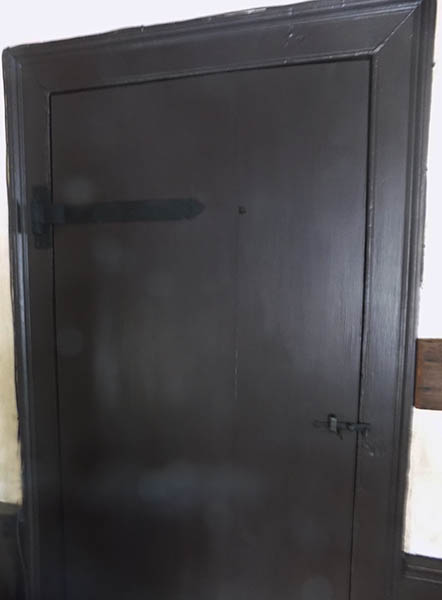 Recently we spent some time building the very last 2 interior doors for our house. When I came here the doors were old, but not period, and were obviously salvaged 'make-dos' that did not fit the openings or close properly for the most part. After designing and building all our exterior doors we turned our attention to making replacement for every interior door---about 8 or so of them. Now they are all done!
All have original antique or very fine hand made replacement thumblatches. I think I could practically build doors in my sleep! We made these 2 from start to finish in about an hour and a half. Fitting them into the wonky, crooked door frames we have is a challenge. For some reason that truly shocks me, I seem to be able to do it. I do all the shimming as Adam tries to jockey a door in a frame into position. Both of us can attach pintle hinges.

Adam then watches as I mark areas of the door that need to be cut at a 'slope', and that by some miracle result in doors that have the illusion of looking pretty darn straight when finished, and open and close perfectly!

Adam has to haul them in and out, sometimes 4 or 5 times, before I get all my marks perfect in every area, as I fit and re-fit, and that's a drag; They are heavy. He puts on the antique latches.

Both of these last doors are in our bedroom; One leading into the front hall, one into the den. I painted the 'den' door yesterday with 2 coats, and am just about to paint the other door this morning.
_________________________________
2017
Just a few photos of the massive house re-siding job.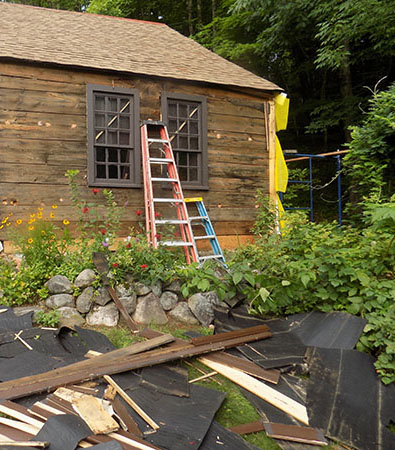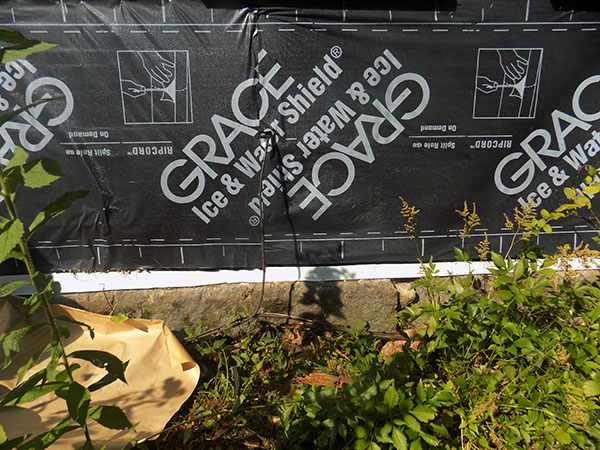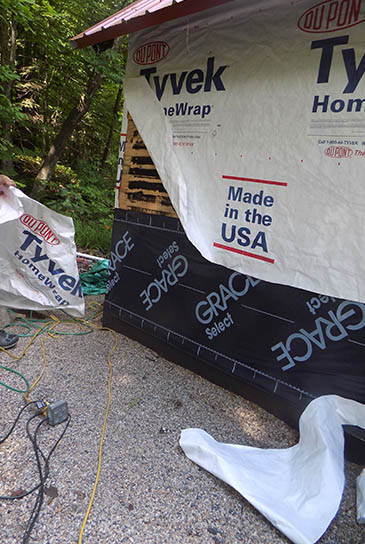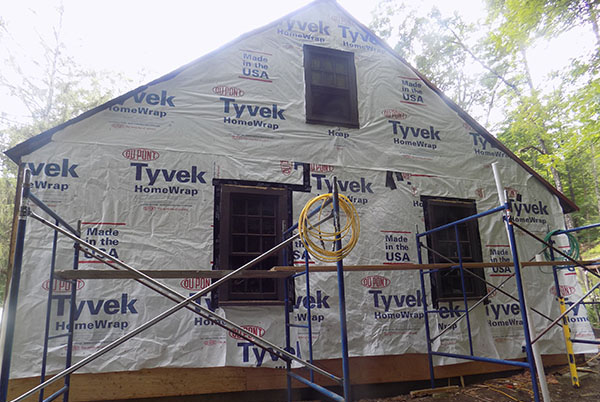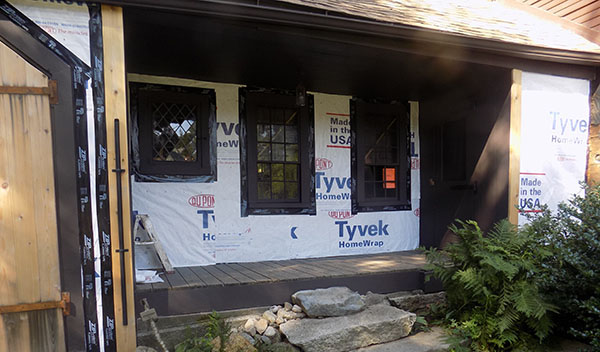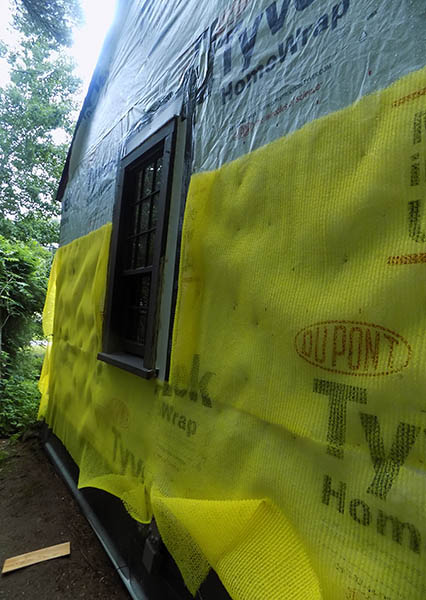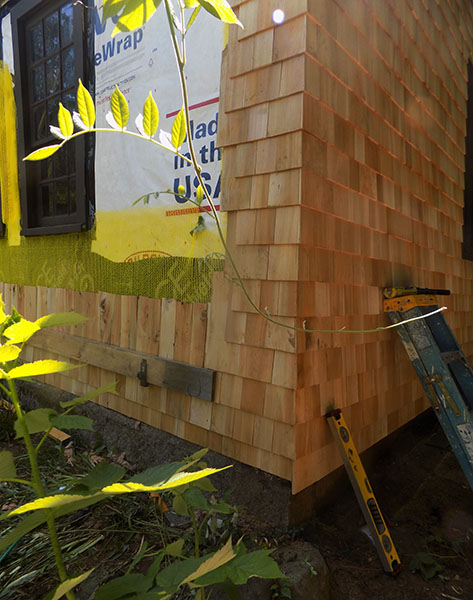 We love our new exterior color flat trim paint.
__________________________________
WELCOME TO 'OUR OLD HOMESTEAD'
We have 6 hens, and Spring, 2019 we just got 2 baby ducklings and a baby Pilgrim goose.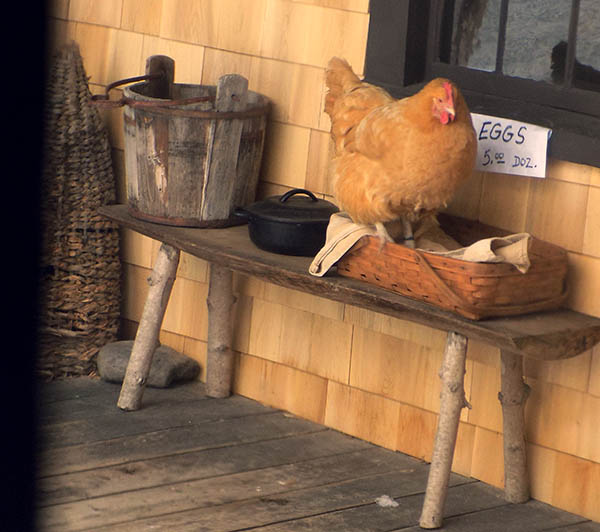 Remembering Prissy~
We miss you sweet girl.
___________________________________
OUR OWN 'COOP DREAMS'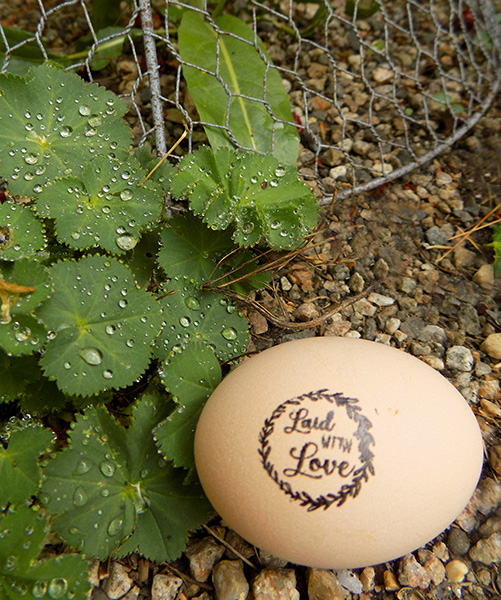 Our fresh eggs~
We stamp each one.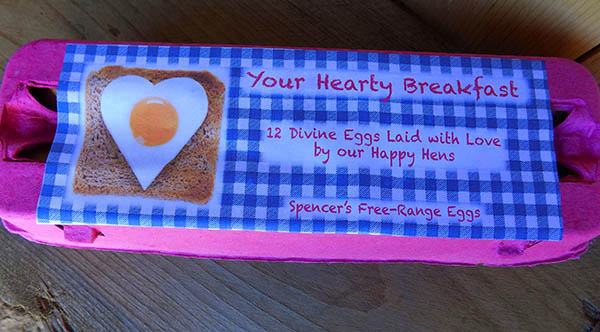 We designed our own label~


Our pink eggcartons.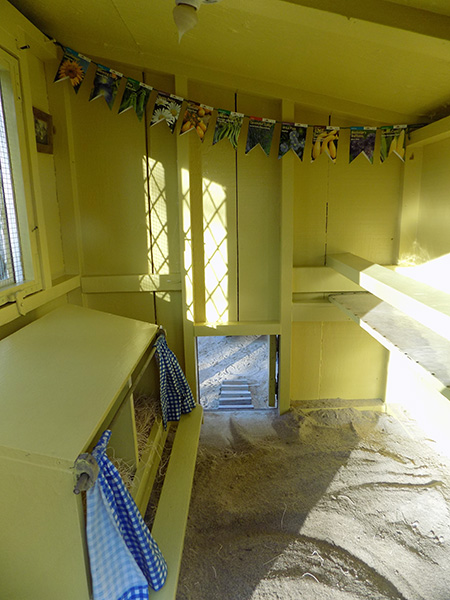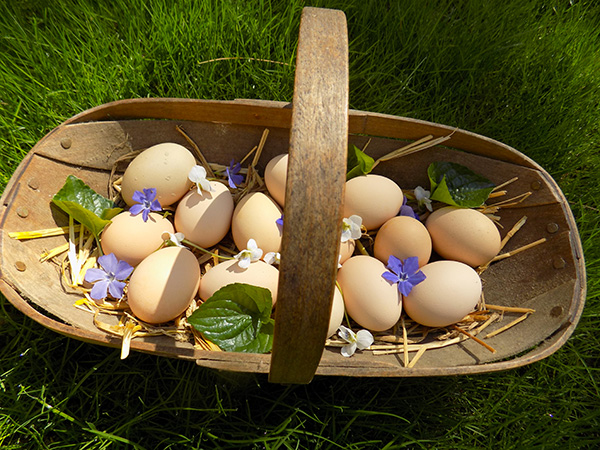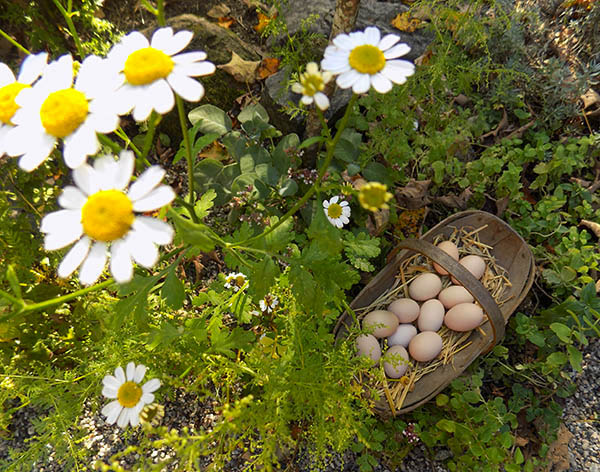 We both worked on making and painting a sign for selling our eggs~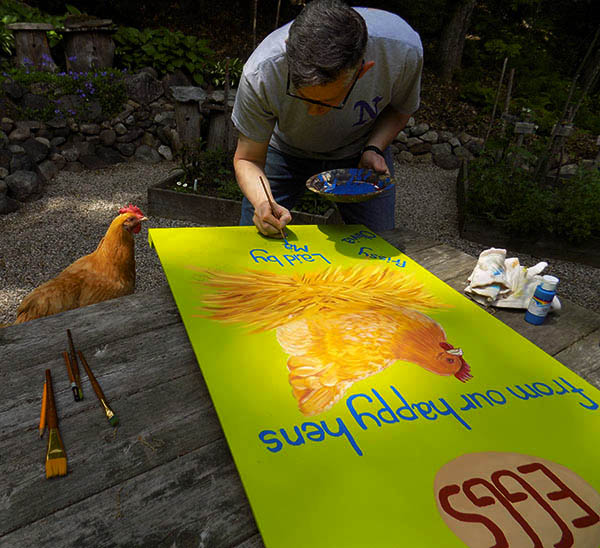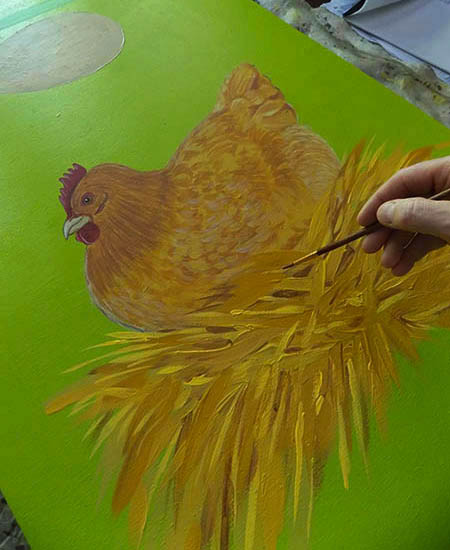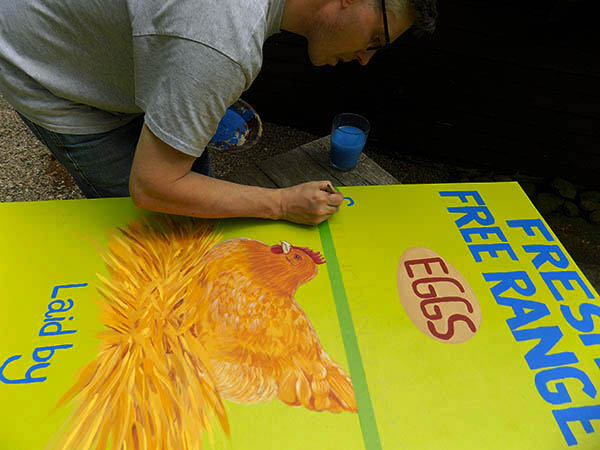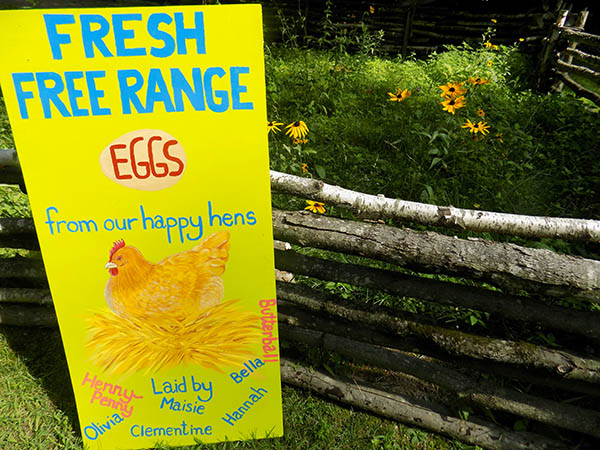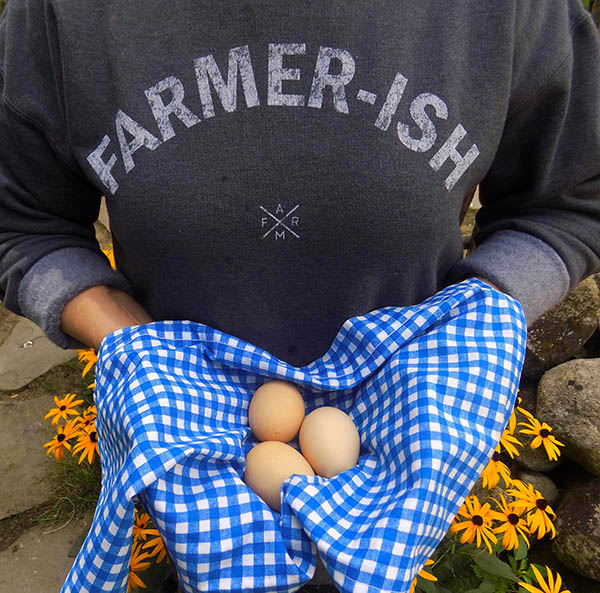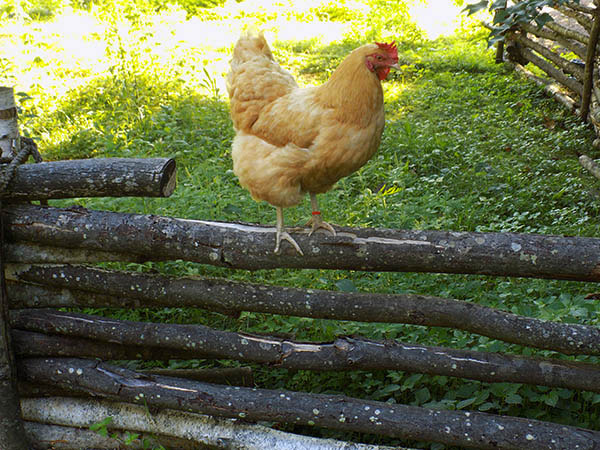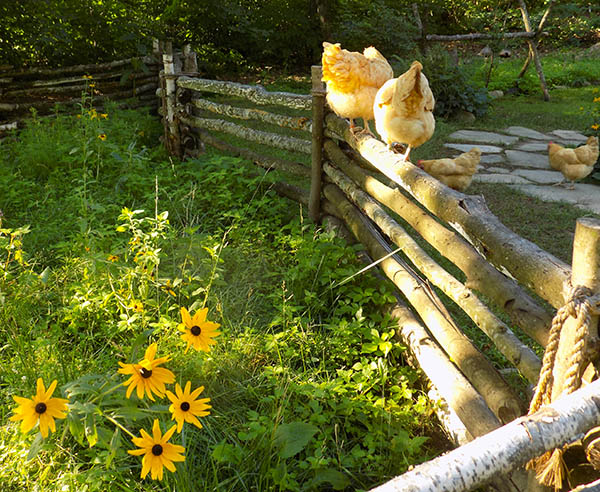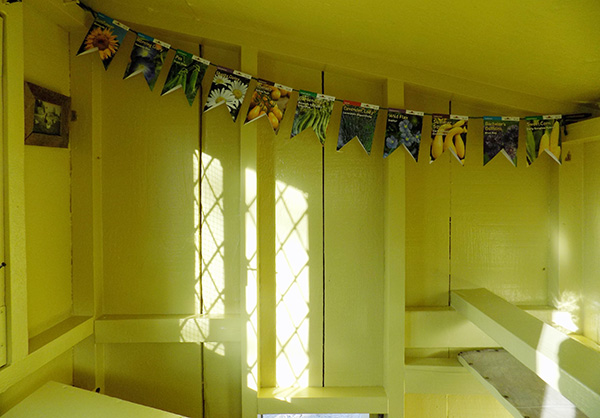 I made the 'seed packet bunting' for the coop~
Happy spring!
'Chicken coop bunting' I made for our coop with seed packets and put on green twine~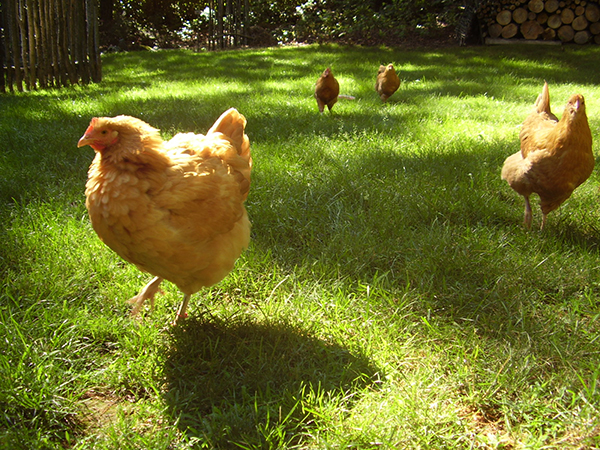 We tricked out our coop with leaded windows we did ourselves, and hardware to go with our period house. We built the stockade type fence and Adam thought it 'looked like a fort at Jamestown or Plimoth Plantation', so we went with the idea!
We made a tree flagpole and hung our late 17thc. Brit flag. We had a scrap of well-weathered 18thc. board and Adam painted
FORT ORPINGTON on it in 17thc. script.
We also made a chicken swing and a cool swing-out perch from branches that Adam designed. We designed and added other coop perks as well using free materials.
~We love our coop, and it won a coop contest!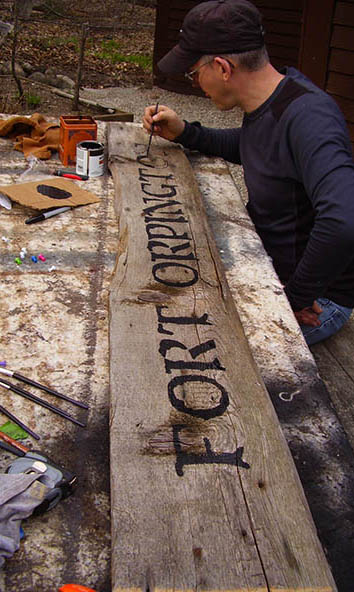 Because the branch fence we built around our coop reminded Adam of a "17thc. fort at Jamestown", he played that up, making the flagpole for our late 17thc. Brit flag, and painting 'Fort Orpington' (for the breed of hens we have) on an 18thc. salvaged weathered board.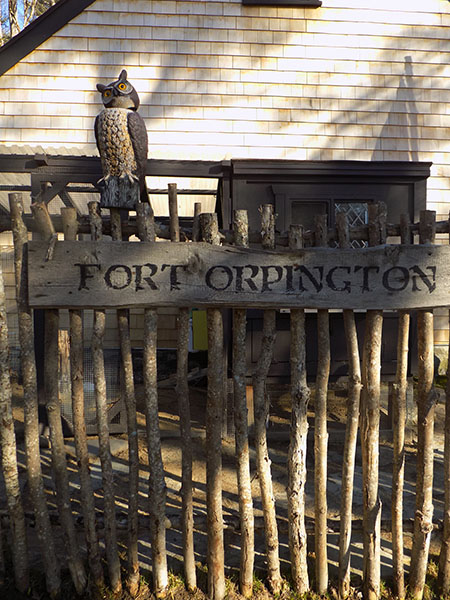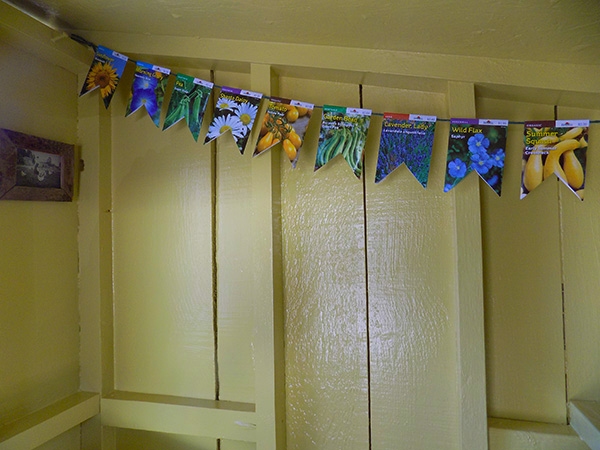 We've now built an L shape addition to our chicken run~
Updated photos will soon be on the TOUR page and here. More photos and details in OUR OLD HOMESTEAD NEWSLETTER.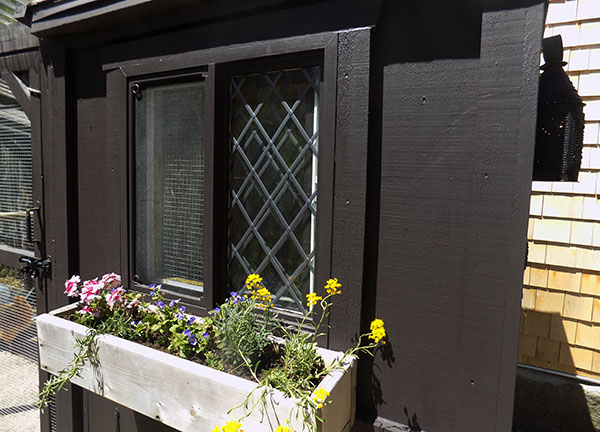 We planted a 'scent garden' of herbs and flowers in the coop window box for the hens.
COME ON IN AND TOUR THE COOP~
Our coop---Business outside and a colorful party inside for the chickens.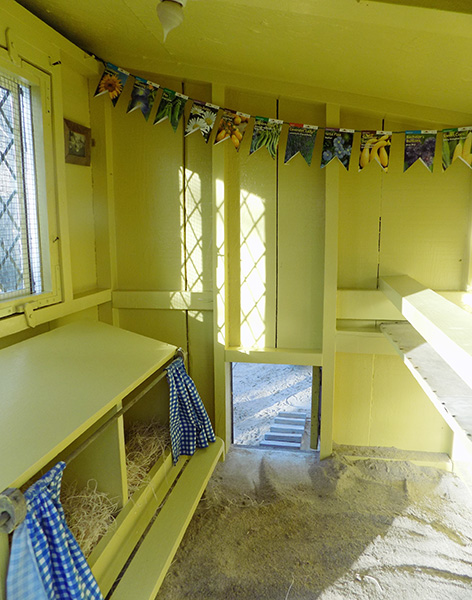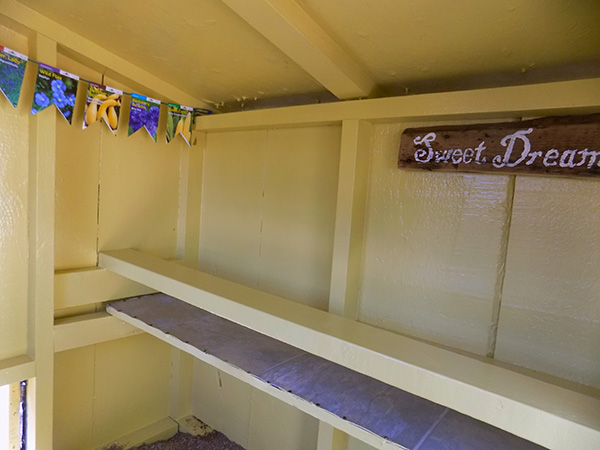 Adam made this sign for inside the chicken coop out of old wood for me.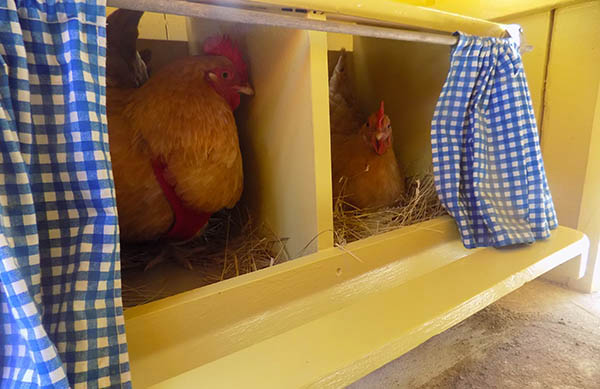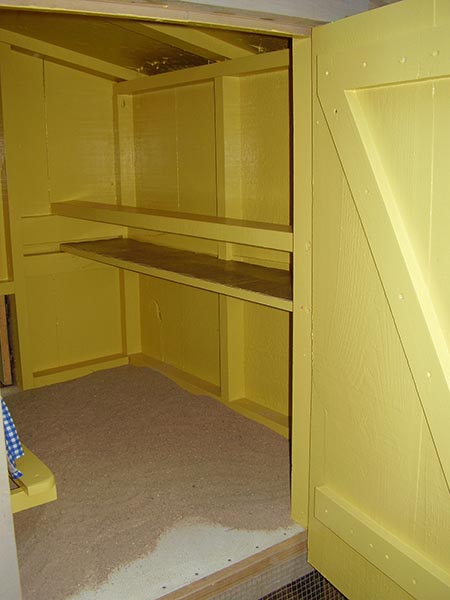 We painted the inside a sunny, scrubable yellow...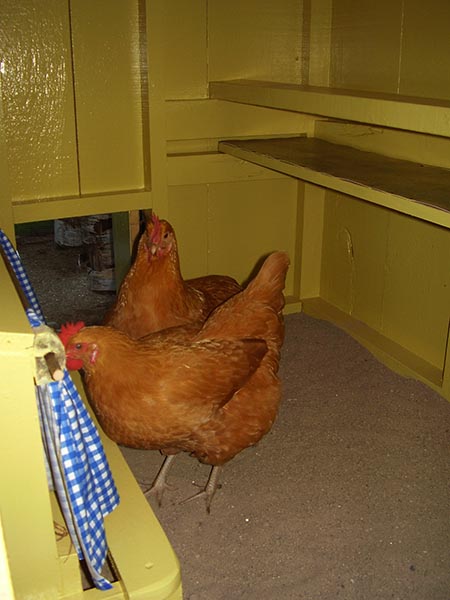 We leaded the sliding windows ourselves, and Adam made the special removable 'predator proof' screen to reinforce the normal window screen. He designed it himself and used all materials we already had...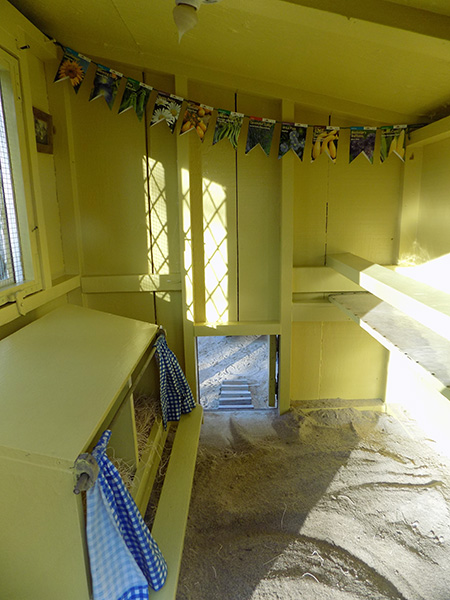 The coop floor is washable sheet vinyl, and we put down a layer of our special mixture of builder's sand, sieved wood ash from our fireplaces, and DE powder. This keeps the hens healthy and is easy for me to clean every day. It doesn't need to be changed.
We have 2 nesting boxes. I made the cute blue gingham nest box curtains...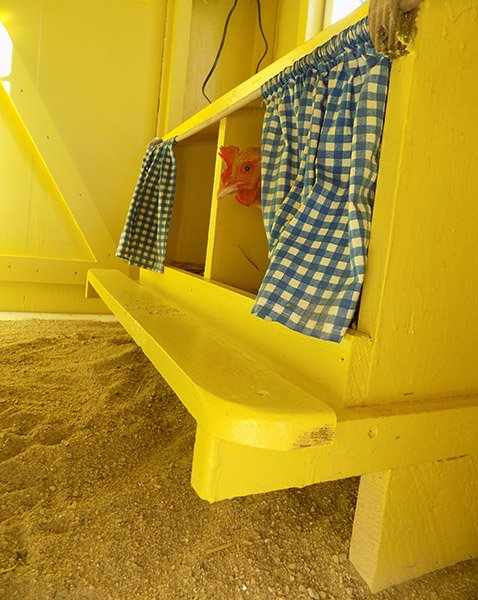 Our girls love their little home...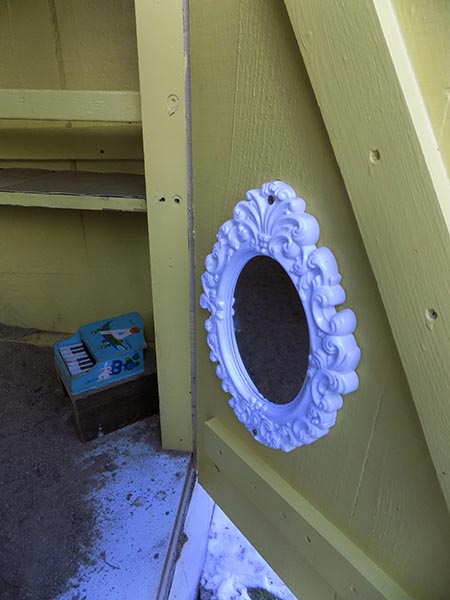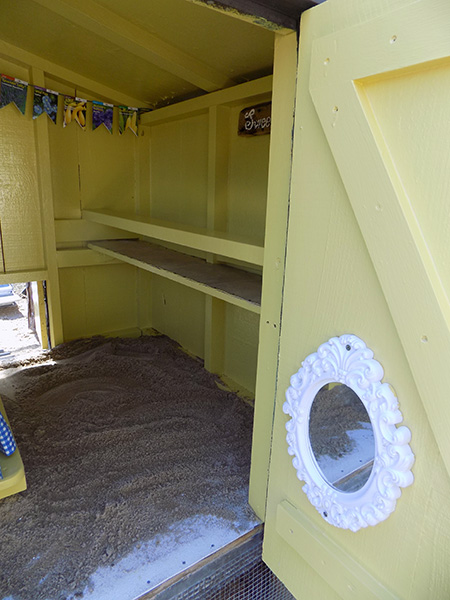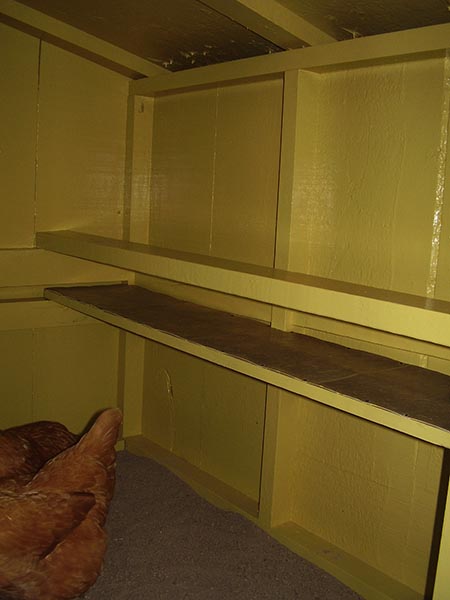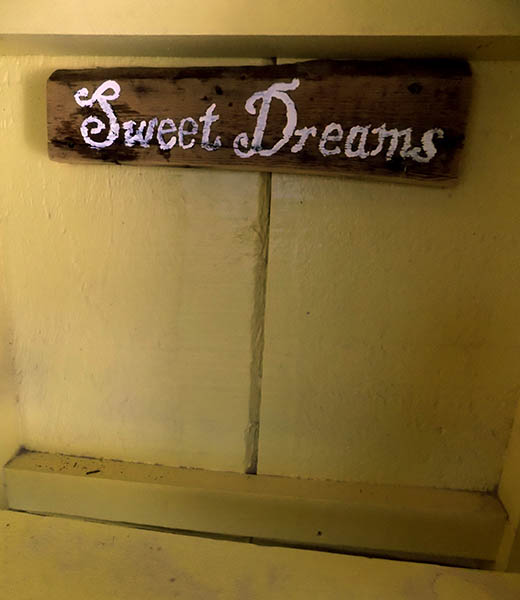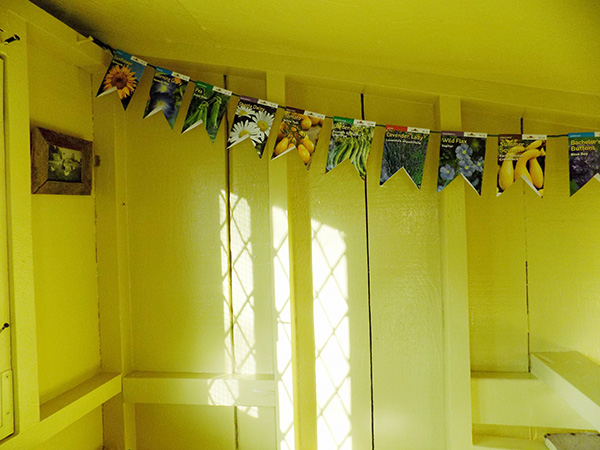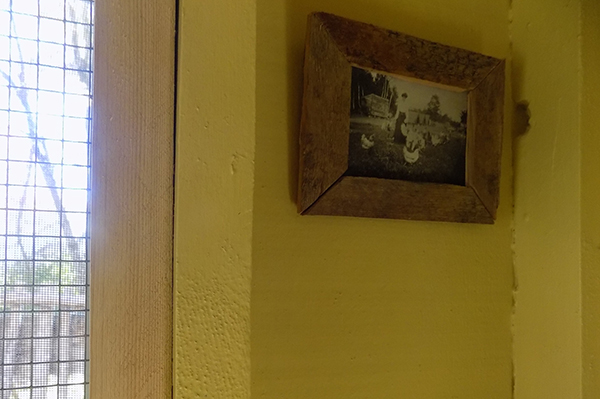 We found this c. 1890 photo of a lady feeding her chickens. Adam made the primitive little frame with scraps of an 18thc. board. We hung it in the coop~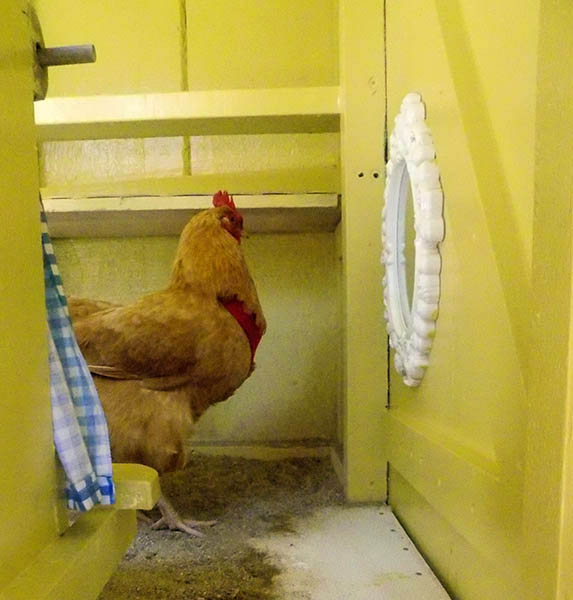 A cute plastic mirror is a great 'boredom-buster' for the hens. They like to look at themselves.
The chickens go into the coop from the attached run every night by themselves. We lock up the coop securely every evening. They sleep on the roost shown here.
Adam made the removable 'poop tray' which is such a time saver. Every morning I just slide it out, dump the poop into the coop bucket to go to the compost pile. Adam covered the board with a remnant of 'stone look' sheet vinyl flooring that we got for free, so it's easy for me to wipe off every morning..
~SEE FURTHER DOWN THIS PAGE FOR OUR OWN CHICKEN- KEEPING HINTS AND TRICKS~
For the fall/winter we'll have a hanging mirror in the coop and some other distractions to keep the chickens entertained in bad weather...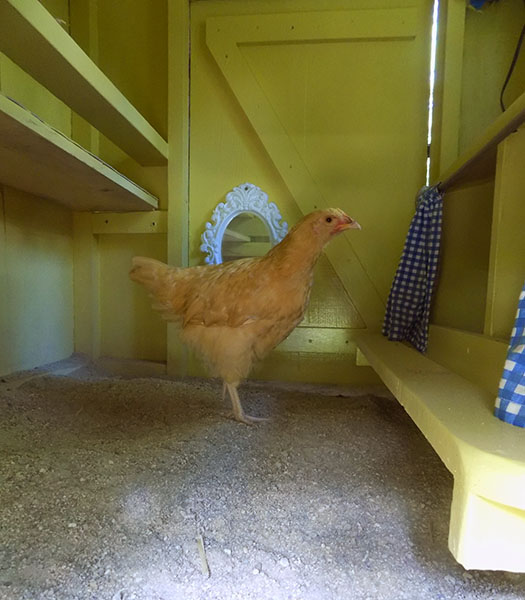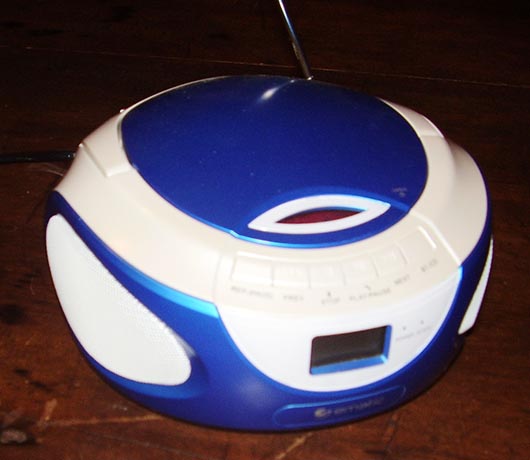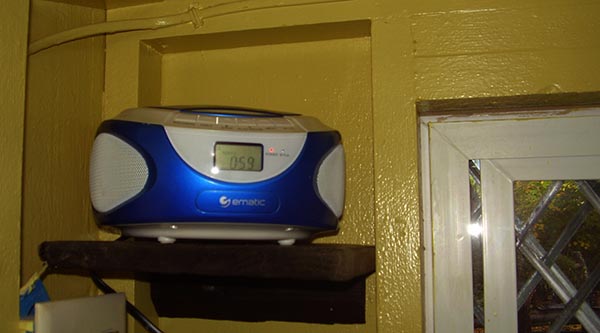 ...One thing is a cute little cd player/radio that we had. Chickens love music! Adam built a shelf up high in a corner of the coop and we have this plugged in there for them. Chickens love from classical music to 'Big Bad Voodoo Daddy'!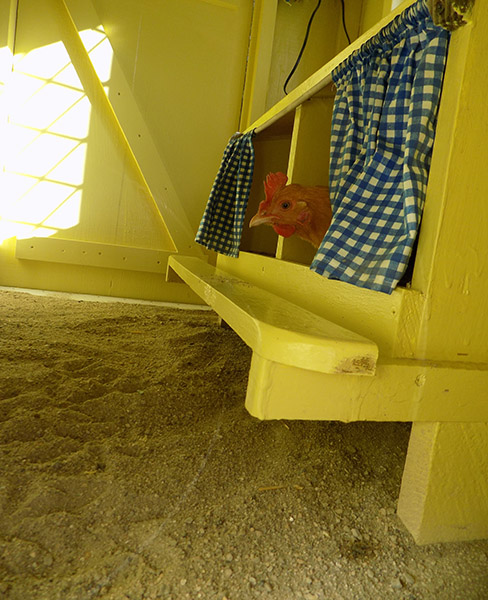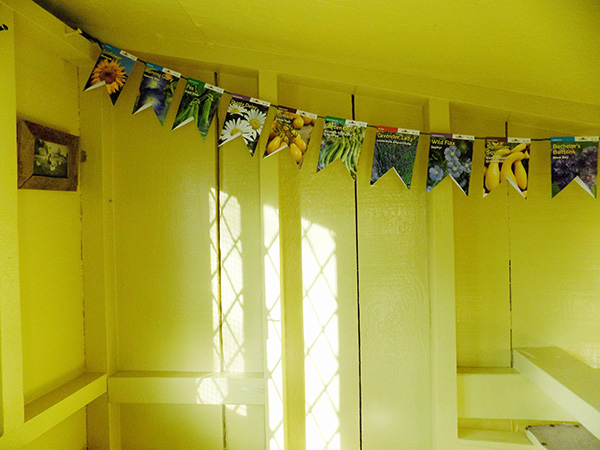 I made the 'seed packet bunting' for the coop~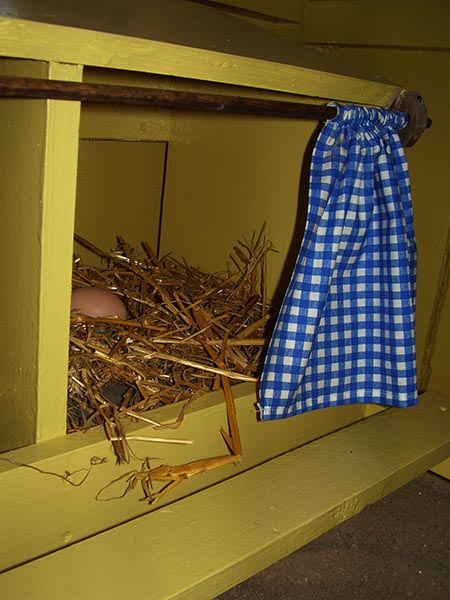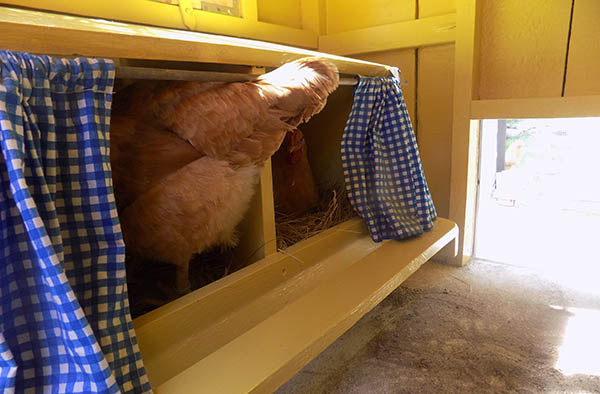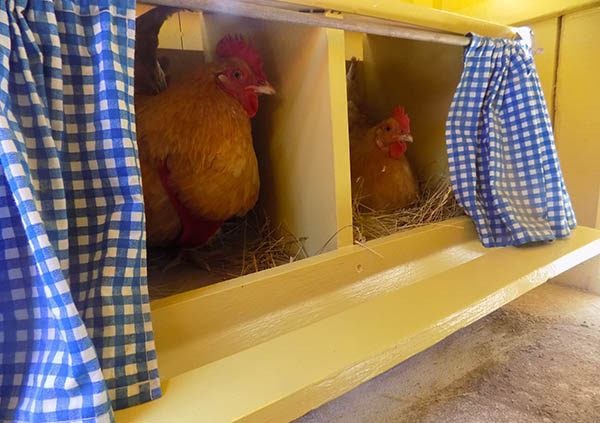 ADVENTURES IN CHICKEN KEEPING ON OUR OLD HOMESTEAD~
We thought we'd share a little bit about our chicken keeping here on OUR OLD HOMESTEAD, including my chicken care routine, a few tips, etc.
We saved and bought our basic coop and run from Jason at COOPS FOR A CAUSE in our local area of New Hampshire because each one is lovingly home made right here in NH, and a portion of every sale goes to charity.

We installed our coop ourselves and made our own improvements and personality tweaks.

The run attached to our coop has a roof, and the sides are 1/2 inch hardware cloth. Adam dug down and made a trench and buried the hardware cloth a foot into the ground around the entire perimeter, as well as around the bottom of the coop itself and bent, to prevent digging predators from getting in.

The coop side egg gathering door is locked at night with a hook and eye lock inside the coop, and the little chicken door, big coop door, and door to the run are all latched/locked securely every single night. The hens are in the coop at night. Adam even reinforced the window screen in the coop with another one he made for inside using heavy hardware cloth in a nice removable wood frame he constructed.

The roof is sloped on both coop and run; it could never be a flat roof in NH, as the snow would collapse it.

We'd heard and seen too many horror stories and we are really attached to our 4 buff orpington hens. We'd be devastated if something got them, so their security is very important.
I have an old 5 gal. bucket and I painted 'COOP CLEAN-UP' on it's side. It's in the woodshed, and inside it has a metal kitty litter scoop, a child's fan rake that we wrapped with hardware cloth, heavy work rubber gloves, as well as a natural non-chemical poultry protector spray. I clean the coop and run every single AM at about 7, without fail. I just put on my wellies, grab a pail of warm water with cider vinegar in it, the COOP CLEAN-UP bucket and go. It takes 20 min. or so, but is important and worth it for many reasons. I love my time in the early morning with 'my girls'. They are so excited and glad to see me every day!

A really clean coop and run goes a long way to keeping your hens healthy and happy. Our coop NEVER has an odor.

On the ground in the run and on the coop floor I have a mix I make of builder's sand. a little DE, wood ash from the fireplaces and woodstove that I sieve and keep in a small bucket in the shed, and a little poultry mite powder added to the mix as well.

The sand is very easy to keep clean; I scoop out the poop each day with the kitty litter scoop. I rake underneath the coop---(the dust bath/shade area), and scoop that out. The girls are then let out into the run for water and breakfast, while I clean the coop itself.

Adam made me a sheet-vinyl covered removable 'poop tray' that sits underneath their nightime roosting bar. I use the kitty litter scoop to clean any poop out of the floor sand mixture. I remove the 'poop tray' and wash it off with the warm water and replace it.

We have 2 nesting boxes. The bottoms are removable for easy cleaning. We put down a square of that garage floor rubber padding tile for to cushion the hens and eggs. Over this I have straw and I often strew in herbs---fresh from the garden or those I have dried myself.

After cleaning, I spray the poultry protector in the coop every day. Every few weeks I change the straw in the nest boxes. Our hens do not poop in them, so they stay pretty clean. Every few months I add a little more DE, wood ash, poultry mite dust mixture to the sand in the coop and run.

I'm proud that our chicken coop and run are clean and nice looking, and our girls are so clean and healthy.
On the exterior of our coop we have made 'period style' improvements such as leaded windows and period style iron hardware to blend with OUR OLD HOMESTEAD. We have a punched tin lantern that we electrified hanging by the coop door, making an excellent nightlight.
Adam built an ingenious swing-out perch for the run, a chicken swing, and a shelf for a radio in the coop in the winter when the hens spend more time there. Inside, the coop is being painted a butter yellow, and I made blue gingham curtains for the nest boxes---chickens like the privacy when laying.
We have a suspended bucket waterer with nipples in our run, and have a heater unit that goes in it for the winter so it never freezes. It's automatic and goes on and off only as needed. The water is always clean and is safe from insects and rodents.
The best investment ever was our GRANDPA'S CHICKEN FEEDER. We add things to basic feed ourselves such as oatmeal, dried herbs, flaxseed and other items, to make a special concoction that is great for the hens and that they love. The feeder is also in the run, and they step on it to open it and feed. NOTHING can get into the food, ever. It's completely rodent, insect, pest, etc., free and impervious to any weather.
We have one of those hanging wire suet feeders for birds in our chicken run. We hang it from the wire mesh sides at the level the hens can reach it and stuff it full of treats like leftover fresh produce or stuff left in our fall garden---leaves, pumpkin blossoms, older cukes, beans, squash, apples, etc. They love to peck at it and snack whenever they are in the run.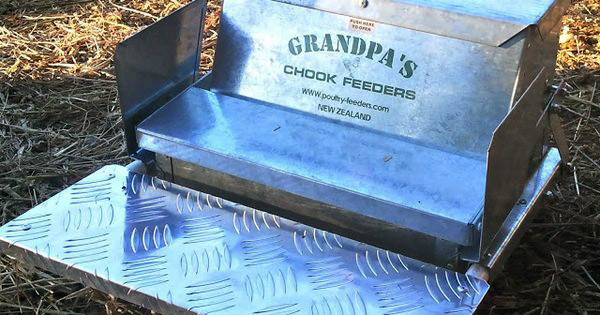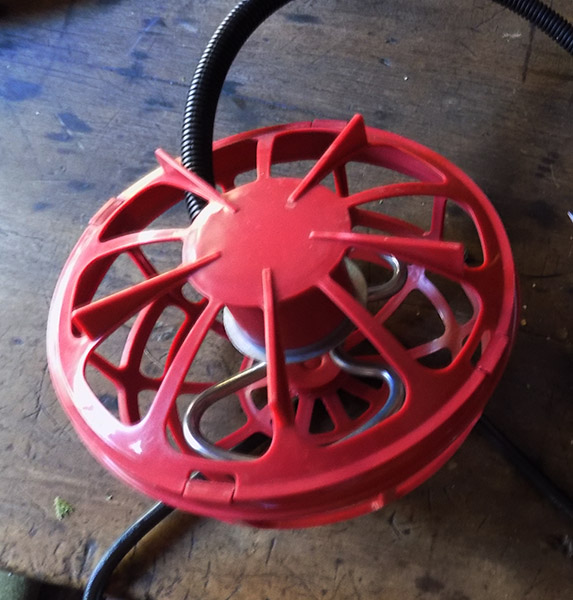 When it's cold, this automatic heater goes into the chicken's hanging waterer. It stays all winter and goes on and off as needed.
Our hens free range every day for several hours. We feel is is cruel and not natural to keep them penned all the time. They are happy foraging and they love to interact with us, coming to the kitchen door and begging for treats---grapes, cracked corn, or leftover produce of all kinds.
Our funny girls follow us all over the yard when we're out with them.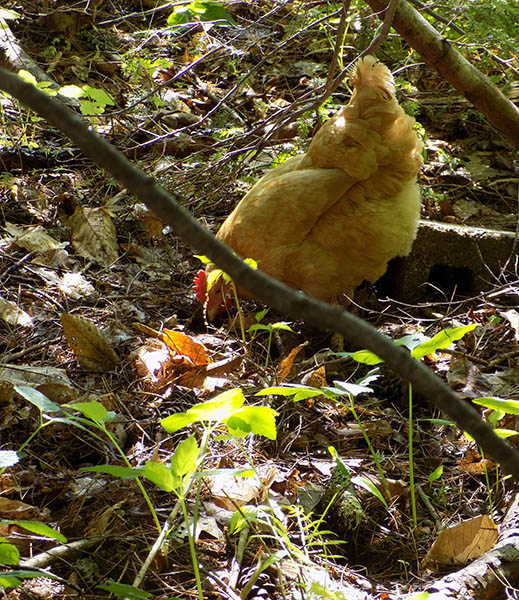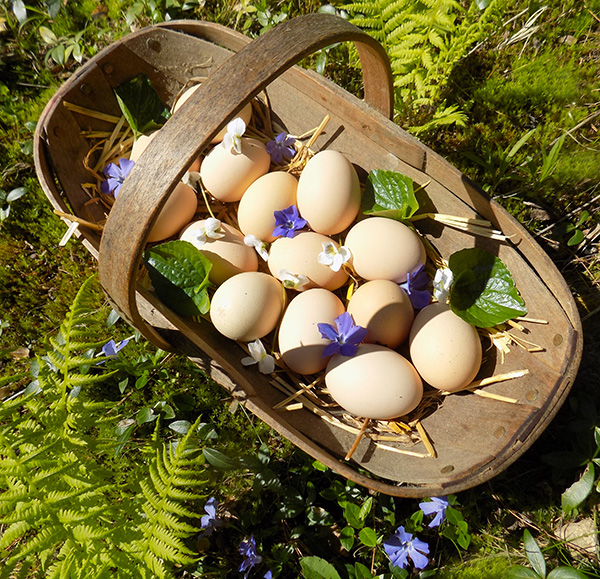 'CHICKEN IN POUCH RIDING IN CAR'~
Our Hannah, wearing a fashionable chicken diaper loves riding in the car in the front pack. Today we walked all around in Tractor Supply and she was happy as can be!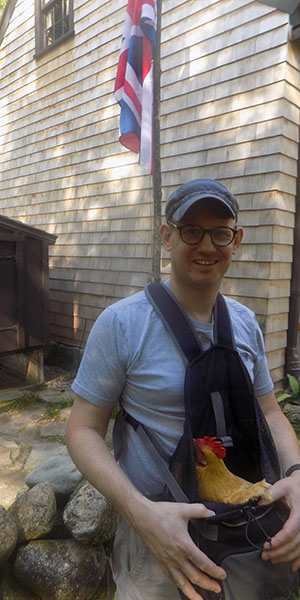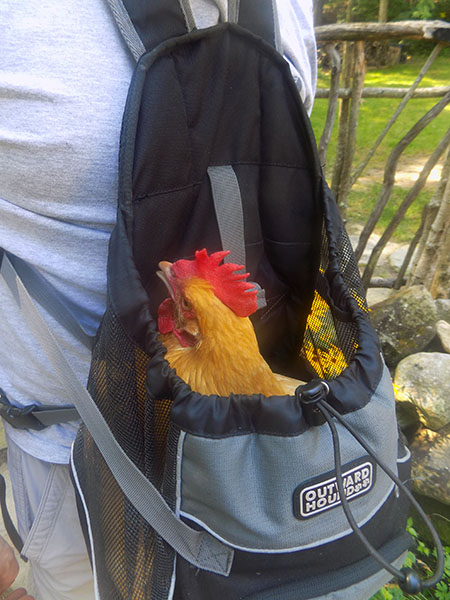 Our yorkie, Deladis.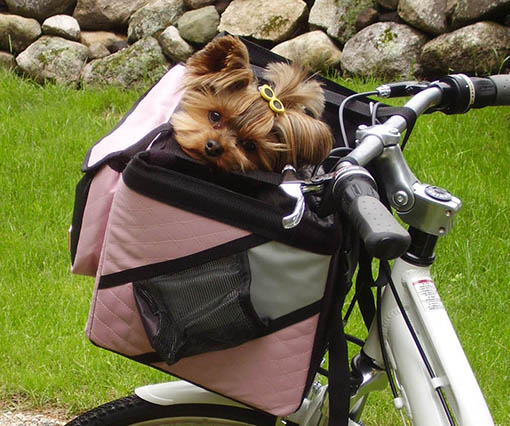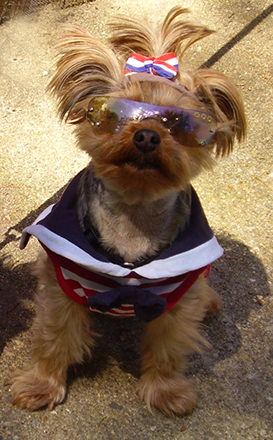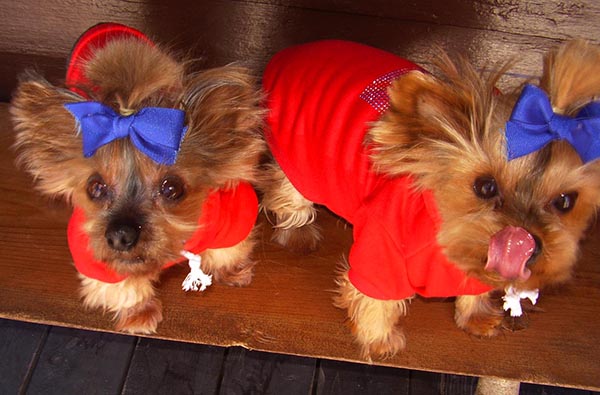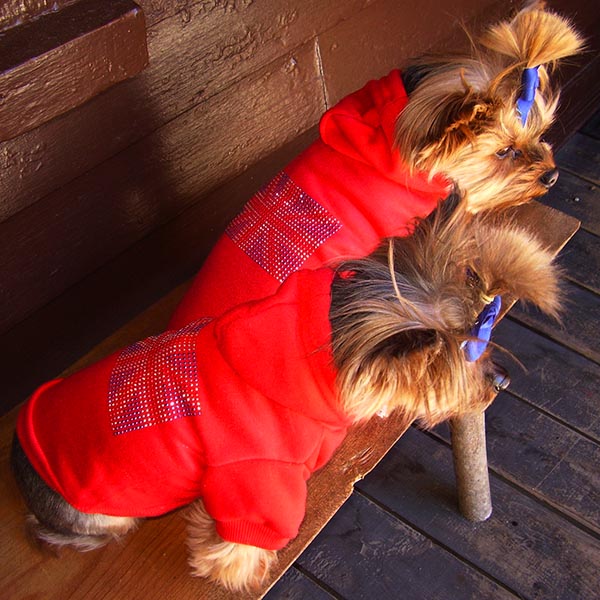 Our yorkie girls, Sasha and Deladis in happy days.
IN MEMORY
OCTOBER 3, 2016~
We lost our darling Sasha.
We are both griefstricken, and trying to hold on to the wonderful, sweet memories we have. She quickly became quite sick. She passed away at home in her little bed. She was 12.
SASHA WOULD GO WITH US TO SCHOOL PROGRAMS WE DID WEARING HER OWN 'COLONIAL COSTUME'.
WE INTRODUCED HER AS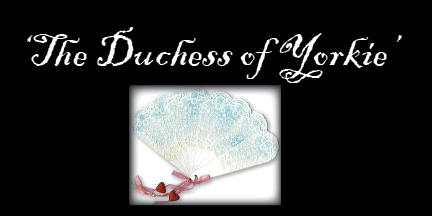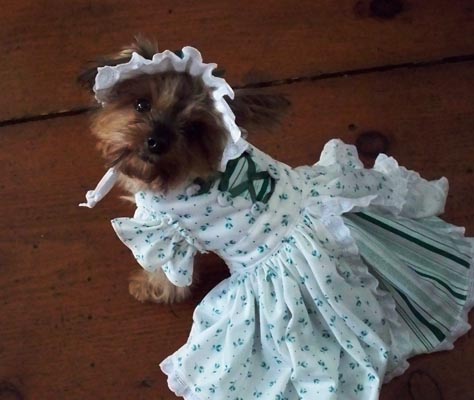 We are so grateful that we adopted her when she was not wanted by a breeder because she wasn't " a money maker" anymore, and gave her the best life we could. She gave us even more. We thank God for the years we had with her.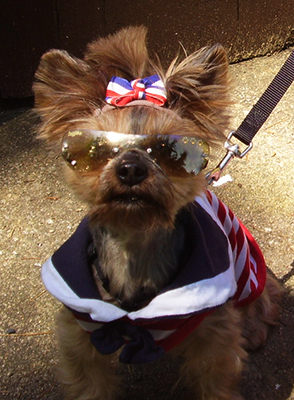 You will always be the dearest little thing and a 'wise owl' in our memories.
We'll always love you , Sasha.
_______________________________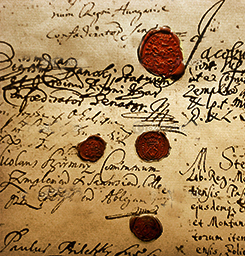 A FEW MORE LOVELY NOTES WE'VE RECEIVED~
"I do feel like a lucky subscriber! Happy to get another newsletter! Felt like I was on a walk with you two picking berries. I was a fan of your blog and really loved your stories about coming to New England, working on your house ,how you met Adam ,your beautiful wedding...all of it. Unfortunately, I was visiting your blog on my work computer and was not able to comment. I did not have a home computer at that time. I have retired ,since that time ,and of course have a computer...no face book or blog ....
I just felt compelled to tell you how much I enjoy everything on your site. I must tell you I tried the green bean tomato salad . Our beans and tomatoes are in abundance right now in my Minnesota garden. It was wonderful .....a big hit at my family cookout!!!
Have a good rest of the week
Kathleen P."
"For the past 19 years, I have felt that our home reflected my absolute joy in living in our brown half cape in Canterbury. I know it does. However, touring your site this morning makes me feel that I have been surpassed. Now I need to get going again with a project. Your site is so inspiring!!!! Seeing your projects and how they reflect your sincere joy of life makes me inspired to gather some energy and add to my little piece of heaven. Thank you again for sharing. ~Sue B."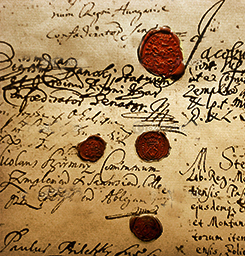 A REALLY NICE EMAIL WE RECEIVED FROM 'COUNTRY GENTLEMEN', BOB AND STEVEN~
"Love looking at your website Mary. You guys are incredibly hard workers. We must not have been online when your hourglass was first posted. Wish we would have seen it. Sorry it got sold. We have started collecting them and yours was a fine example. If you ever get another one, please let us know. Again, your house and yard looks beautiful. Thanks so much for sharing.

Bob and Steven, The Country Gentlemen"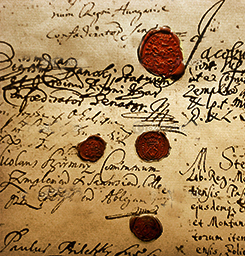 A NICE NOTE WE RECEIVED~
"Dear Mary, I was just checking your pages, how I enjoy seeing all of your wonderful antiques, your fabulous early home and grounds. I also want to tell you how much I love the Bannister arm chair and beam I purchased from you. The more primitive side of the beam is the part you see as it is used as the mantle on my stone fireplace. I have pewter and early lighting on it. And the arm chair, is just the best! It is one of the most special pieces that I have. It is next to my 18th c. server, for lack of a better word, that still retains the early red wash. Hanging on the BB is a small leather purpose bag with a powder horn attached by a slim leather strip. Just thought I would let you know how special the antiques are that I purchased from you...
Also want to tell you how wonderful your shipper was. She's so sweet, I wanted to "mother" her a bit. She had such a long way to go from here..." ~Nancy G.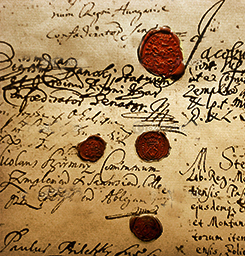 ANOTHER NICE EMAIL RECIEVED APRIL 2016~
Dear Mary,
It has been such a long time since I've written you. I go to your
website and am in awe of your many projects and all the changes yourhome and yard have gone through. It is truly a beautiful, warm home with such outstanding antiques. Sometimes I think you just couldn't find one more amazing project to do and you and Adam accomplish something spectacular. Your talents are so many.....thank you for
being so inspiring to so many.
We have changed our email address to_________. I just
wanted to get your emails and make sure I heard about all your
projects. I hope you both are well and I'm sure you are so excited about yourlittle chicks coming. Wishing you both all the best....

with love, Dale D.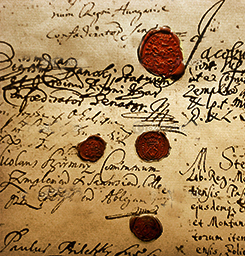 countryladyantiques@yahoo.com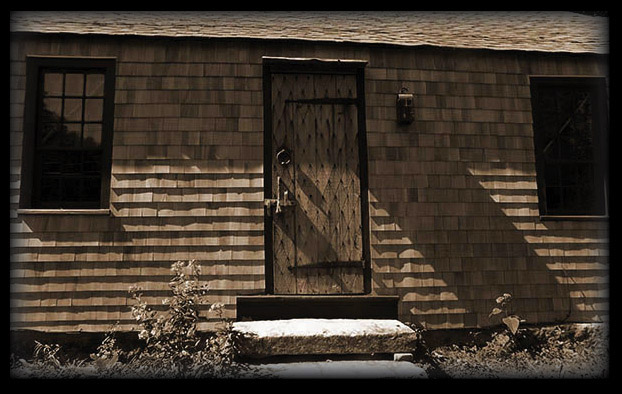 Take a tour of our home and gardens on the TOUR page.
OUR HOME IS FOR SALE~