'DIY PROJECTS PAGE'~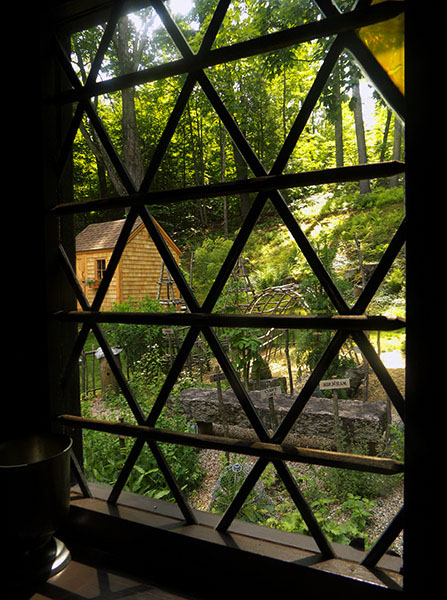 ______________________________
We have A NEW GALLERY now up~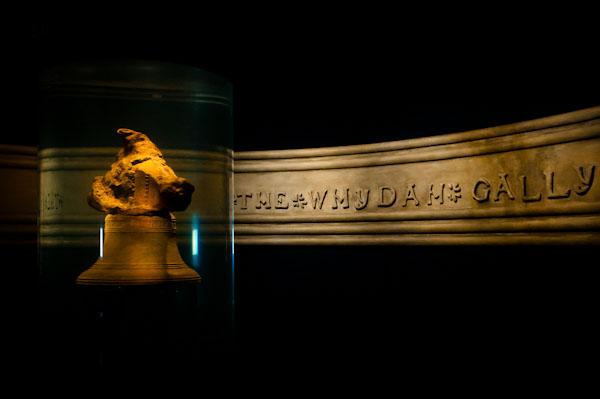 The Whydah galley sunk off Cape Cod in 1717.
An avid history lover, I have read about her story and 'Black Sam Bellamy' for many years. Her wreck was discovered in the 1980's.

The Science Center in Portland Maine currently has an exhibit of artifacts and the pirate treasure she carried, presented by National Geographic.
We went to Portland for the day and saw the wonderful exhibit, had some great local seafood and homemade gelato, and strolled the old port.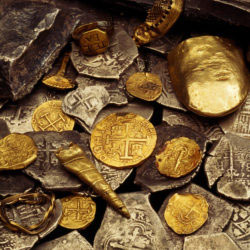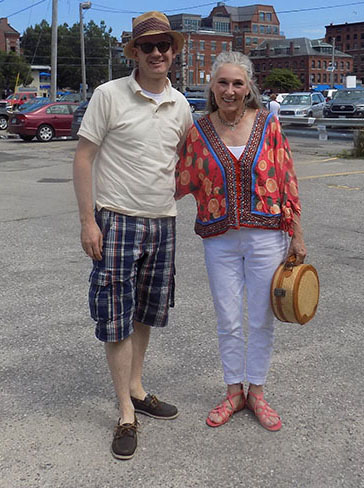 TO SEE OUR GALLERY...
Scroll all the way to the bottom of the
HOME PAGE~
---Click on the RED LINK that says
'OUR GALLERY PAGE'~
__________________________________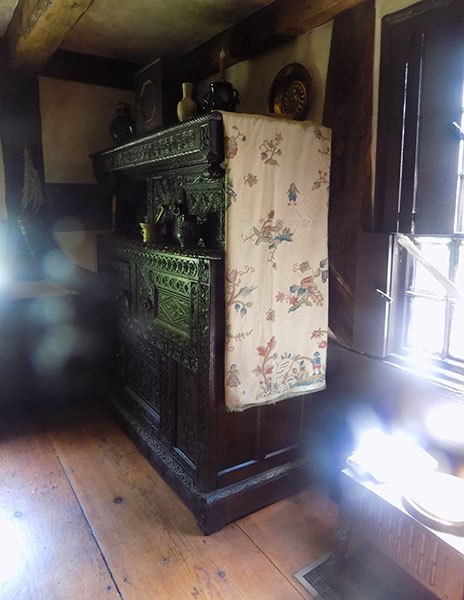 NEW UPDATED PHOTOS ARE NOW BEING ADDED TO OUR TOUR PAGE~
NEW musick on our TOUR and GALLERY PAGES~
__________________________________
IN OUR OPINION...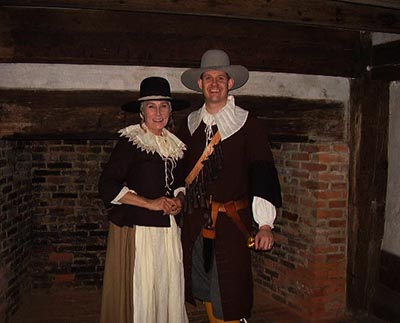 PERIOD DECORATING ADVICE~
I taught a class on antiques in a community college at one time, and I have received many kind compliments over many years on my home, projects, and antiques.
When we get or do something, it seems quite often that we see it shortly after, cropping up in other's homes all over---
(The latest, seems to be a 'winnowing basket'--See our TOUR page for a little lesson on 'Winnowing Baskets 101'~)
___________
SOME 'CRINGEWORTHY' DECORATING FAUX PAS WE WOULD NEVER DO, AND NEVER RECOMMEND~
(We'll add to our list)
---Don't use old army blankets as bed hangings.
---Don't hang children's chairs (or any chair) on the wall.
---Don't try to replicate a 'Plimoth Plantation 'hovel look' in your HOME. Conversely, we often see inappropriately 'fancy' antique furniture in simple homes---We suggest you don't put a heavily, ornately carved Elizabethan table or an overly carved, too-tall 'castle' /mansion bed in your home, for example.
---JUST BECAUSE YOU SEE IT AT PLIMOTH PLANTATION DOES NOT MEAN IT'S ALWAYS 'CORRECT'------Plimoth not long ago had the renowned Stuart Peachey from the UK come and give them help and advice to correct some of the things they were doing wrong and portraying inaccurately.
---Resist the urge to put a lot of hornbeams, sacks of grain , foodstuffs, hanging rags, etc., all over every room of your home instead of in a buttery or the like, where they belong.
---No one back in the day would have owned umpteen hornbeams, or have too many pieces of iron at their hearth. A few well chosen and good pieces speaks far more eloquently.
---Don't put too many 'fake food' "vignettes" all over as if your home were a living history museum.
---Regarding 'wall aging'~ I came up with an idea and formula to 'age' my walls/ceilings, and did them initially in 2000. I had not seen anyone do this before. After they were featured in a couple magazines, the idea exploded and it seemed everyone was doing it. The main problem I see is that so many are cringe-ingly overdone; I've done mine with believable color and a light hand, and they look very authentic, as I am often told. Overdone 'aging' just looks, messy, unnatural, and not at all attractive. DON'T use paint or food products to 'age' your walls---(I know one woman who diluted her trim paint with water and smeared it all over her walls!), and remember that less is more. Go easy. Be subtle, and you'll achieve a look that is warm, realistic, and believable.
---Don't 'ding up', break, stain, etc., reproduction pottery pieces that you buy, attempting to make them look 'old'. The fine craftsmen who make the pieces worked hard on them; Don't disrepect thier work. Enjoy them as they are and allow them to 'age' on their own and become antiques in time.
---Resist the urge to buy modern lumber---boards from a home center or lumber company, such as 1 by 4's or 1 by 6's ---and put them on your walls in an attempt to create a 'half timber' or 'tudor look'. If you cannot save for or find original old boards, try to come up with a different way to bring an 'old' feel or character to your home.
---A big mistake---"Staging" your home instead of trying to blend your 21stc. life with the endearing elements of a past you love---If you have 'decorated' to the extent that you are forced to live in a 'modern' upstairs or basement room, you have gone too far.
---Don't make every room into an 'all purpose room'. Rooms in a home had specific function(s), especially if you are not living in a one-room hovel at Plimoth Plantation. An example is putting your best table and some of your finer accessories/possessions in your 'best', or social rooms. Don't make a bedchamber into a food or goods storage room as well.
---Along those lines, don't pile inappropriate things on every piece of furniture---I see so many piles of baskets on a cupboard, rumpled replica period clothing on chests or blanket chests, wadded blankets or bedding as well. This is some misguided attempt by some who should know better to again replicate a Plimoth Plantation one room hovel. The colonists were quite sophisticated people from England, and then having lived in cosmopolitan Holland for many years before 1620. They were neat and wanted a nice home just as we all do. They only piled things willy-nilly because they only had one room initially and no choice for several years until they could construct the homes they desired.
_________________________
Don't miss our special galleries on the GALLERY page.
TO VISIT OUR GALLERY PAGE,
scroll all the way to the bottom of the
HOME PAGE~
---Click on the RED LINK that says 'OUR GALLERY PAGE'.
__________________________________
A FEW OF OUR MANY PROJECTS ~
'THE BRIDGE PROJECT', JUNE 2017~
Time to replace the old, rickety bridge...
We decided to build our own much sturdier, natural, and whimsically rustic bridge...
We laid 1 inch thick, 6 inch wide cedar boards straight, supported underneath with 2 x 4's we had.
~We crafted charming 'railings' from gnarled branches we found laying in the woods.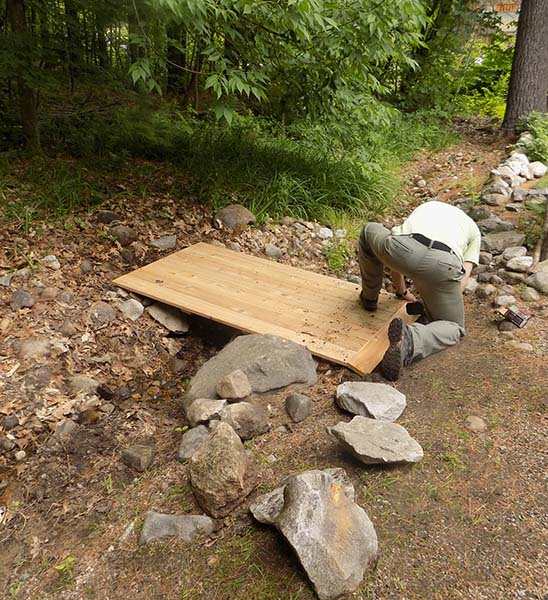 Our bridge is 40 inches wide and 6 feet long over our little stream...
Putting beveled boards at the ends.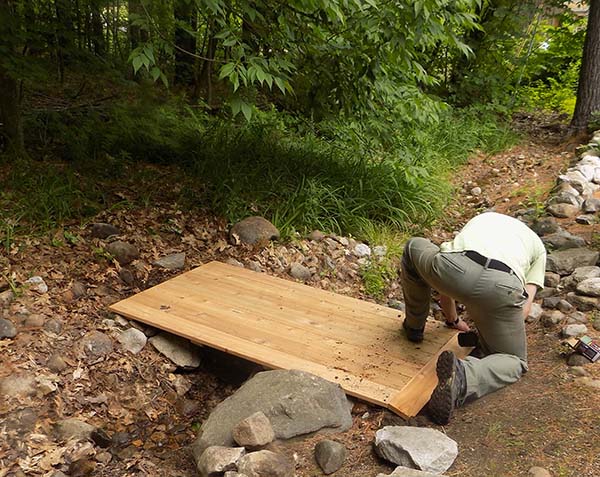 It's all leveled with rocks at the ends.
~Then we made railings from gnarled branches we collected in the woods~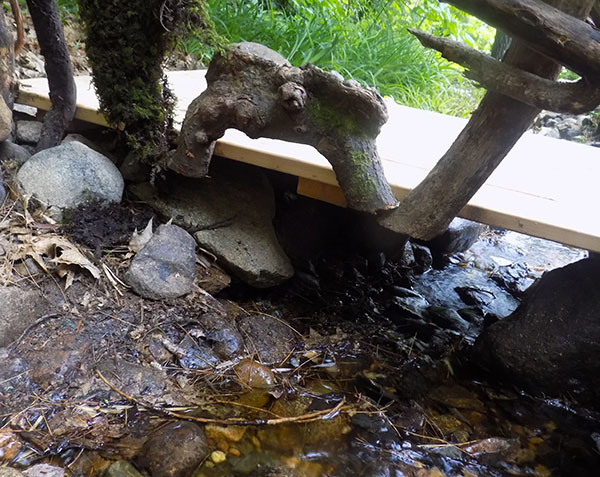 BELOW IS THE FINISHED BRIDGE. WE'RE CHUFFED AND WE LOVE IT!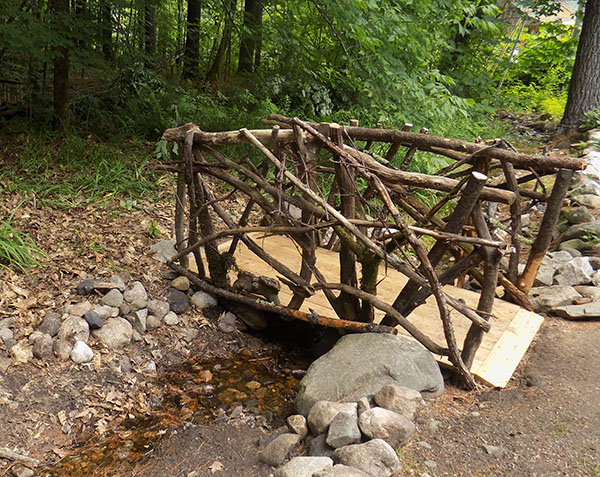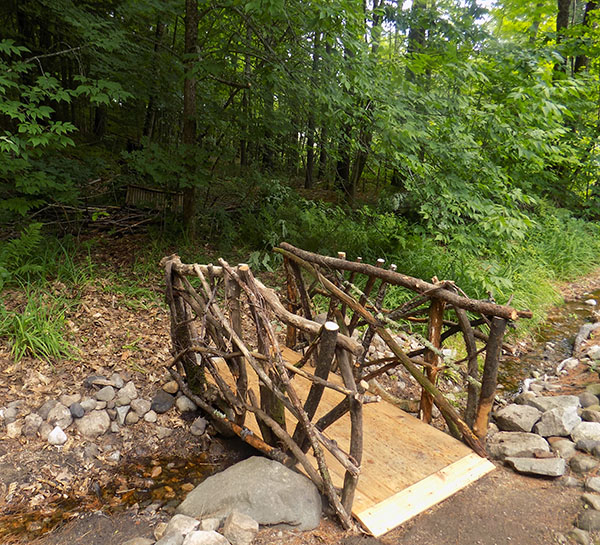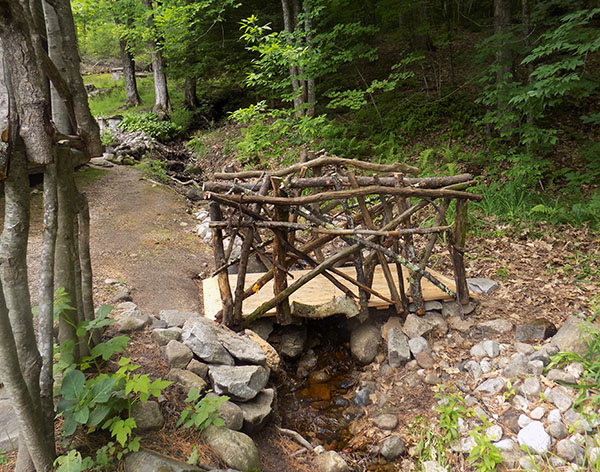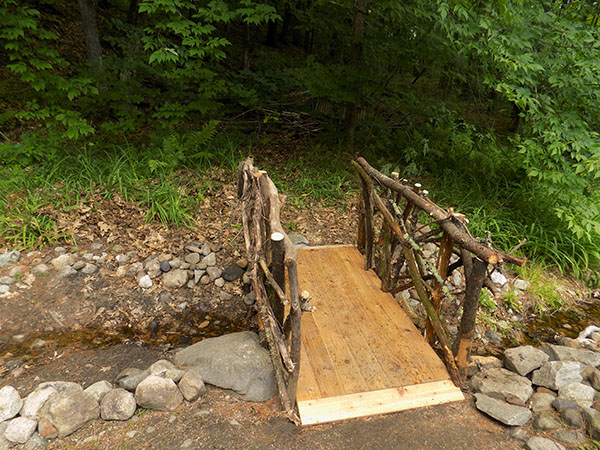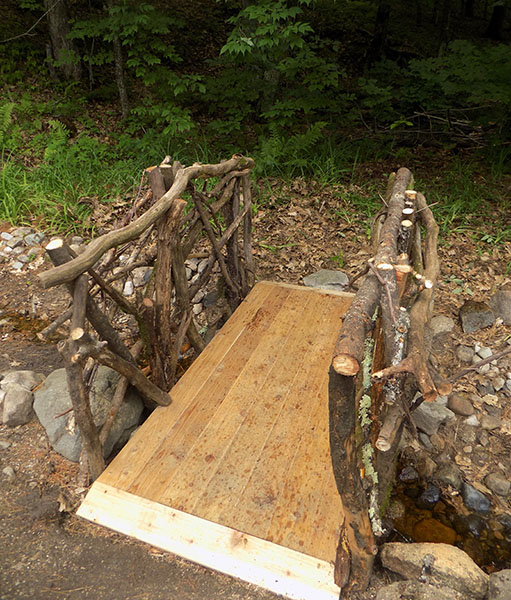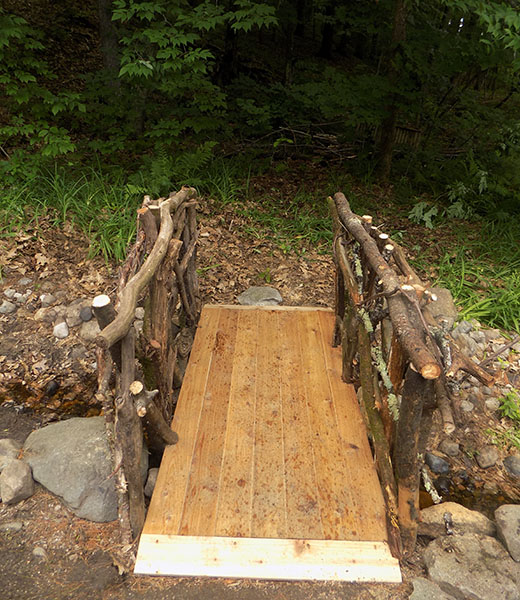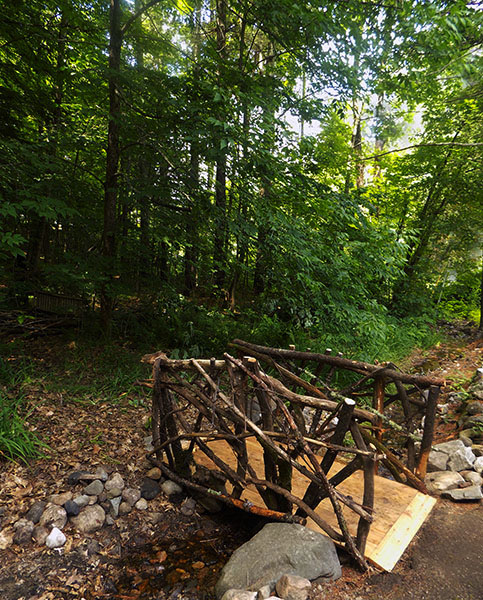 _______________________
~WE'VE BUILT A PERIOD STORM DOOR FOR THE TAPROOM ENTRANCE...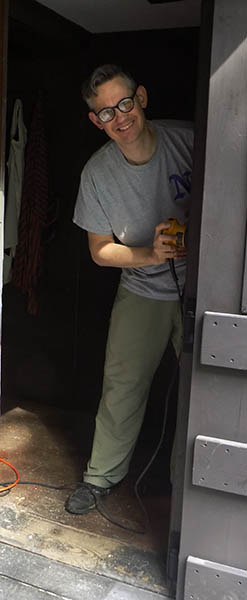 Here Adam sands the door frame after I used wood putty to fill in old hinge cutouts and imperfections...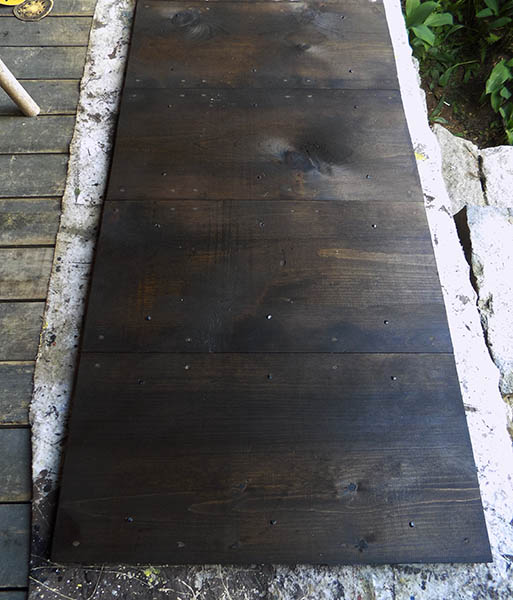 This is the INSIDE facing side of the door.
For our doors, we ran 2 sets of boards in different directions; 12 inch wide boards vertically for the exterior surface, and 16 inch wide boards horizontally on the inside~
We used period style iron rosehead nails...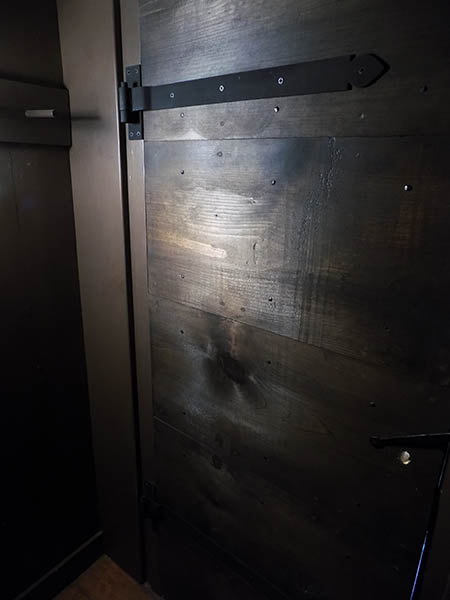 Hanging the door...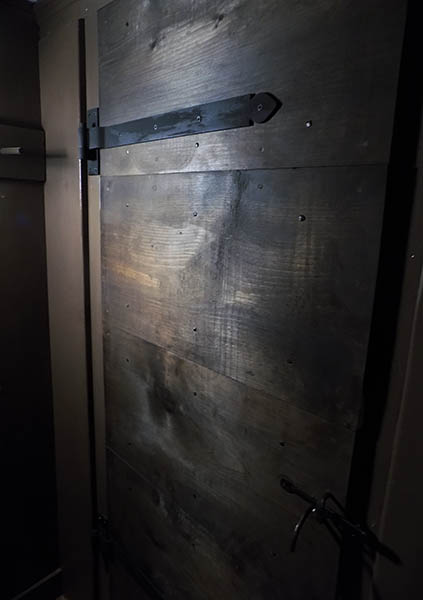 ...and putting the thumb latch on it.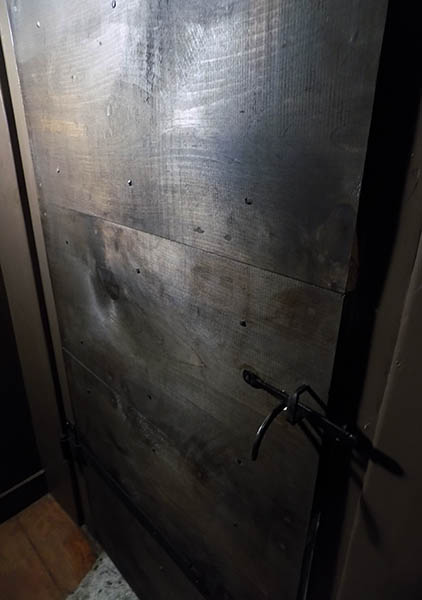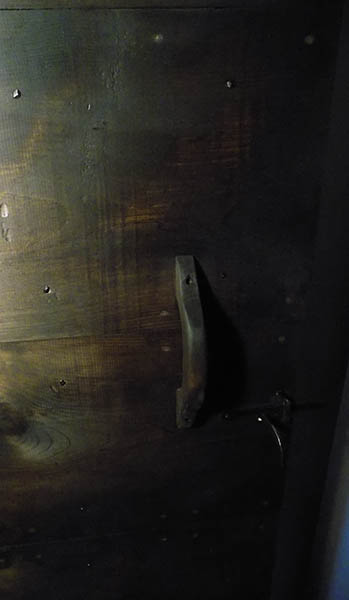 Adam made a wooden handle also for the inside...

We also put this handmade iron lock on the inside of the door.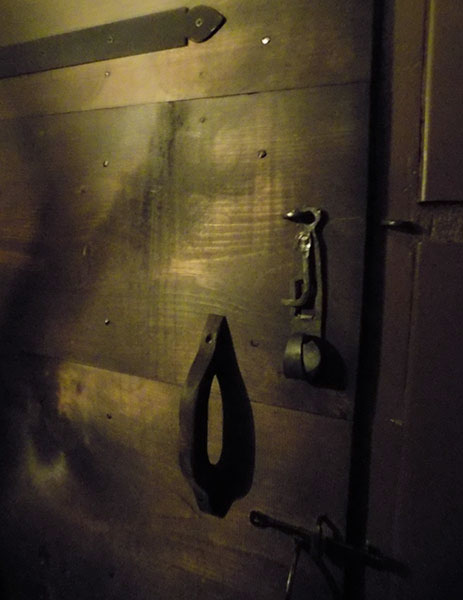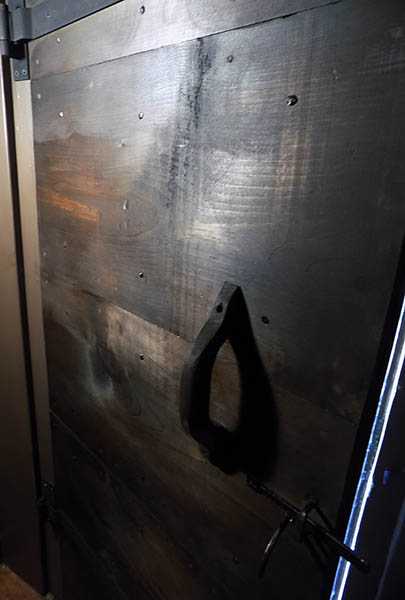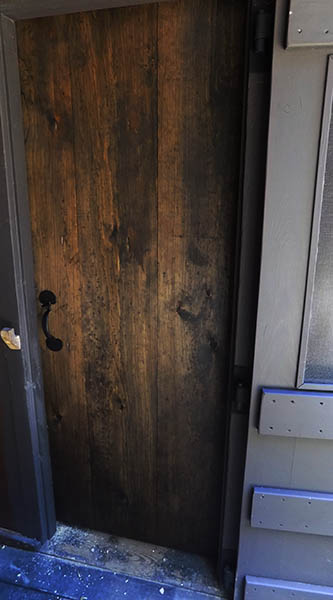 This is the porch entry door from the outside...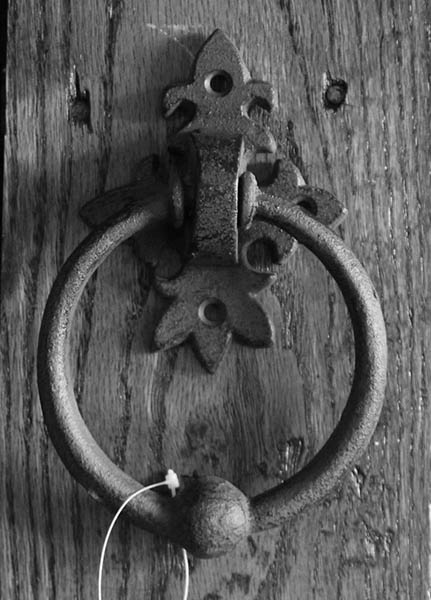 The iron ring we got for the outside of the door...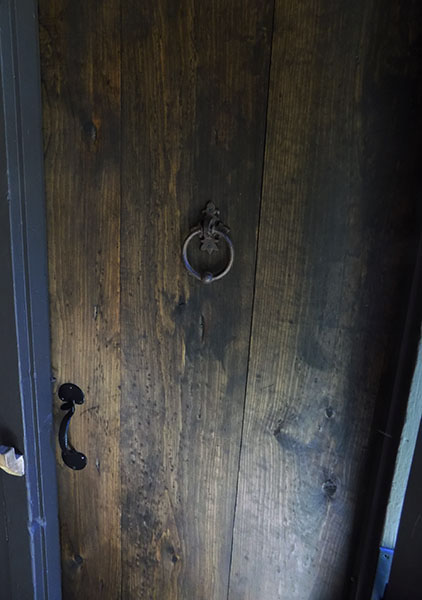 Finished door~ Taproom/porch entrance to house.
In summer, the screen door we made is on the outside of this (porch entrance) door. In winter, the diamond scribed, nail studded cedar door we made years ago for this entry is on the outside of this inner storm door~
_______________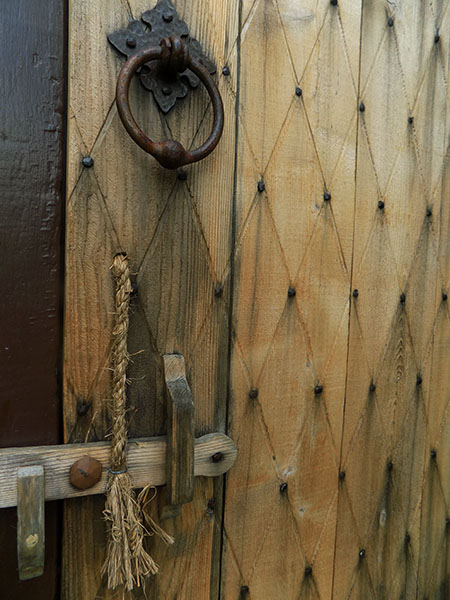 The hammered iron clavos on the latch is a perfect 'weight' that allows the latch to drop back into the keeper on the door trim when closing the door~
WE MADE ANOTHER THICK INNER STORM DOOR FOR THE FRONT CENTER HALL ENTRANCE....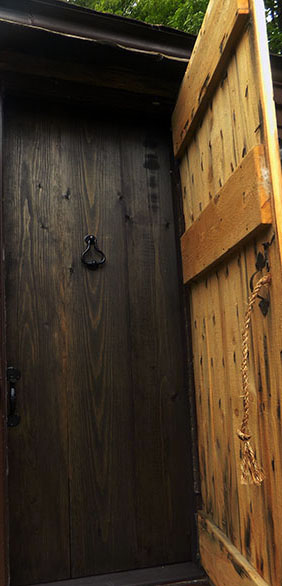 It's the storm door inside the front entry, BEHIND the batten door we built with the nail studs and diamond scribing...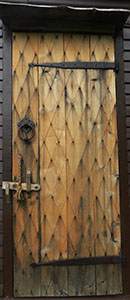 BELOW, WONDERFUL INSIDE SURFACE OF THIS DOOR WITH IT'S 30 INCH LONG PINTEL HINGES, THUMBLATCHES, AND ROSEHEAD NAILS WE USED~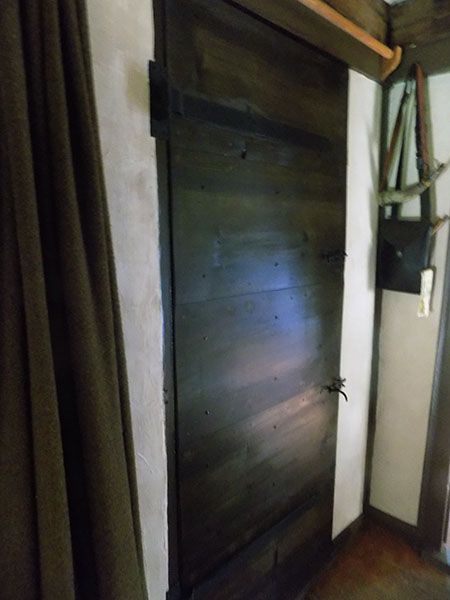 Door for center front entry hall~
For our doors, we ran 2 sets of boards in different directions; 12 inch wide boards vertically for the exterior surface, and 16 inch wide boards horizontally on the inside~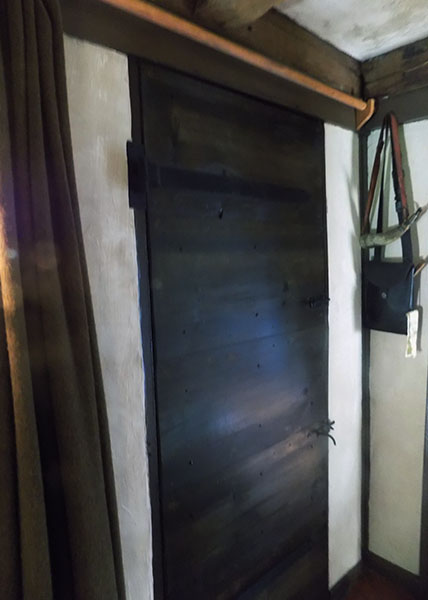 ***SEE MORE PHOTOS OF THE COMPLETED PROJECTS ON OUR TOUR PAGE NOW~
_______________________________
We both worked on making and painting a sign for selling our eggs~
JUNE 10th~We sold our first eggs today~
We tied each egg carton with jute string and a mini bouquet of tiny wildflowers and herbs from our yard. We sold out of every one that day!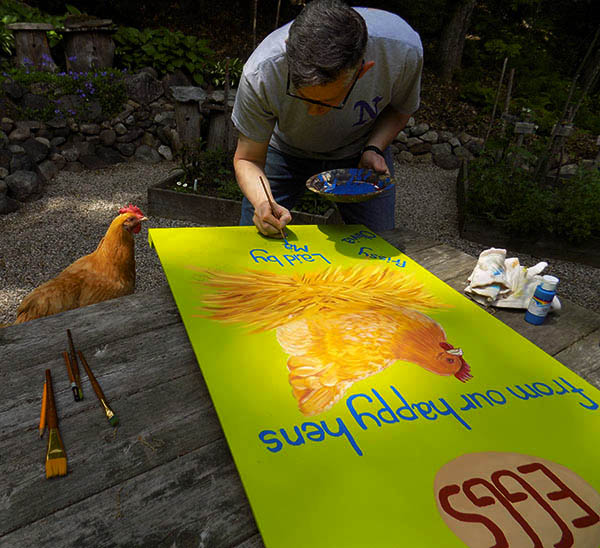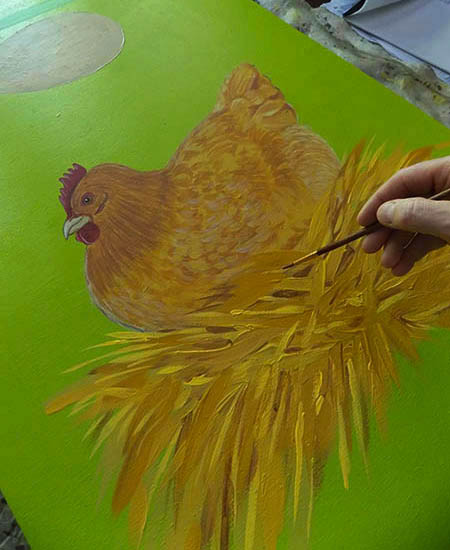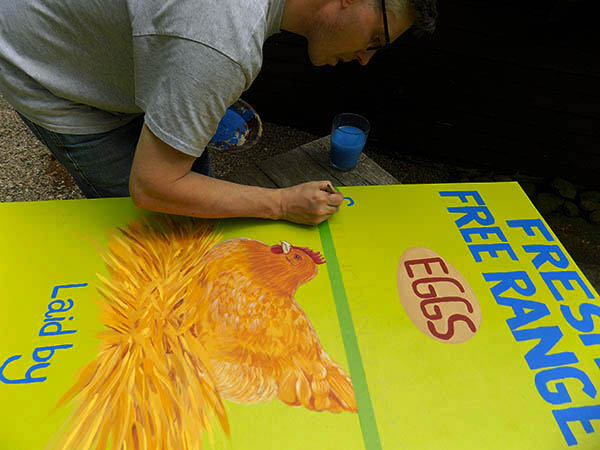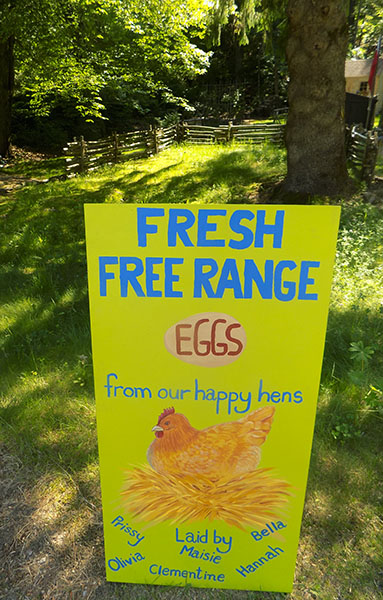 _____________________
EARLY SPRING 2017~
NEW 'GOURD ARCH'
We built a new, sturdier 'gourd arch' in the garden to replace the old one...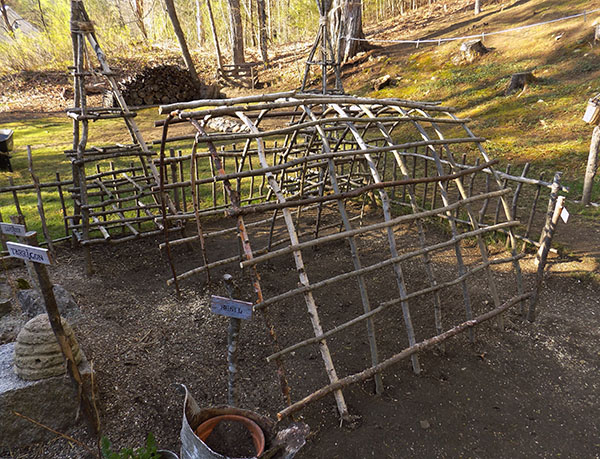 This is for our miniature pumpkins...
The vines grow up all over, covering the entire arch and the little pumpkins hang down. It really looks amazing~
May, 2017~
We're planting all our veggie and heirloom herb plants. We then put down newspaper all over the dirt in the garden, wet it down with a hose and then spread fresh straw. The plants don't dry out and we have no weeds in our garden.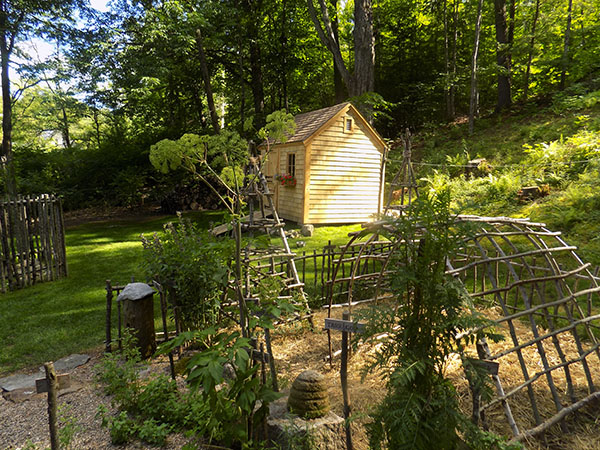 ________________
Post and beam cedar shingled shed with a loft~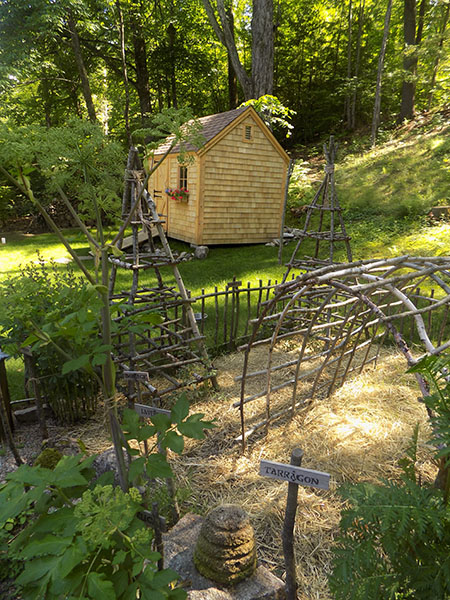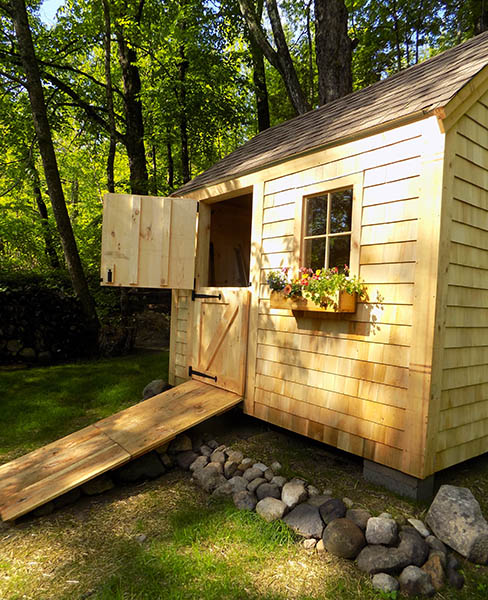 Hand built post and beam shed with a loft inside.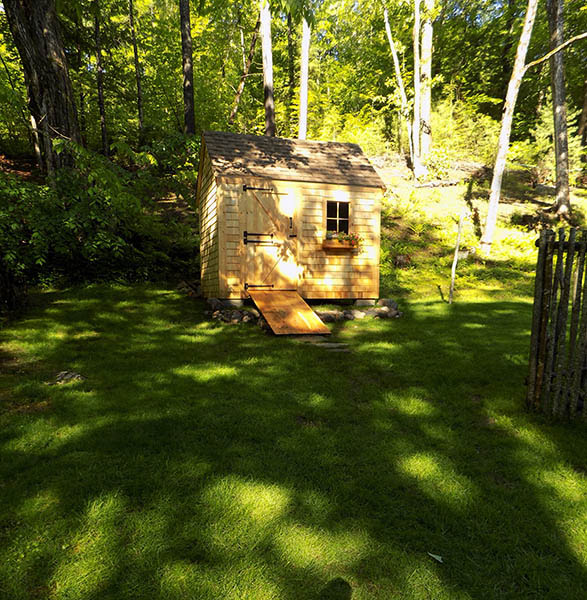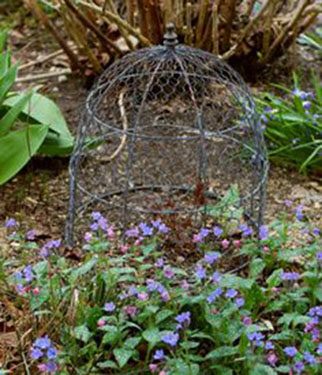 WATCH FOR MORE PICTURES OF OUR BEAUTIFUL GARDEN IN FULL GREEN IN A FUTURE NEWSLETTER THIS SUMMER.
~LOTS OF CHANGES COMING THAT WE'LL SHARE ONLY WITH OUR NEWSLETTER SUBSCRIBERS!
___________________
MAY 27th, 2017~We planted a willow tree on our 10th anniversary~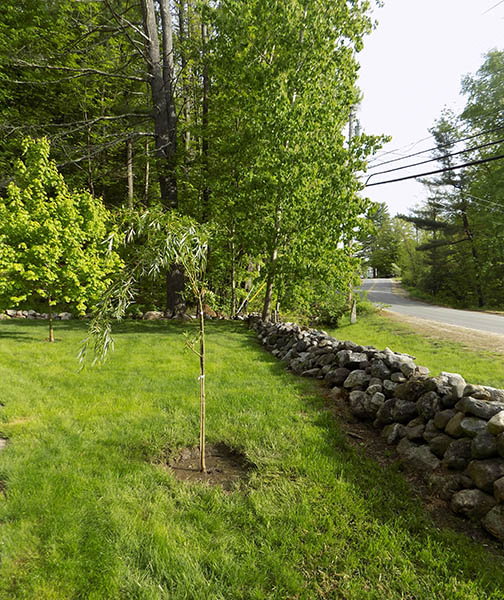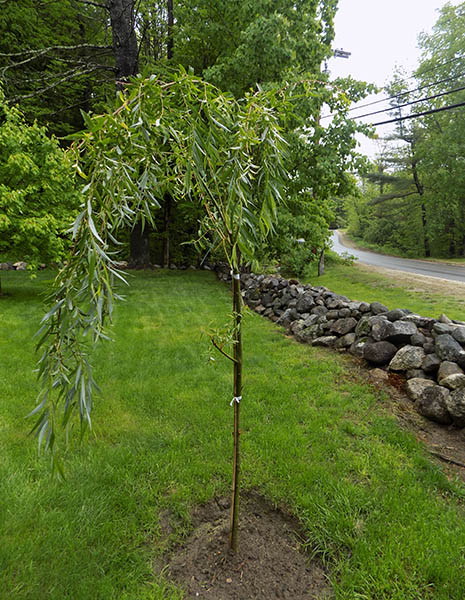 Willow tree we planted on our 10th anniversary,
May 27, 2017~
_________________________
FINISHED LAYING NATURAL NEW ENGLAND STONE PATHS, AND SEEDING AREAS OF LAWN WHERE WE HAD DONE A LOT OF WORK~
Here we work on the coop area...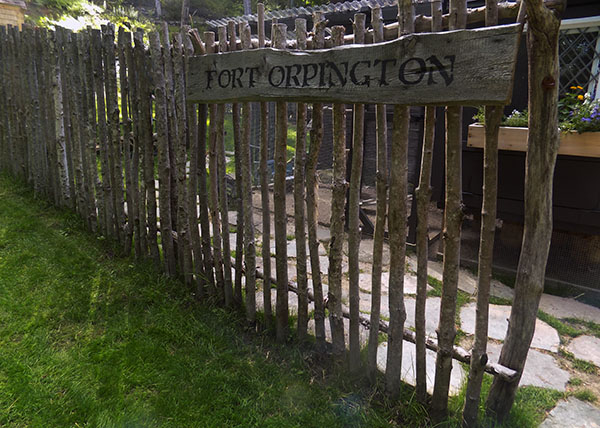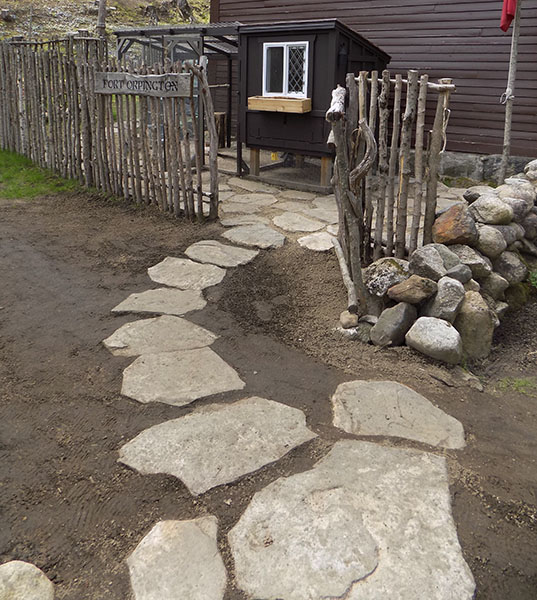 Working on the path leading to the front sideyard...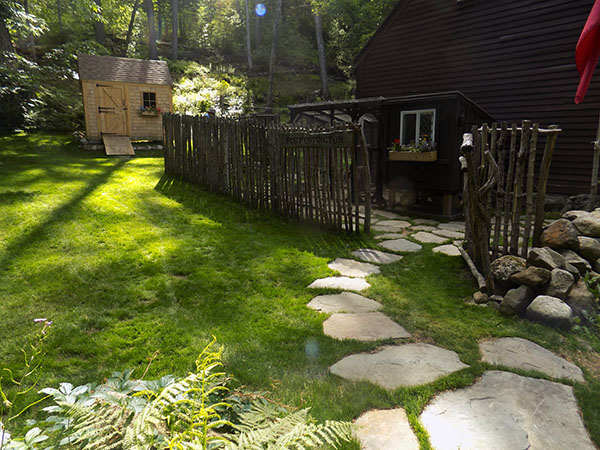 ...And here is the finished area~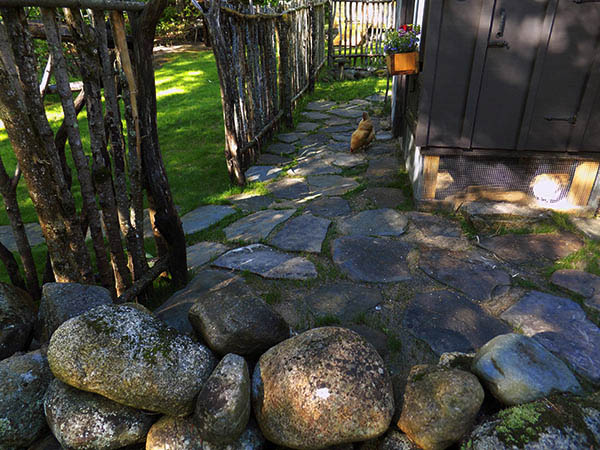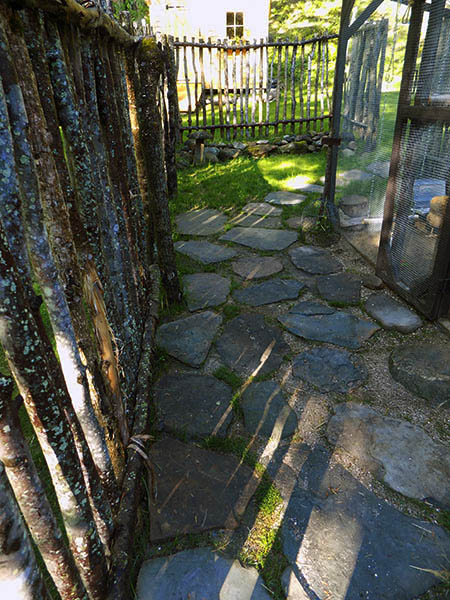 Finished painting the coop and run.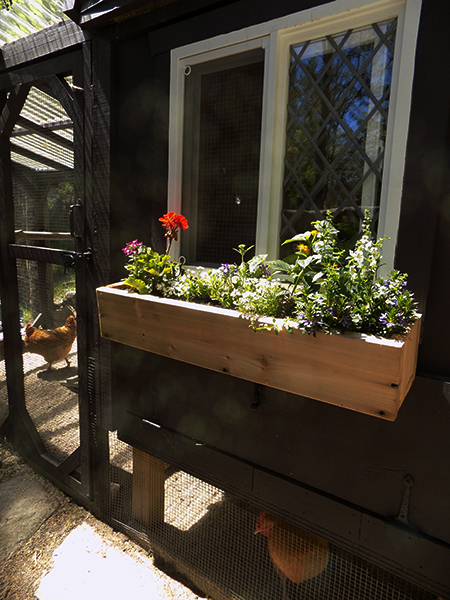 We planted nightshade and moonflower vines to climb up the twig gate we made. It's now in a fixed position.
__________________________________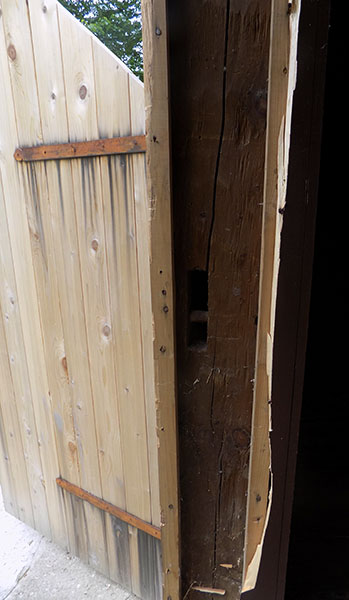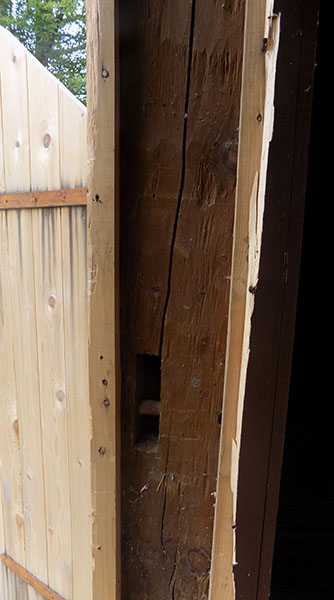 Replacing trim on porch.
It was neat to see the huge original hand hewn and wood pin beams that frame our attached woodshed.
___________________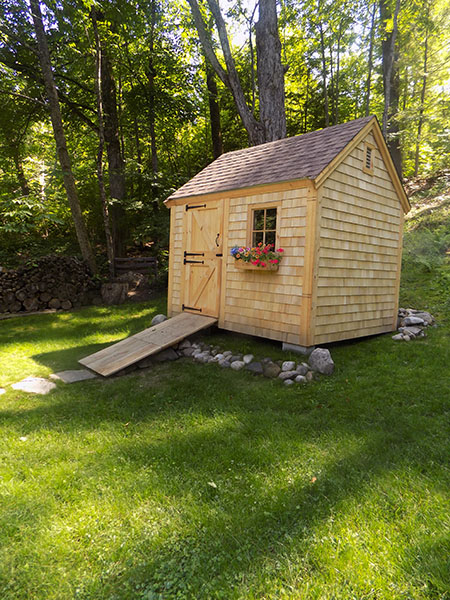 A HAND MADE, POST AND BEAM SHED IN OUR BACK GARDEN...
THIS HAS FREED UP THE OLD ORIGINAL WOODSHED ATTACHED TO THE HOUSE...
We found a massive antique wood work bench, c. late 1800's, and 9 feet long. It is now in the original attached woodshed along one wall, and Adam is thrilled to have a place to do all the DIY projects we do.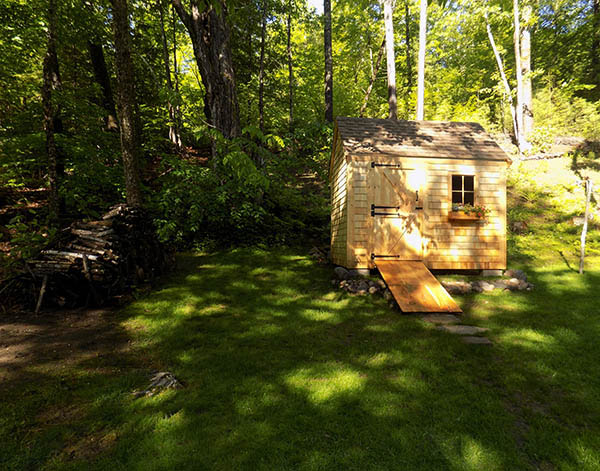 The 'new shed' in the backyard. See photos on TOUR page.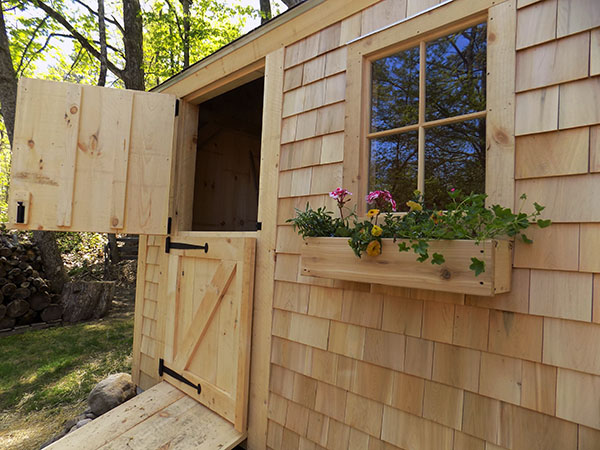 __________________________
WE'VE FINISHED THE NEW TWIG ARBOR IN THE FRONT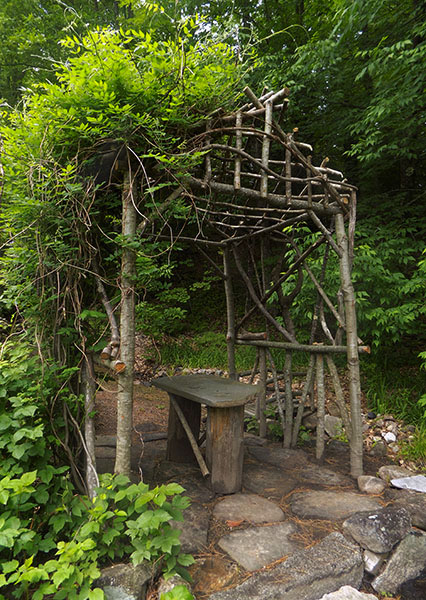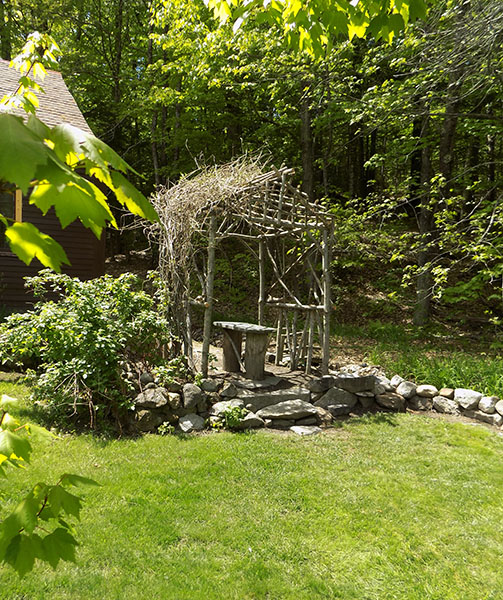 L.aying the natural stones for a floor in the arbor...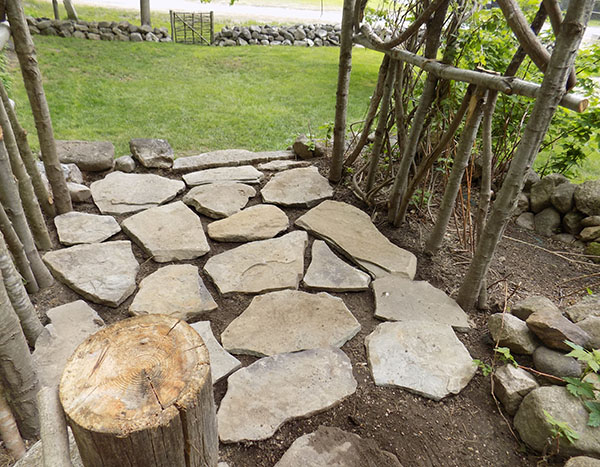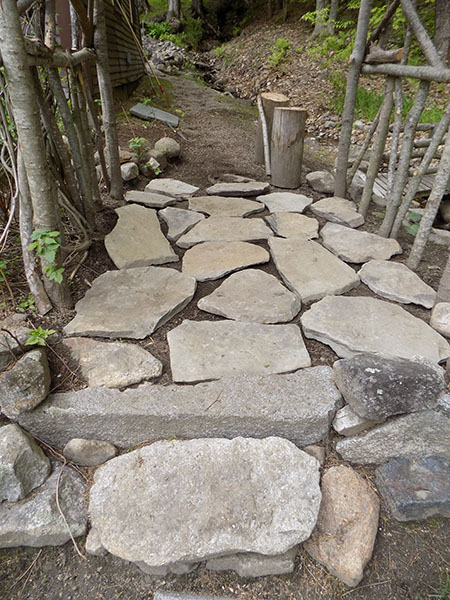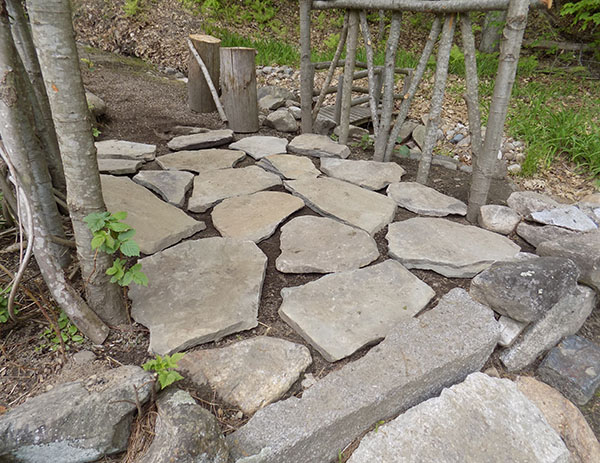 Below, the finished stone 'floor' in the arbor~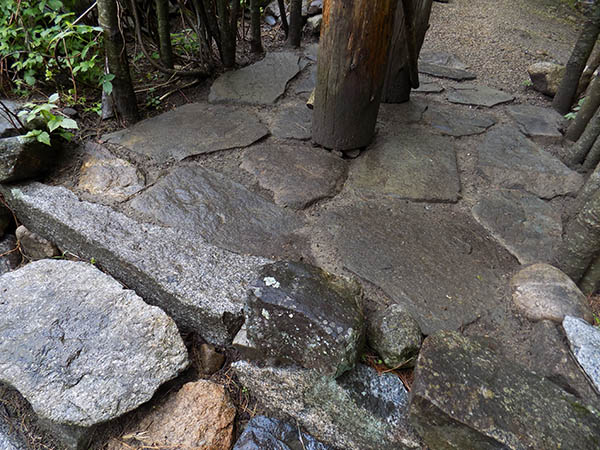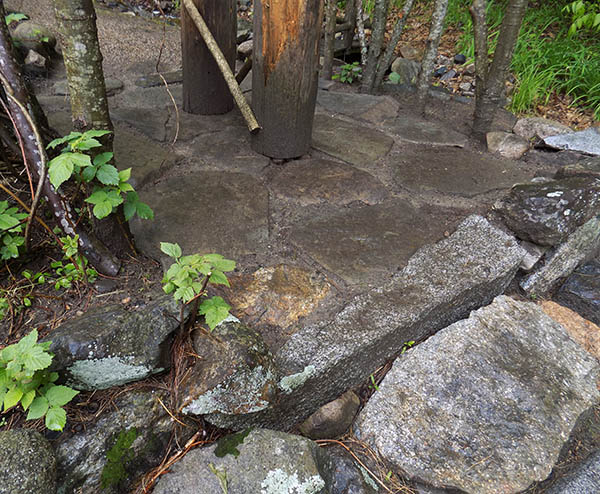 Finished stone floor in the arbor.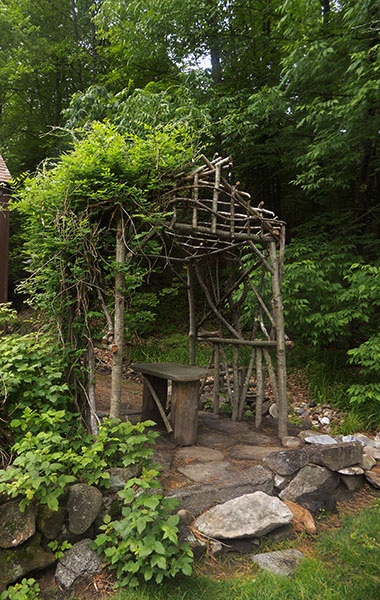 Our finished arbor. We're chuffed! We love it!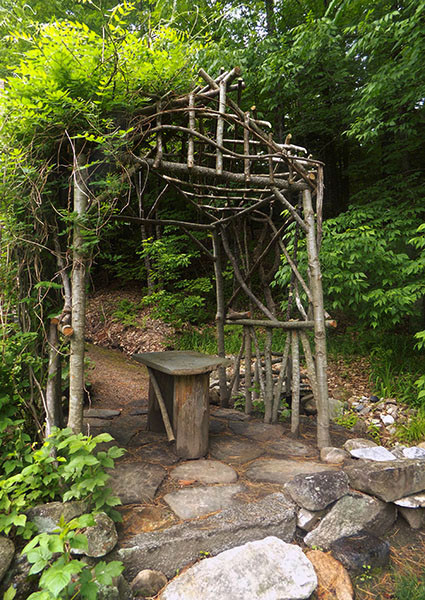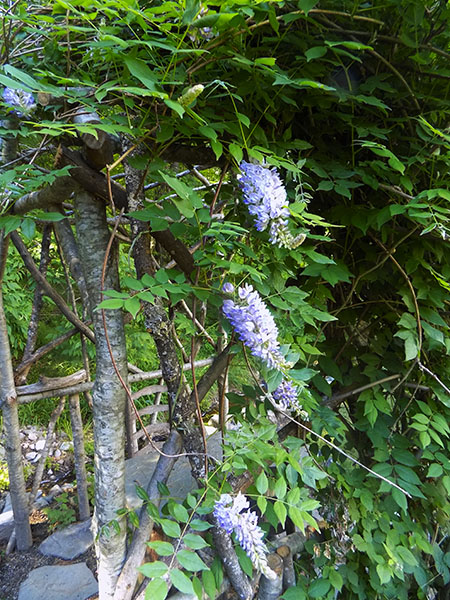 ____________________________________
Feb. 2017~ We built
NEW SHED DOORS~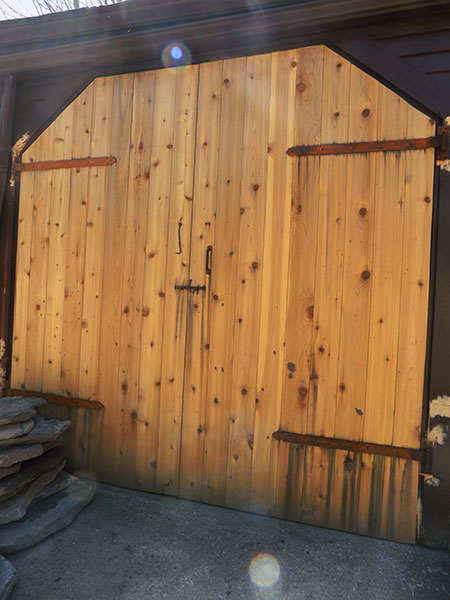 The finished cedar woodshed doors we built.
Below, working on them~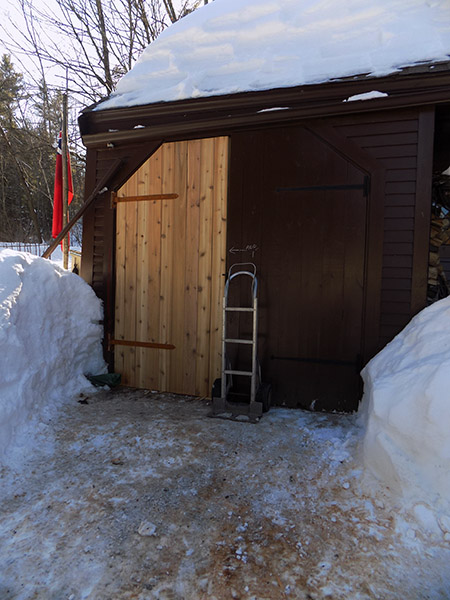 FEBRUARY, 2017~
The 2 of us built a pair of shed doors for our original attached post and beam woodshed. The ugly brown doors that were not in good shape were finally replaced~
WE BUILT THE DOORS OUT OF 1 INCH THICK NATURAL CEDAR BOARDS.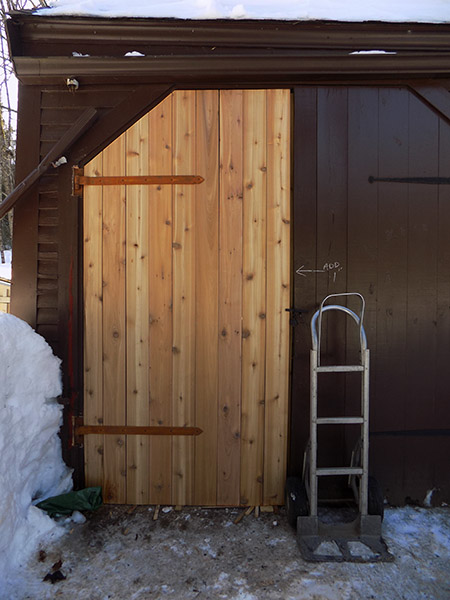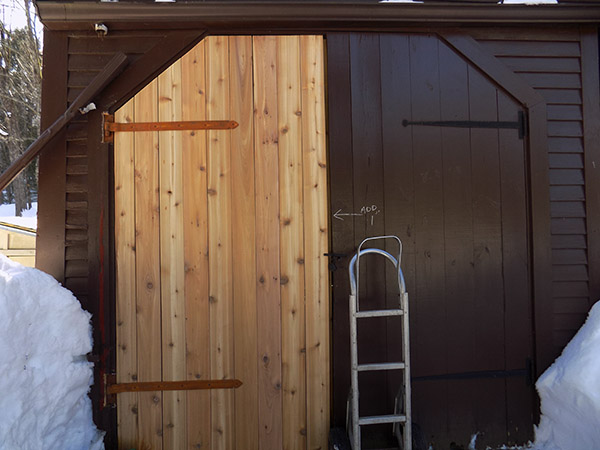 The 30 inch long hinges are rusty iron and hang on pintles..,
Yay! One side of the double doors completed. It was quite a big job...
The old ugly brown doors went out to the end of the driveway with a 'FREE' sign on them and were gone in 20 minutes!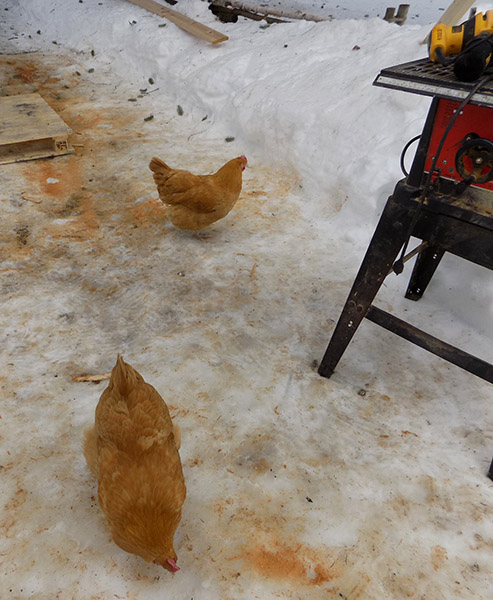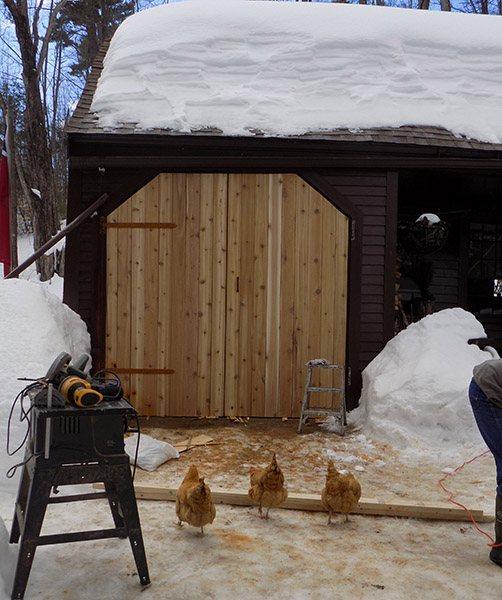 Helper hens~
Despite all the snow, it was a warm day, about 60, and you could smell a little bit of spring in the air.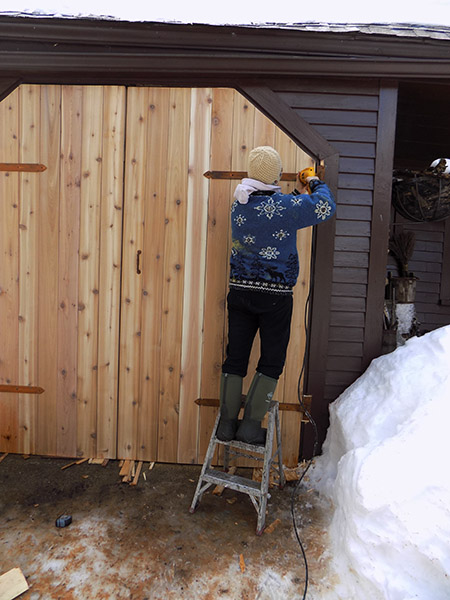 The natural cedar will weather in time just like all our other exterior doors.
Mary attaches the last hinge and pintels.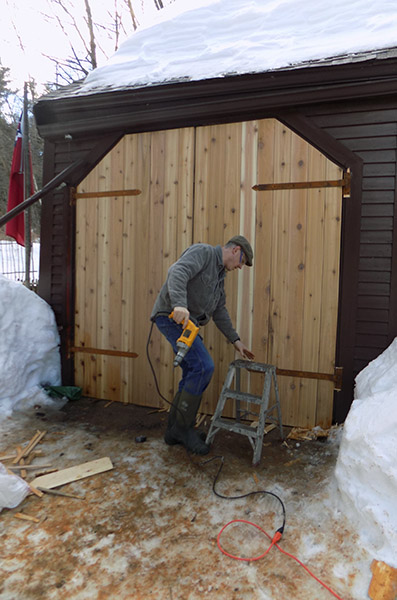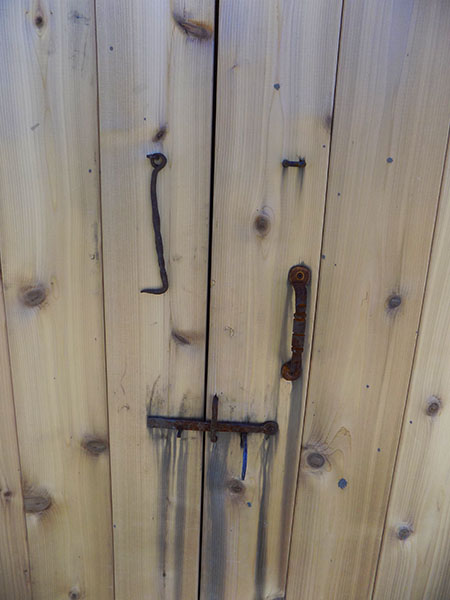 Finished putting the latches on.
BELOW, PHOTOS OF THE DOOR TAKEN INSIDE THE SHED...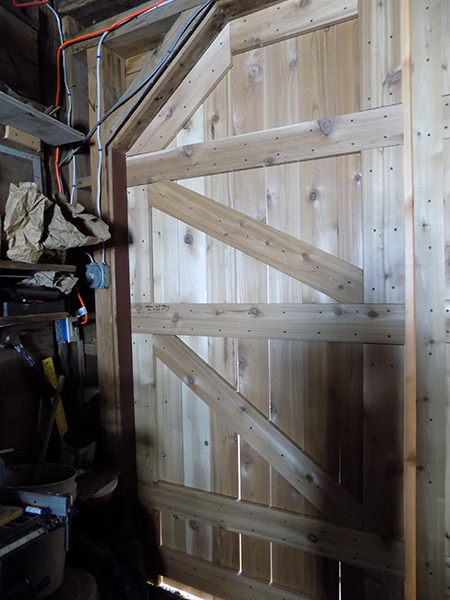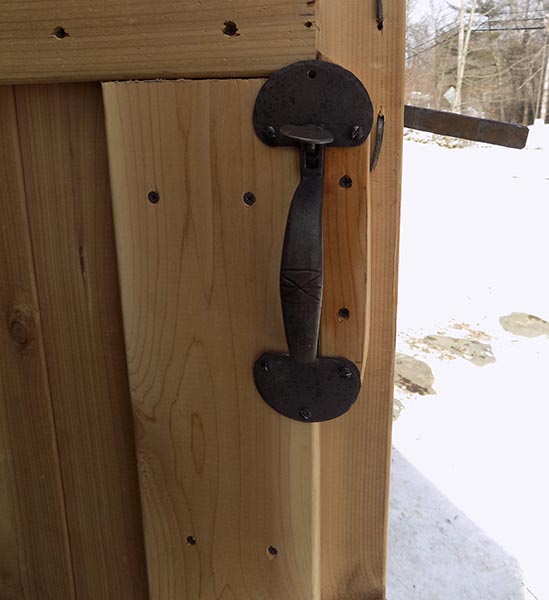 The doors from the inside...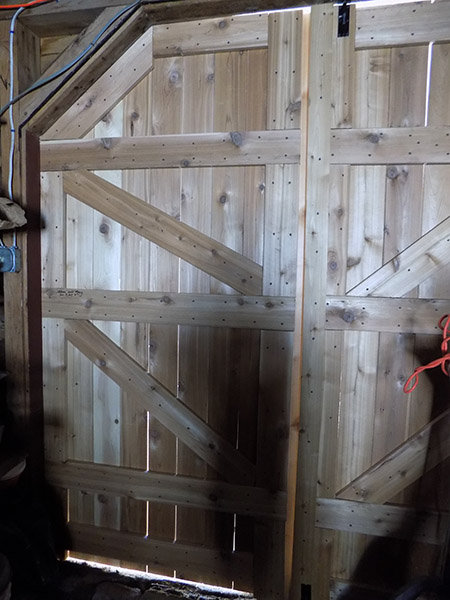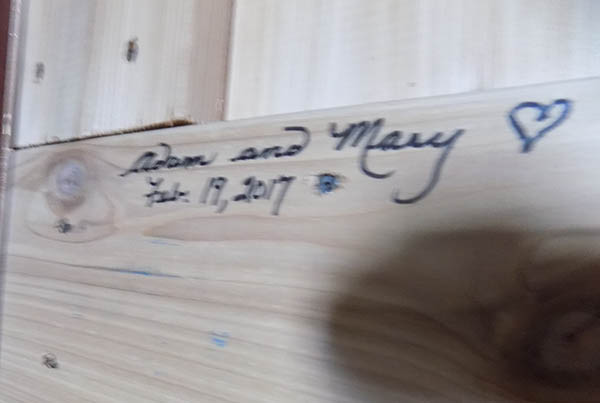 Of course we signed them on the inside~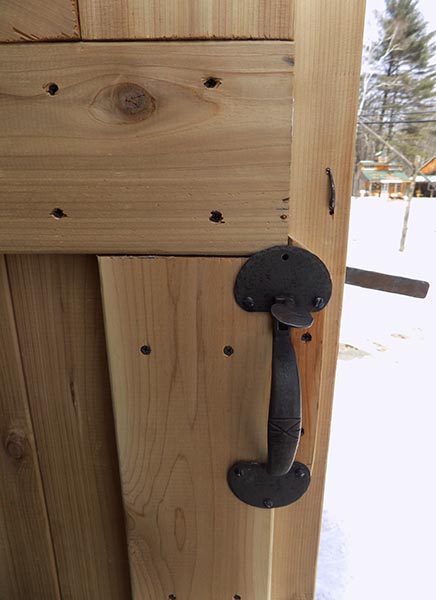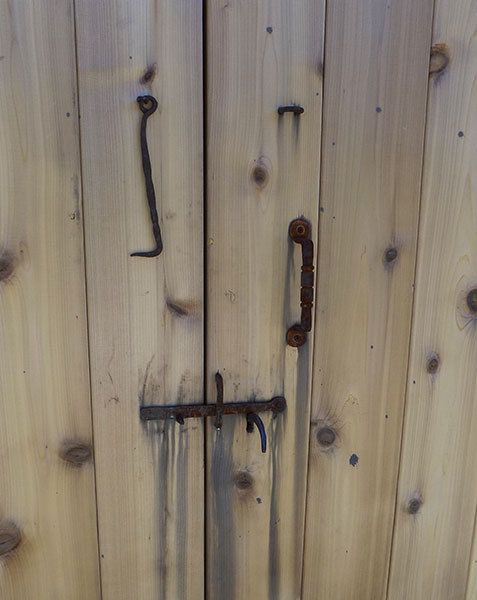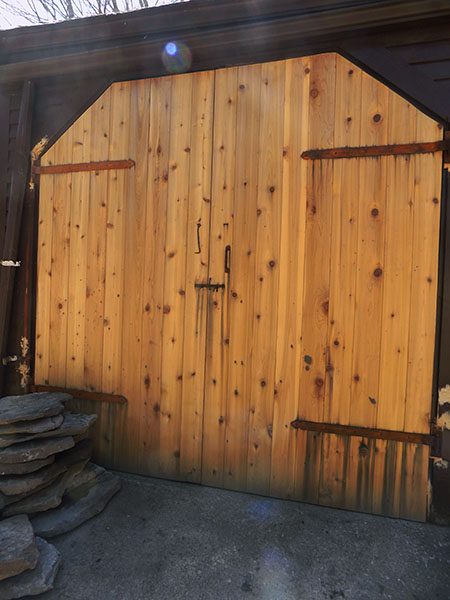 UPDATE~ Early spring, 2017
They're already 'weathering'! We'll have NEW photos on our TOUR page in summer.
*WE HAVE BIG NEWS ABOUT OUR HOUSE, BUT FOR NOW ARE ONLY SHARING IT WITH OUR NEWSLETTER SUBSCRIBERS~
__________________
BUILDING A NEW SCREEN DOOR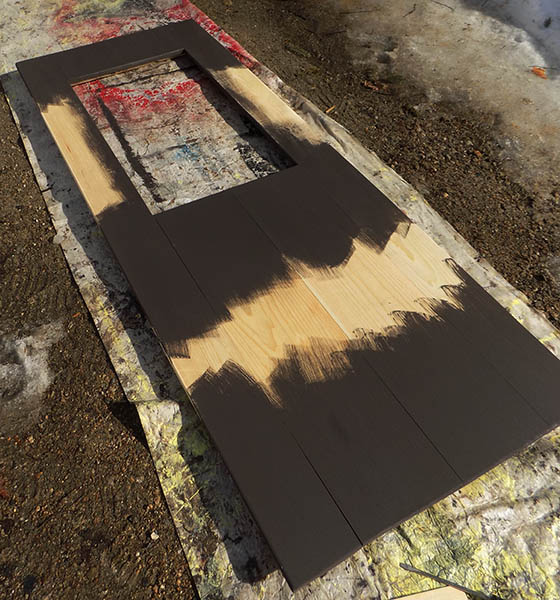 We designed and built the new screen door for the porch entry in a couple hours. Here Mary puts some of the NEW color house paint on edges and where the strap hinges will go...
We've now hung the door on three 18 inch long strap hinges and pintels. The door is removable. When fall comes we can take it down and put the diamond scribed, nail studded storm door we built back up on the same pintels.
I made four battens for the inside of this door...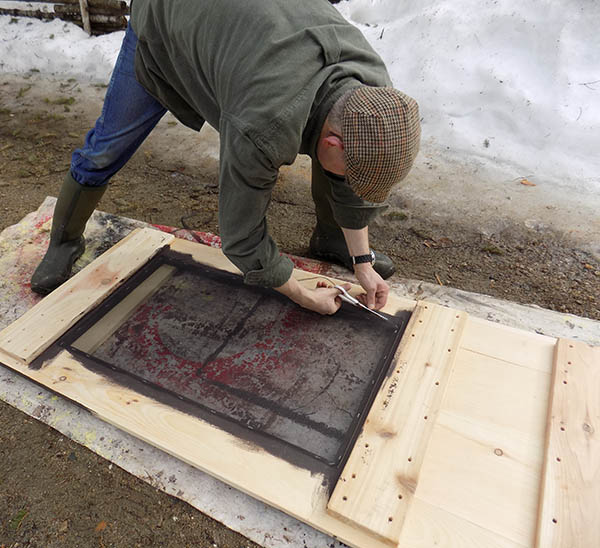 Here, Adam is putting 'invisible' screen in the door.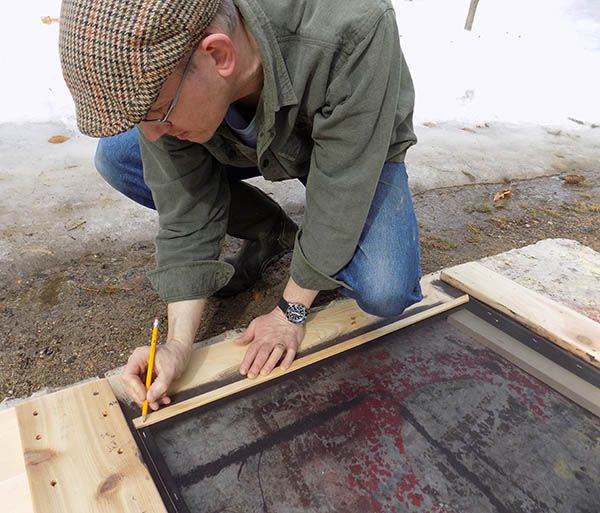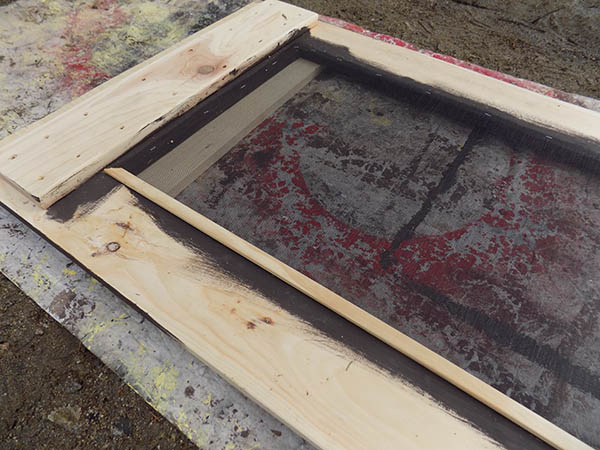 THE FINISHED "PERIOD STYLE SCREEN DOOR"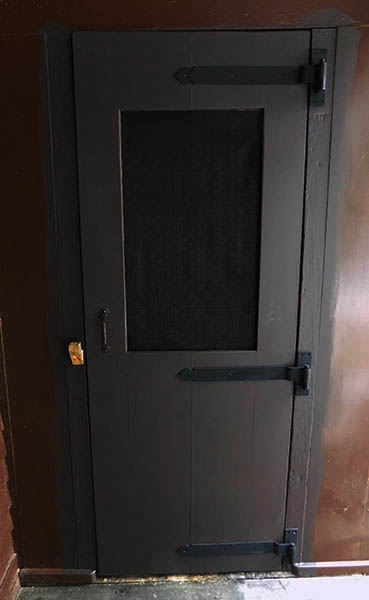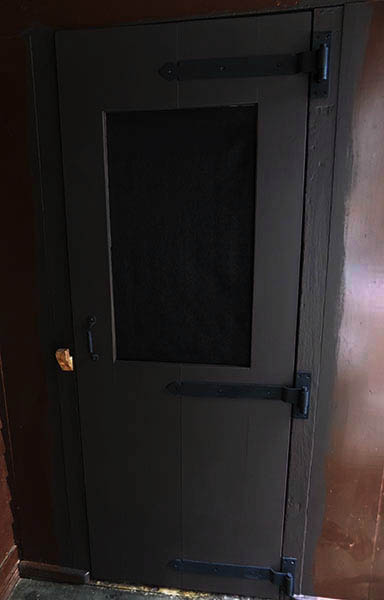 ~We love the new very dark brown, flat paint we chose for the exterior trim.
First coat of the new paint~ It's actually a beautiful dark, flat finish brown/black (not gray).
The door lifts off it's pintels for changing out; This is the summer door, and in winter the heavy, nail studded door we made sets on the same pintels.
_________________________
WE MADE A WINTER 'BOREDOM BUSTER' FOR OUR HENS...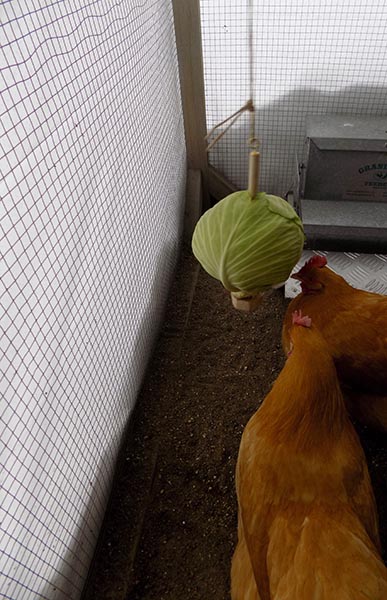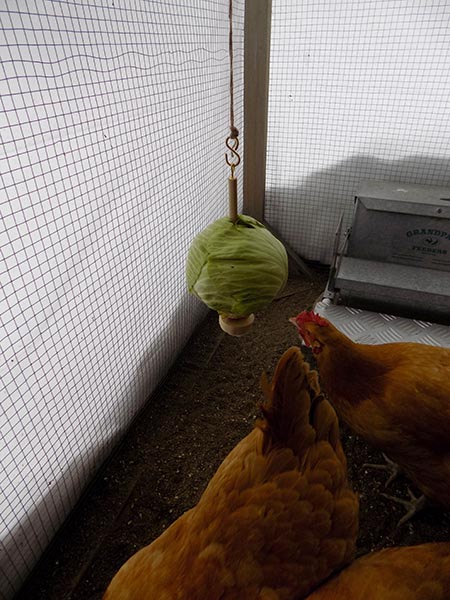 We made a gadget to hold a head of cabbage and suspended it in the chicken run. Chickens love cabbage and it's good for them...
They peck at it, and it swings. They act like they are playing a game of tether ball...
Hmmm....what the hay is this?...
We can easily change out the heads of cabbage as they finish one off.
__________________
THE WINDOW PROJECT~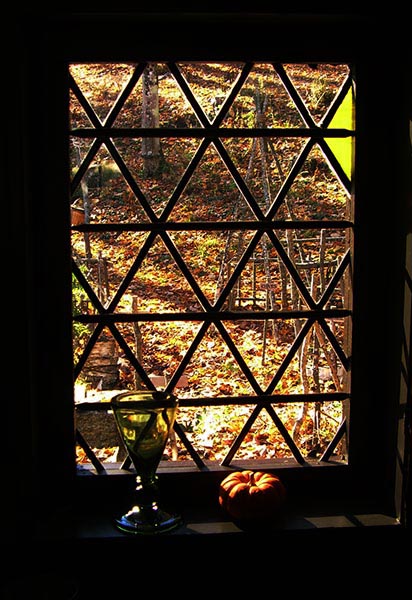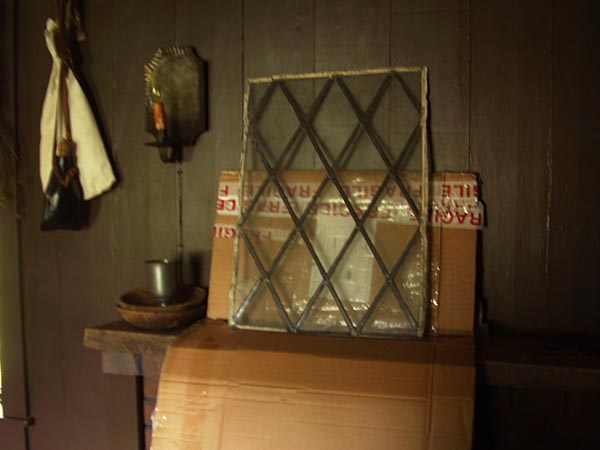 We found this old diamond-paned leaded window for under $20.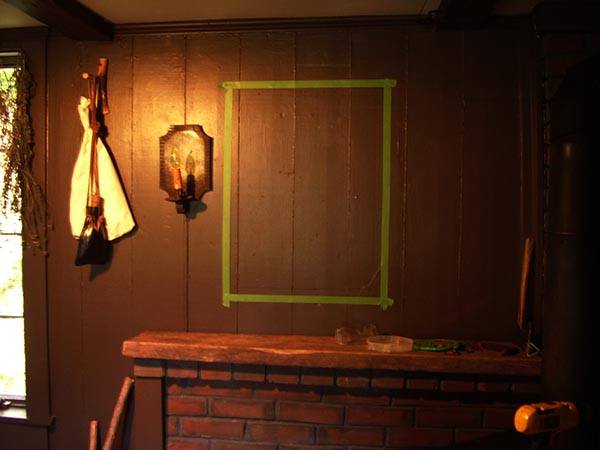 ...We decided to install it in the back wall of the taproom to look out at the backyard herb garden...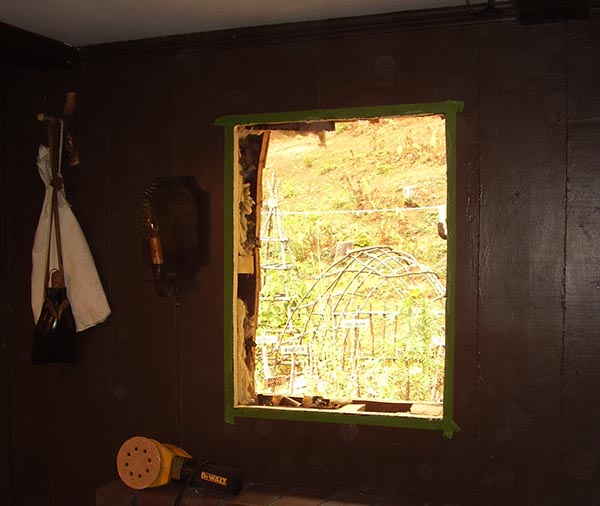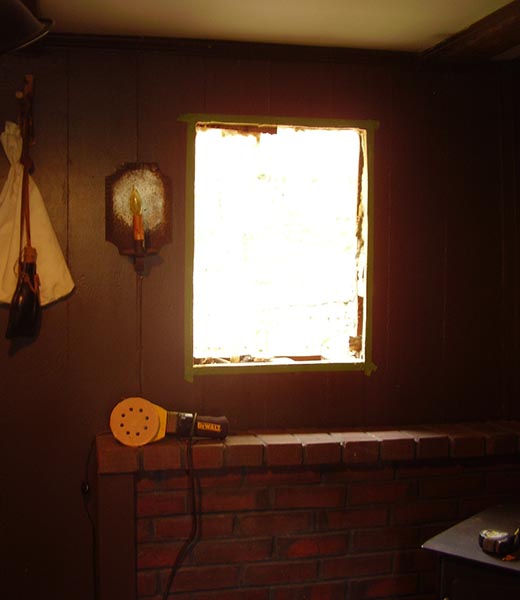 Cutting the hole...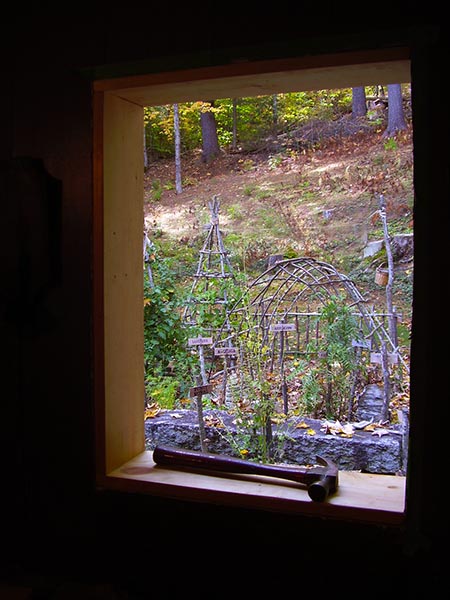 Framing it in...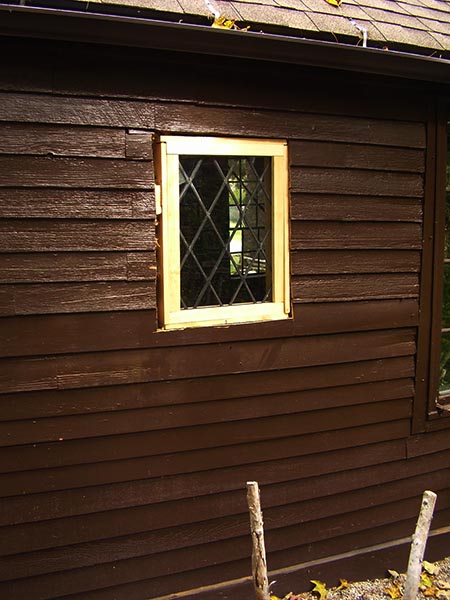 ...In the process of trimming the window in place with 1 3/4 inch flat trim we made, inside and out.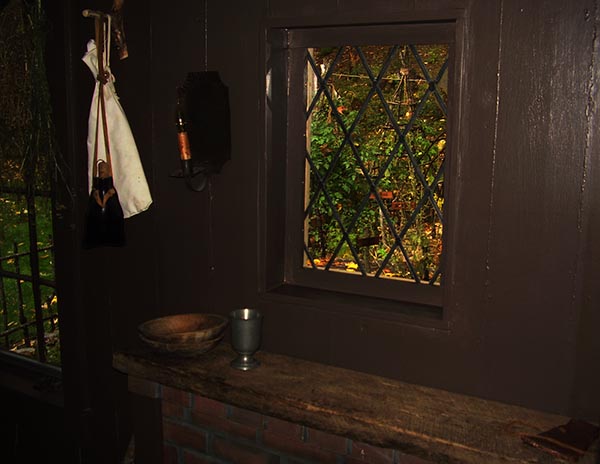 I have finished the trim and spackled. Here I have put the first coat of paint on the interior...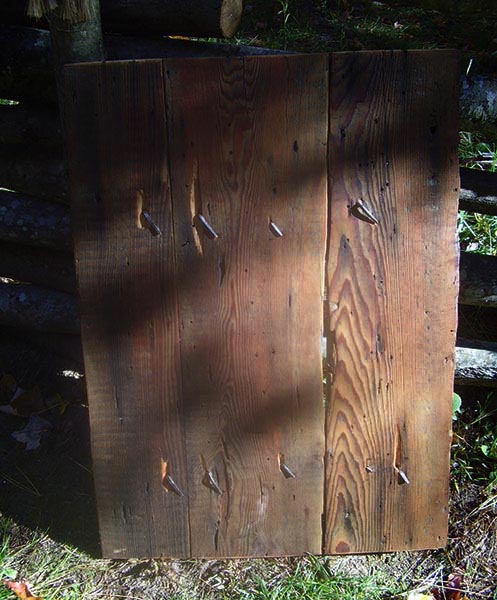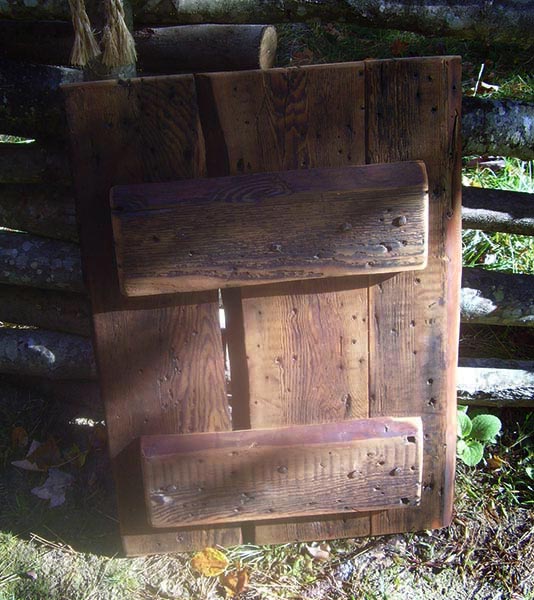 Isn't this nice?! This is the INTERIOR shutter I built for the 'new' window. I used all pieces of 18thc. boards with original color/surface/dry patina---I wish you could see the actual color/surface in person. I used rusted rosehead nails to secure the battens and clenched them on the other side...
This is the side you see when the shutter is closed over the window. The shutter is usually open, against the taproom wall, and you then see the batten side.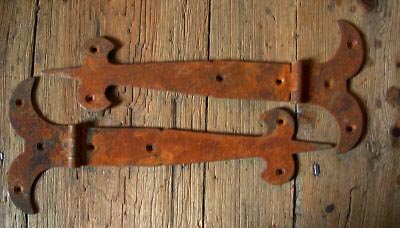 Hinges for the interior board and batten shutter.
4 Hand-whittled sticks as window supports that Adam made complete the window...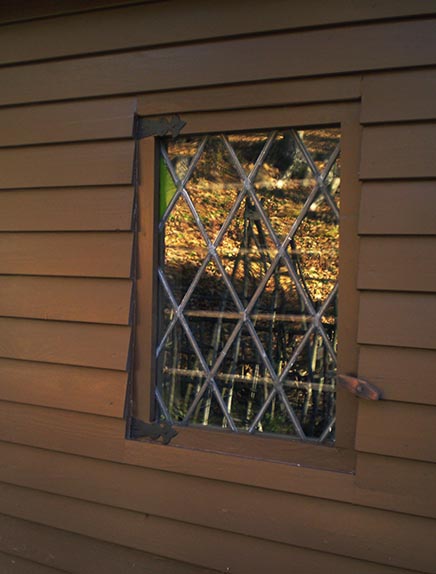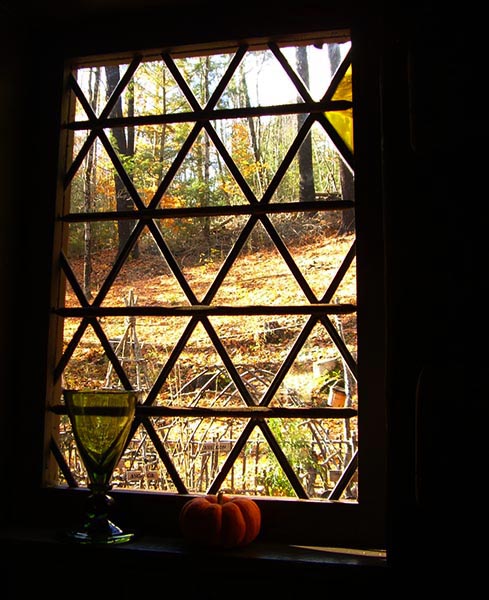 Finished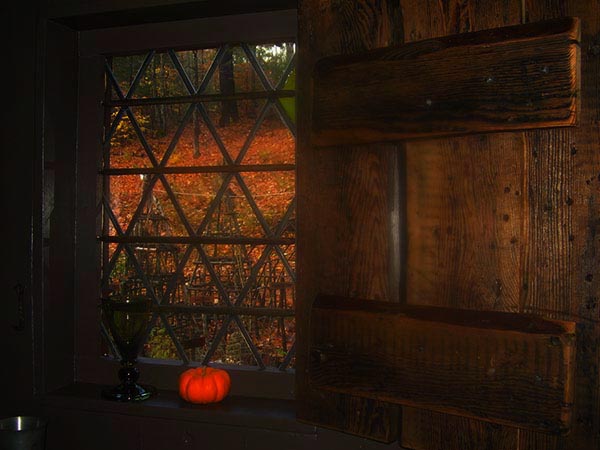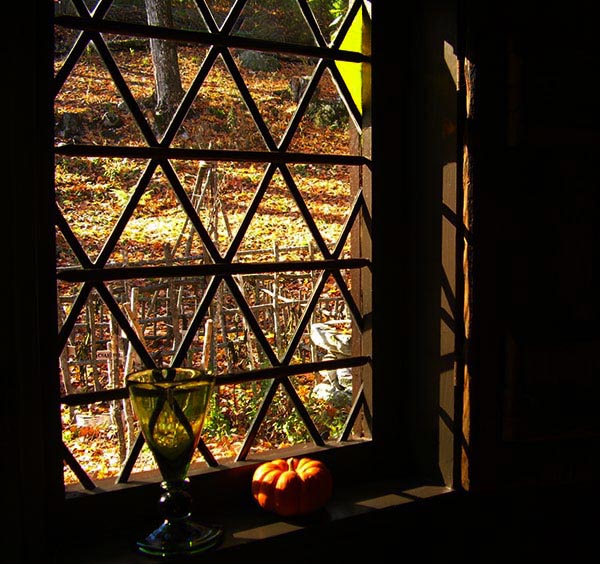 SEE OUR TOUR PAGE FOR UPDATED PHOTOS~
_________________________
SPRING, 2017
We've added 2 new chicks to our flock!
Welcome, Clementine and Olivia~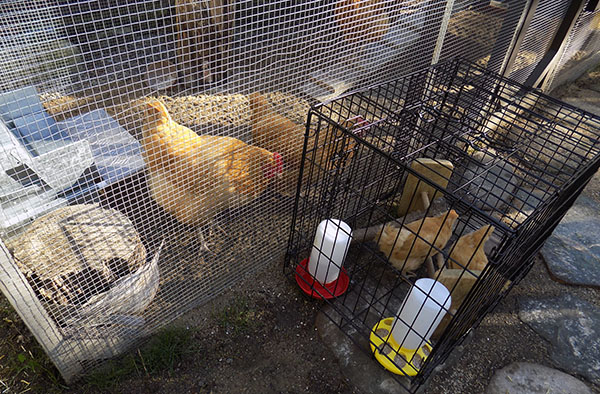 We have chickens~6 English Buff Orpingtons, Prissy (Priscilla), Bella, Maisie, Hannah, Olivia, and Clementine...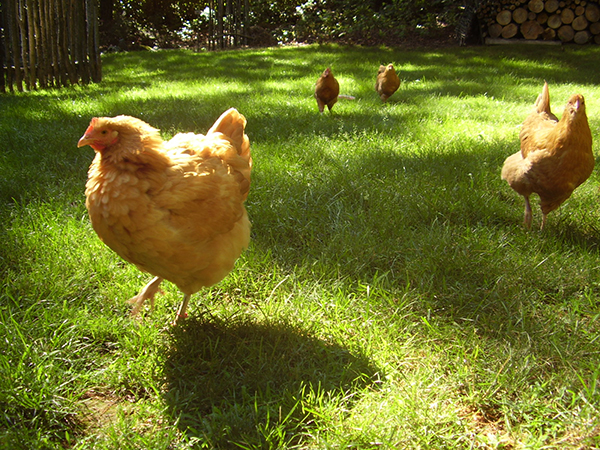 WE HAVE 6 BEAUTIFUL ENGLISH BUFF ORPINGTON HENS,
Prissy (Priscilla), Bella, Hannah, Maisie, and the 2 new chicks Clementine and Olivia~
We tricked out our coop with leaded windows we did ourselves, and hardware to go with our period house. We built the stockade type fence and Adam thought it 'looked like a fort at Jamestown or Plimoth Plantation', so we went with the idea!
We made a tree flagpole and hung our late 17thc. Brit flag. We had a scrap of well-weathered 18thc. board and Adam painted
FORT ORPINGTON on it in 17thc. script.
We also made a chicken swing and a cool swing-out perch from branches that Adam designed. We designed and added other coop perks as well using free materials.
~We love our coop, and it won a coop contest!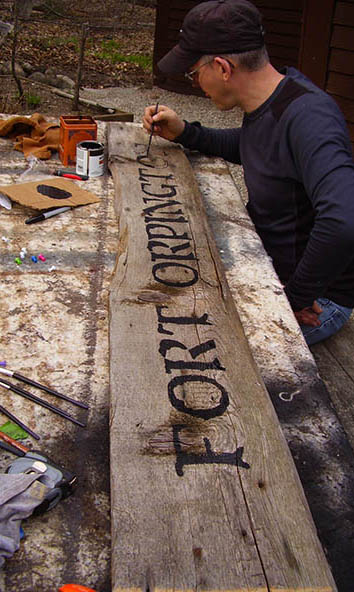 Because the branch fence we built around our coop reminded Adam of a "17thc. fort at Jamestown", he played that up, making the flagpole for our late 17thc. Brit flag, and painting 'Fort Orpington' (for the breed of hens we have) on an 18thc. salvaged, weathered board.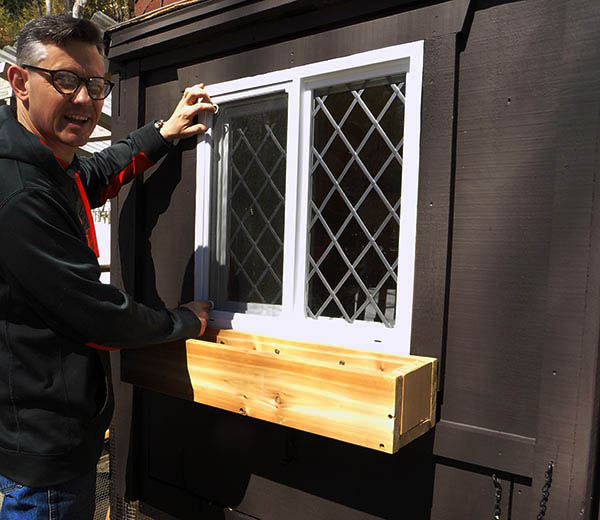 We'll be putting a 'fragrance garden' in the coop window box in spring. We'll feature it in a future newsletter.
(Love Adam's new 'hipster specs'!)
NEW UPDATED PHOTOS OF THE COOP AND COOP AREA ARE COMING TO THE TOUR PAGE SOON~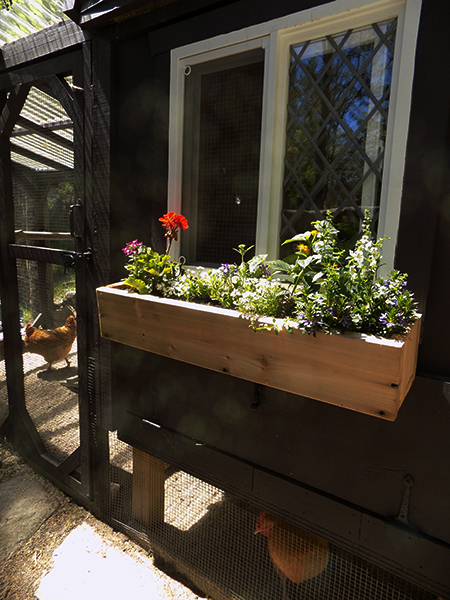 COME ON IN AND TOUR THE COOP...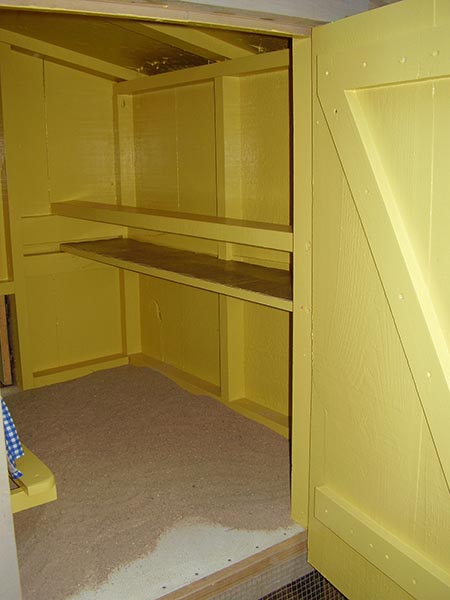 We painted the inside a sunny, scrubable yellow...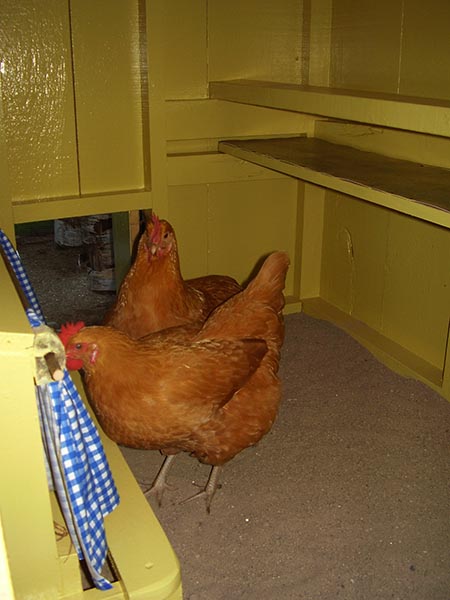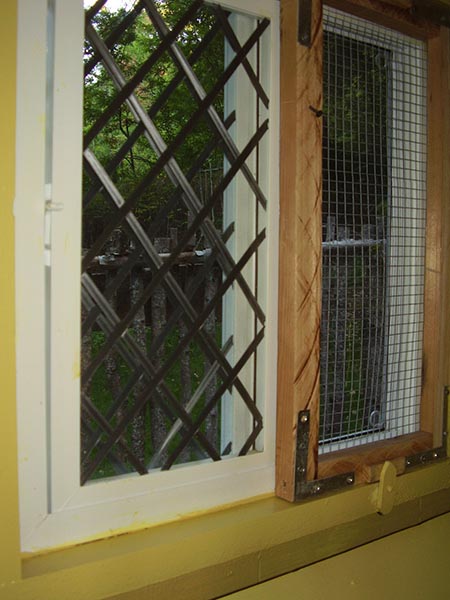 We leaded the sliding windows ourselves, and Adam made the special removable 'predator proof' screen to reinforce the normal window screen. He designed it himself and used all materials we already had...
The coop floor is washable sheet vinyl, and we put down a layer of our special mixture of builder's sand, sieved wood ash from our fireplaces, and DE powder. This keeps the hens healthy and is easy for me to clean every day. It doesn't need to be changed.
We have 2 nesting boxes. I made the cute blue gingham nest box curtains...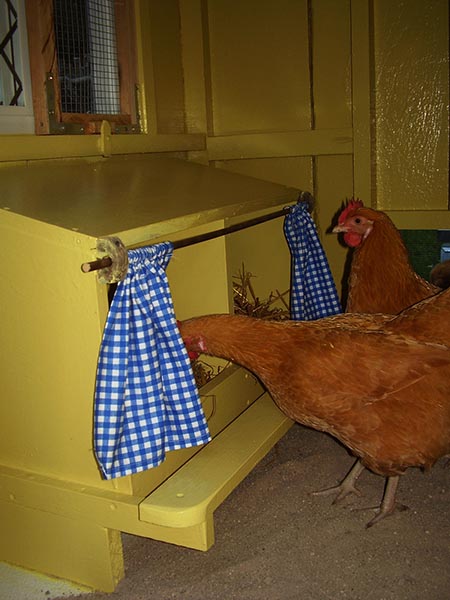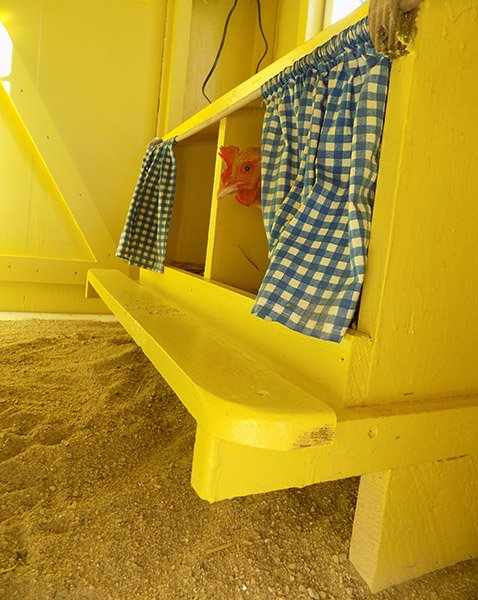 Our girls love their little home...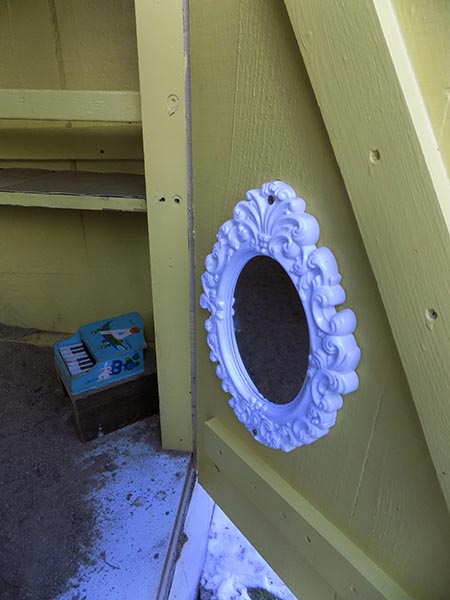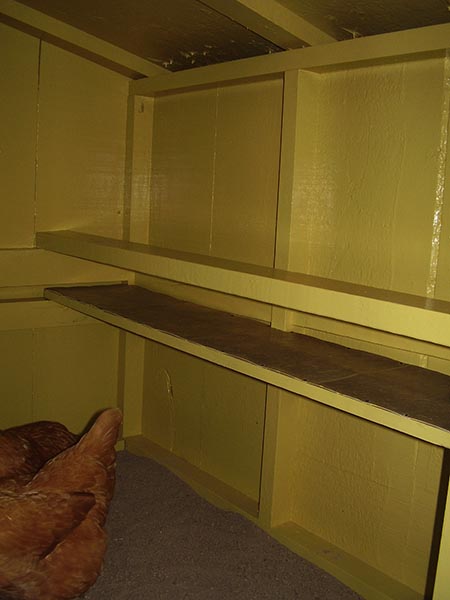 A cute plastic mirror is a great 'boredom-buster' for the hens. They like to look at themselves.
The chickens go into the coop from the attached run every night by themselves. We lock up the coop securely every evening. They sleep on the roost shown here.
Adam made the removable 'poop tray' which is such a time saver. Every morning I just slide it out, dump the poop into the coop bucket to go to the compost pile. Adam covered the board with a remnant of 'stone look' sheet vinyl flooring that we got for free, so it's easy for me to wipe off every morning..
~SEE FURTHER DOWN THIS PAGE FOR OUR OWN CHICKEN- KEEPING HINTS AND TRICKS~
For the fall/winter we'll have a hanging mirror in the coop and some other distractions to keep the chickens entertained in bad weather...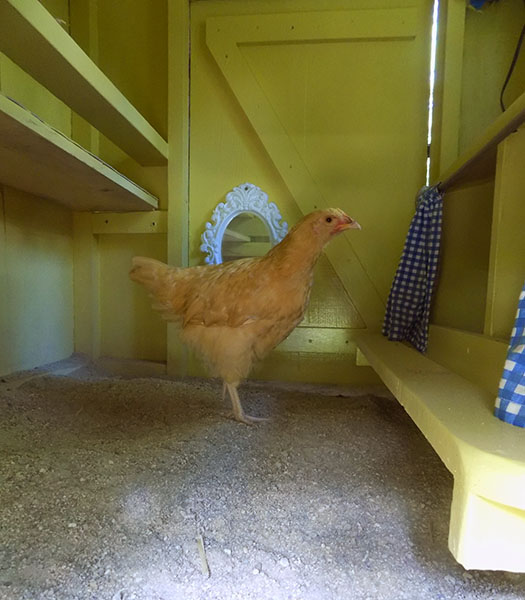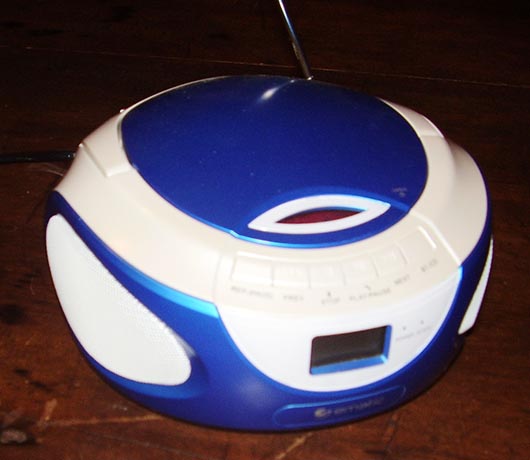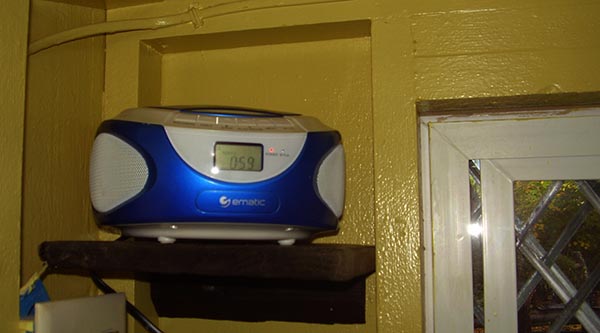 ...One thing is a cute little cd player/radio that we had. Chickens love music! Adam built a shelf up high in a corner of the coop and we have this plugged in there for them. Chickens love classical music...And even 'Big Bad Voodoo Daddy'!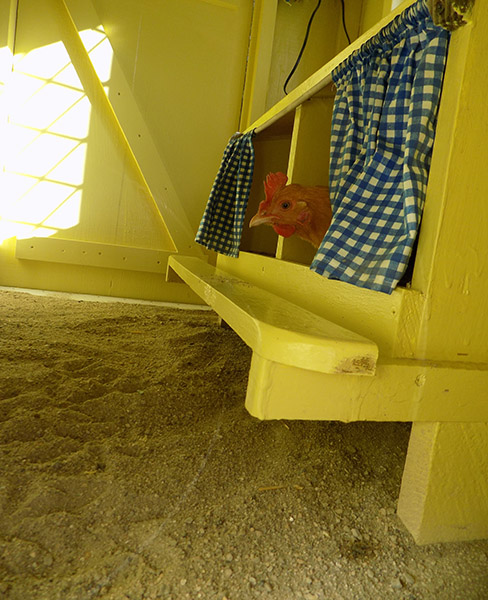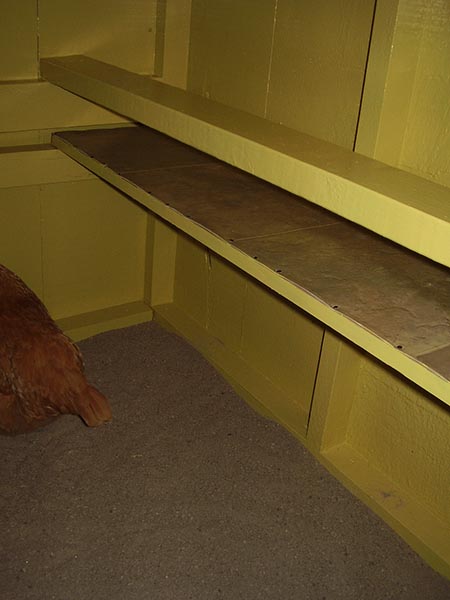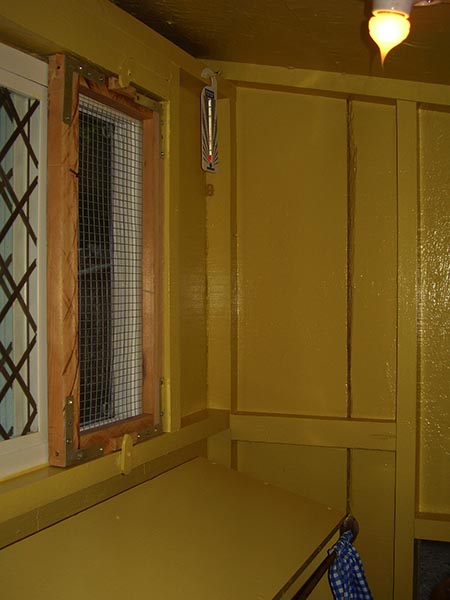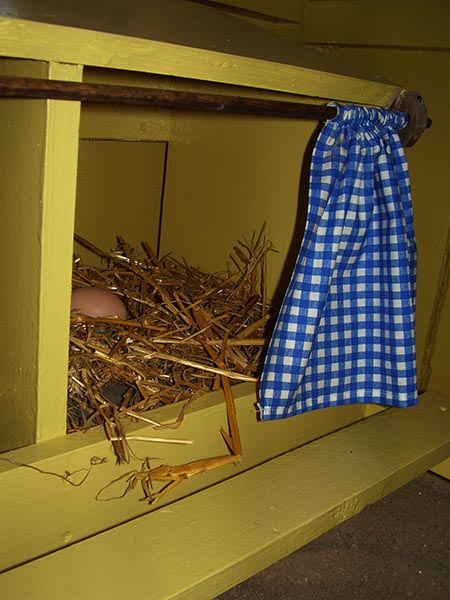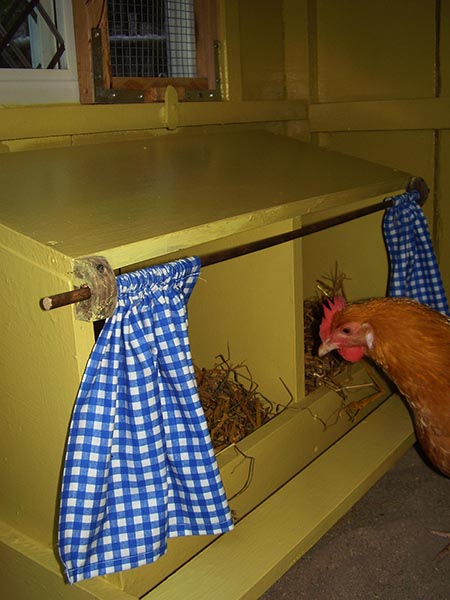 These photos were taken with a flash and the yellow is actually not quite this bright.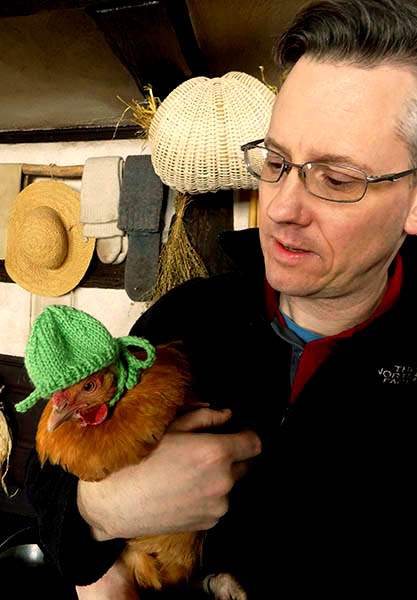 ADVENTURES IN CHICKEN KEEPING ON OUR OLD HOMESTEAD~
We thought we'd share a little bit about our chicken keeping here on OUR OLD HOMESTEAD, including my chicken care routine, a few tips, etc.
We saved and bought our basic coop and run from Jason at COOPS FOR A CAUSE in our local area of New Hampshire because each one is lovingly home made right here in NH, and a portion of every sale goes to charity.

We installed our coop ourselves and made our own improvements and personality tweaks.

The run attached to our coop has a roof, and the sides are 1/2 inch hardware cloth. Adam dug down and made a trench and buried the hardware cloth a foot into the ground around the entire perimeter, as well as around the bottom of the coop itself and bent, to prevent digging predators from getting in.

The coop side egg gathering door is locked at night with a hook and eye lock inside the coop, and the little chicken door, big coop door, and door to the run are all latched/locked securely every single night. The hens are in the coop at night. Adam even reinforced the window screen in the coop with another one he made for inside using heavy hardware cloth in a nice removable wood frame he constructed.

The roof is sloped on both coop and run; it could never be a flat roof in NH, as the snow would collapse it.

We'd heard and seen too many horror stories and we are really attached to our 4 buff orpington hens. We'd be devastated if something got them, so their security is very important.
I have an old 5 gal. bucket and I painted 'COOP CLEAN-UP' on it's side. It's in the woodshed, and inside it has a metal kitty litter scoop, a child's fan rake that we wrapped with hardware cloth, heavy work rubber gloves, as well as a natural non-chemical poultry protector spray. I clean the coop and run every single AM at about 7, without fail. I just put on my wellies, grab a pail of warm water with cider vinegar in it, the COOP CLEAN-UP bucket and go. It takes 20 min. or so, but is important and worth it for many reasons. I love my time in the early morning with 'my girls'. They are so excited and glad to see me every day!

A really clean coop and run goes a long way to keeping your hens healthy and happy. Our coop NEVER has an odor.

On the ground in the run and on the coop floor I have a mix I make of builder's sand. a little DE, wood ash from the fireplaces and woodstove that I sieve and keep in a small bucket in the shed, and a little poultry mite powder added to the mix as well.

The sand is very easy to keep clean; I scoop out the poop each day with the kitty litter scoop. I rake underneath the coop---(the dust bath/shade area), and scoop that out. The girls are then let out into the run for water and breakfast, while I clean the coop itself.

Adam made me a sheet-vinyl covered removable 'poop tray' that sits underneath their nightime roosting bar. I use the kitty litter scoop to clean any poop out of the floor sand mixture. I remove the 'poop tray' and wash it off with the warm water and replace it.

We have 2 nesting boxes. The bottoms are removable for easy cleaning. We put down a square of that garage floor rubber padding tile for to cushion the hens and eggs. Over this I have straw and I often strew in herbs---fresh from the garden or those I have dried myself.

After cleaning, I spray the poultry protector in the coop every day. Every few weeks I change the straw in the nest boxes. Our hens do not poop in them, so they stay pretty clean. Every few months I add a little more DE, wood ash, poultry mite dust mixture to the sand in the coop and run.

I'm proud that our chicken coop and run are clean and nice looking, and our girls are so clean and healthy.
On the exterior of our coop we have made 'period style' improvements such as leaded windows and period style iron hardware to blend with OUR OLD HOMESTEAD. We have a punched tin lantern that we electrified hanging by the coop door, making an excellent nightlight.
Adam built an ingenious swing-out perch for the run, a chicken swing, and a shelf for a radio in the coop in the winter when the hens spend more time there. Inside, the coop is being painted a butter yellow, and I made blue gingham curtains for the nest boxes---chickens like the privacy when laying.
We have a suspended bucket waterer with nipples in our run, and have a heater unit that goes in it for the winter so it never freezes. It's automatic and goes on and off only as needed. The water is always clean and is safe from insects and rodents.
The best investment ever was our GRANDPA'S CHICKEN FEEDER. We add things to basic feed ourselves such as oatmeal, dried herbs, flaxseed and other items, to make a special concoction that is great for the hens and that they love. The feeder is also in the run, and they step on it to open it and feed. NOTHING can get into the food, ever. It's completely rodent, insect, pest, etc., free and impervious to any weather.
We have one of those hanging wire suet feeders for birds in our chicken run. We hang it from the wire mesh sides at the level the hens can reach it and stuff it full of treats like leftover fresh produce or stuff left in our fall garden---leaves, pumpkin blossoms, older cukes, beans, squash, apples, etc. They love to peck at it and snack whenever they are in the run.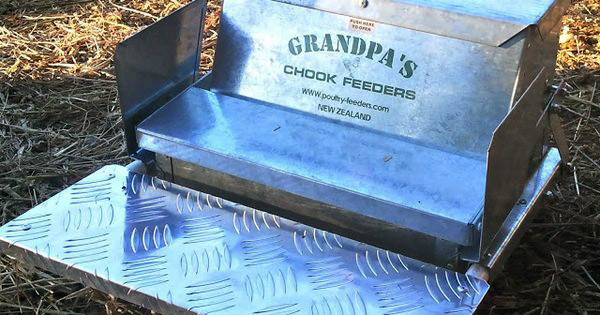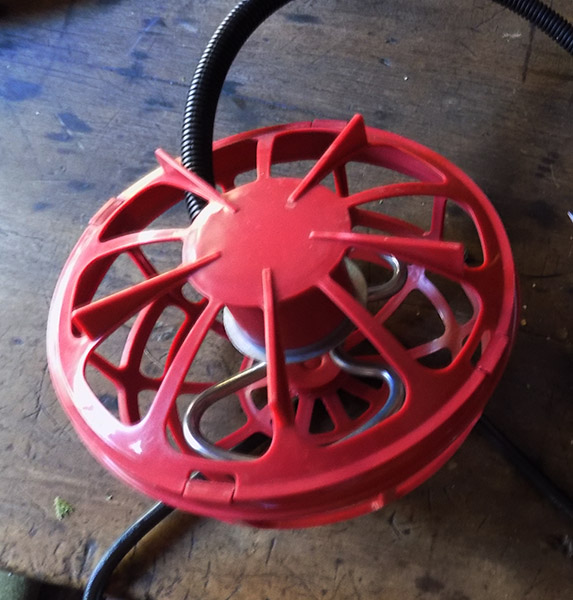 When it's cold, this automatic heater goes into the chicken's hanging waterer. It stays all winter and goes on and off as needed.
Our hens free range every day for several hours. We feel is is cruel and not natural to keep them penned all the time. They are happy foraging and they love to interact with us, coming to the kitchen door and begging for treats---grapes, cracked corn, or leftover produce of all kinds.
Our funny girls follow us all over the yard when we're out with them.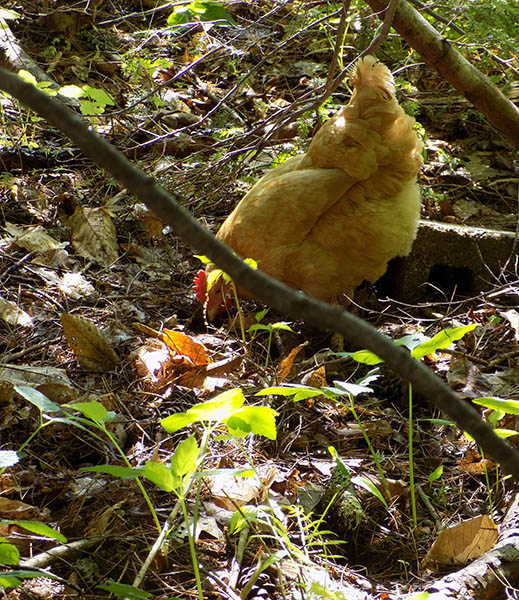 ~I ALWAYS MAKE HOMEMADE MAYO WITH OUR FRESH EGGS---SO MUCH BETTER THAN ANY STORE BOUGHT!
I'LL SHARE THE RECIPE SOON WITH RECIPIENTS OF OUR 'OLD HOMESTEAD NEWSLETTER'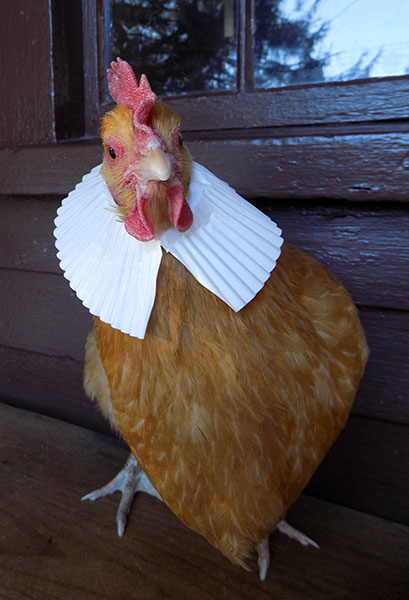 Pilgrim hens!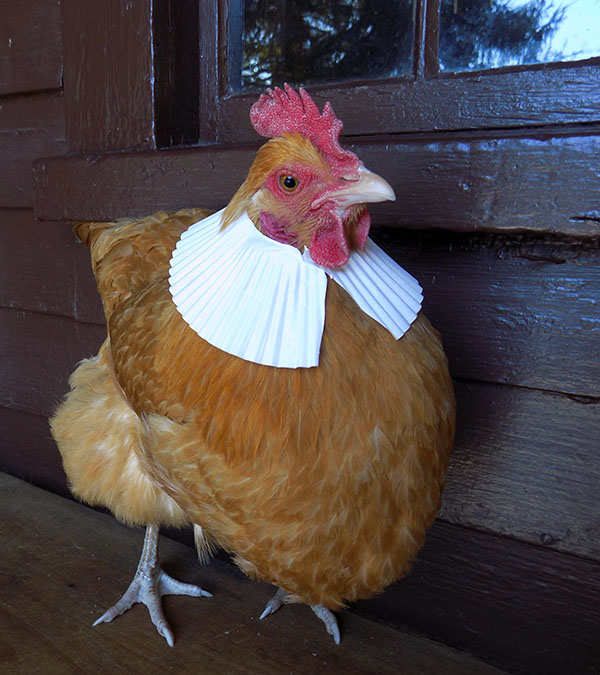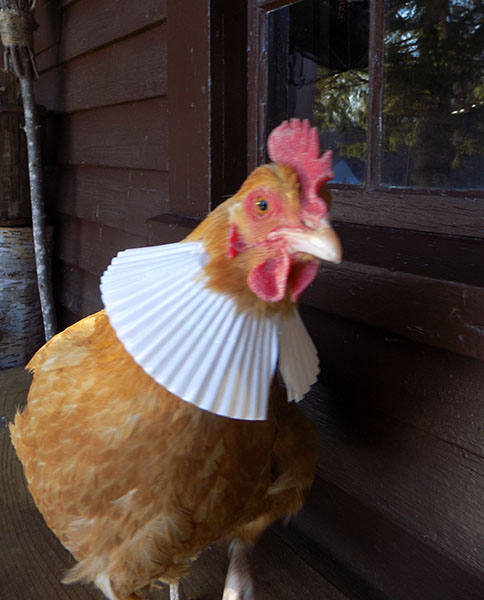 I made a quick collar with a cupcake paper and took these funny pictures~

______________________________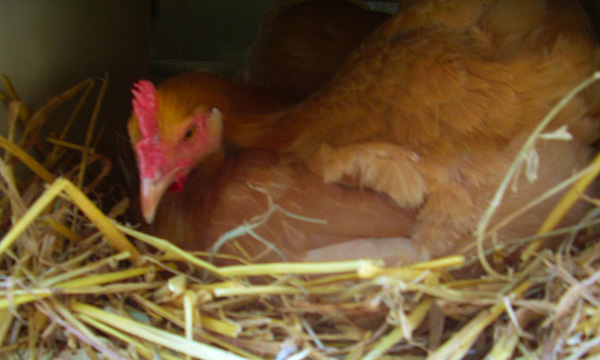 OUR FREE NEWSLETTER~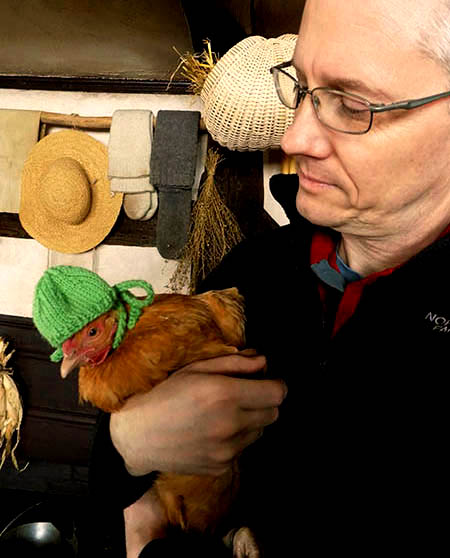 Adam and Mary's
A Country Life~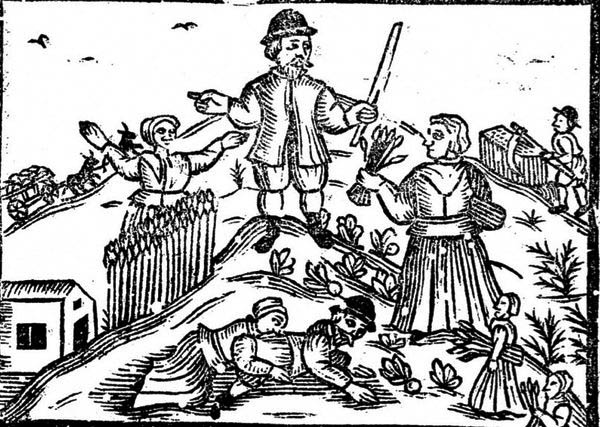 Share our 'old time life' in an early house and our own 'coop dreams'~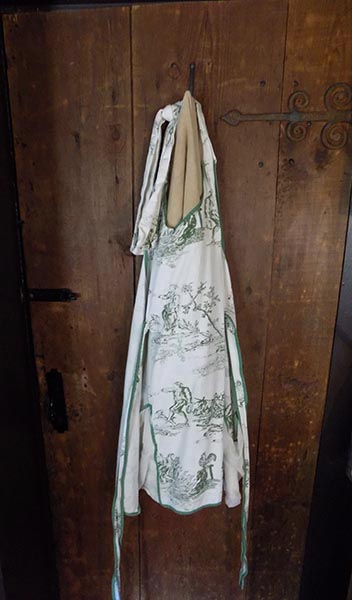 LIVING A COUNTRY LIFE ON OUR OLD HOMESTEAD MEANS...
raising a few chickens, collecting eggs, wearing an apron, cooking from scratch, growing heirloom herbs and vegetables, drying our herbs on the handhewn beams of our home, building our own fences and garden arbors, 'making do' and using what the land and salvaging provides, feeding all the wild birds, hanging laundry on the line out back that Adam made for me, stacking firewood, cooking in the fireplace, and so much more...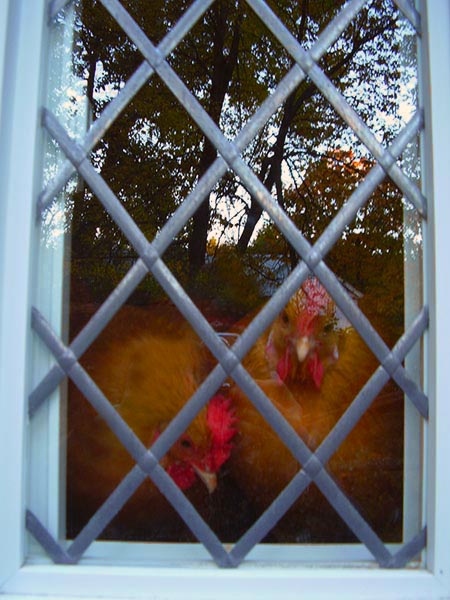 NEWS FROM 'OUR OLD HOMESTEAD'~
NEWS, PHOTOS, RECIPES, AND MORE, THAT IS NOT FEATURED ON OUR WEBSITE.
*IF YOU WANT TO RECEIVE OUR NEWSLETTER you must email us, include your name and address, and request it.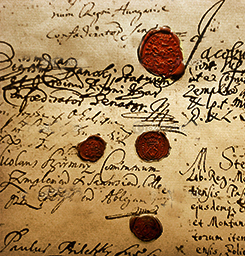 A LOVELY NOTE WE RECEIVED~
"I do feel like a lucky subscriber! Happy to get another newsletter! Felt like I was on a walk with you two picking berries. I was a fan of your blog and really loved your stories about coming to New England, working on your house ,how you met Adam ,your beautiful wedding...all of it. Unfortunately, I was visiting your blog on my work computer and was not able to comment. I did not have a home computer at that time. I have retired ,since that time ,and of course have a computer...no face book or blog ....
I just felt compelled to tell you how much I enjoy everything on your site. I must tell you I tried the green bean tomato salad . Our beans and tomatoes are in abundance right now in my Minnesota garden. It was wonderful .....a big hit at my family cookout!!!
Have a good rest of the week
Kathleen P."
_________________________
THE UPSTAIRS GUEST ROOM PERIOD WOOD SHUTTER PROJECT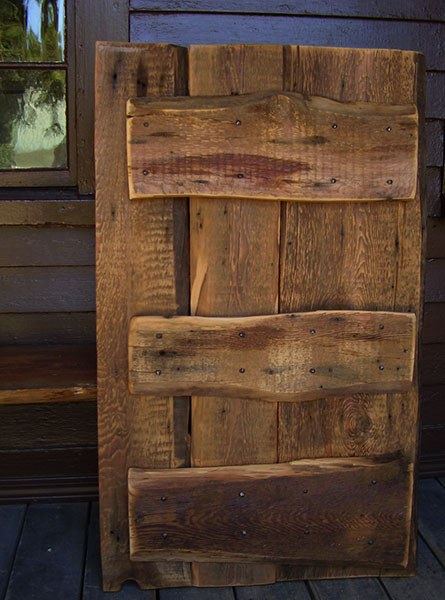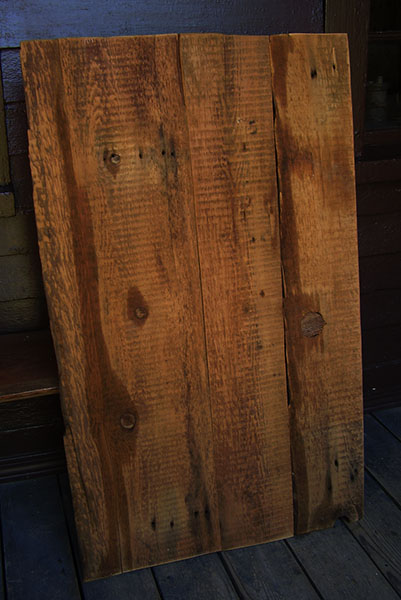 I designed and built a hand made INTERIOR SHUTTER for the room's diamond paned casement window using scraps of live-edge 18thc. boards we had and rosehead nails...
...I am pretty proud. I really had no idea of what to do, especially since I made it using leftover pieces of 18thc. salvaged boards with the LIVE EDGES. I just used common sense and my own design sensibilities. I am thrilled with how it turned out.
We hung the shutter on rusty iron hinges.
The shutter is opened back against the adjacent wall, and this is the side you see. (The side without the battens, but with just as much character, will be seen when the window shutter is closed.)
The color/finish/patina on these boards is all original.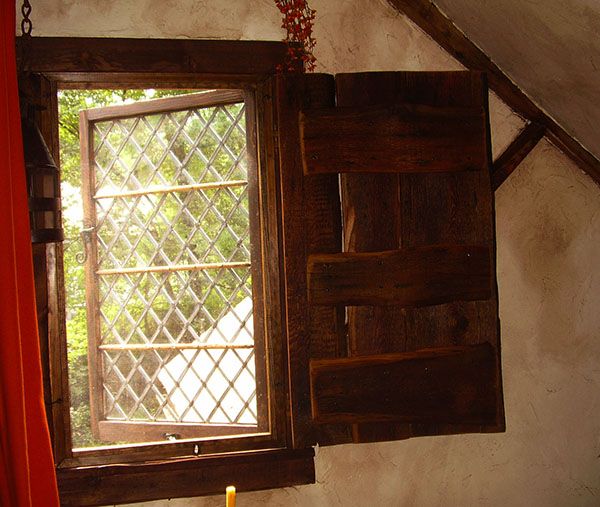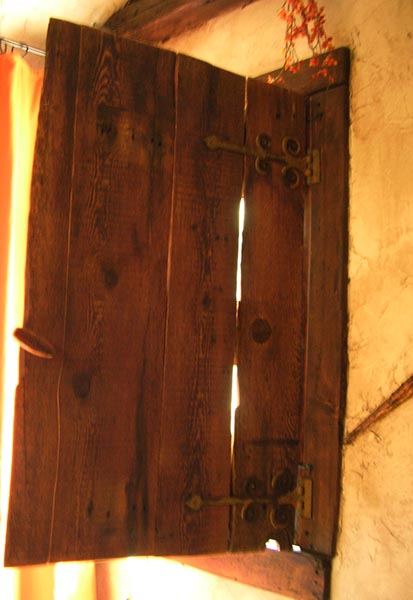 I did all the measuring, fitting, etc.---no easy task when neither the boards are straight or the window casing---It fits perfectly~
I think it looks amazing!
SEE OUR TOUR PAGE FOR MORE UPDATED PHOTOS~
_____________________________
UTILITY-HIDING 'SALTBOX' WE DESIGNED AND MADE FROM 18thc. BOARDS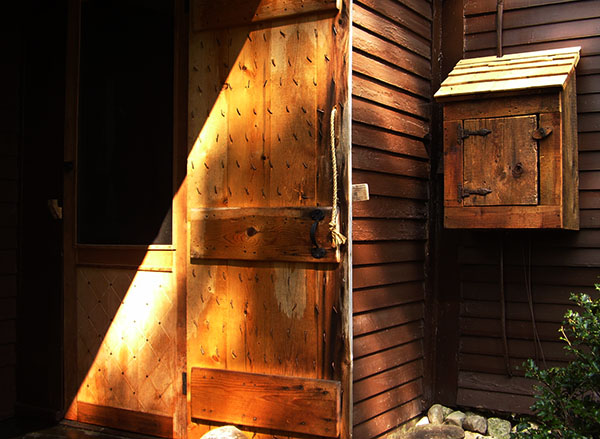 How do you hide the ugly utility meters on the side of your house?
We designed and made this neat little box with 18thc. boards salvaged for free. Mary did a lot of the design and carpentry work on it. It was a collaborative effort, as are all our projects.
We already had the hinges and latch in our stash, and leftover cedar roof shingles from the coop. Total cost: 0
______________________________
SEE UPDATED PHOTOS OF OUR HOME AND PROJECTS ON OUR
TOUR PAGE~
__________________________
Email us with your comments or to subscribe to our
OLD HOMESTEAD NEWSLETTER
A LOVELY LETTER WE RECEIVED, SUMMER 2016~
"For the past 19 years, I have felt that our home reflected my absolute joy in living in our brown half cape in Canterbury. I know it does. However, touring your site this morning makes me feel that I have been surpassed. Now I need to get going again with a project. Your site is so inspiring!!!! Seeing your projects and how they reflect your sincere joy of life makes me inspired to gather some energy and add to my little piece of heaven. Thank you again for sharing. ~Sue B."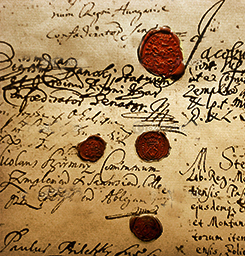 A REALLY NICE EMAIL WE RECEIVED FROM 'COUNTRY GENTLEMEN', BOB AND STEVEN~
"Love looking at your website Mary. You guys are incredibly hard workers. We must not have been online when your hourglass was first posted. Wish we would have seen it. Sorry it got sold. We have started collecting them and yours was a fine example. If you ever get another one, please let us know. Again, your house and yard looks beautiful. Thanks so much for sharing.

Bob and Steven, The Country Gentlemen"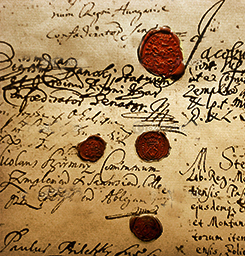 A NICE NOTE WE RECEIVED~
"Dear Mary, I was just checking your pages, how I enjoy seeing all of your wonderful antiques, your fabulous early home and grounds. I also want to tell you how much I love the Bannister arm chair and beam I purchased from you. The more primitive side of the beam is the part you see as it is used as the mantle on my stone fireplace. I have pewter and early lighting on it. And the arm chair, is just the best! It is one of the most special pieces that I have. It is next to my 18th c. server, for lack of a better word, that still retains the early red wash. Hanging on the BB is a small leather purpose bag with a powder horn attached by a slim leather strip. Just thought I would let you know how special the antiques are that I purchased from you...
Also want to tell you how wonderful your shipper was. She's so sweet, I wanted to "mother" her a bit. She had such a long way to go from here..." ~Nancy G.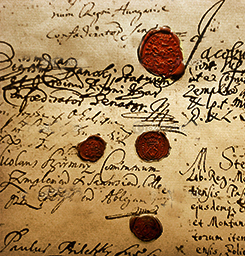 ANOTHER NICE EMAIL RECIEVED APRIL 2016~
Dear Mary,
It has been such a long time since I've written you. I go to your
website and am in awe of your many projects and all the changes yourhome and yard have gone through. It is truly a beautiful, warm home with such outstanding antiques. Sometimes I think you just couldn't find one more amazing project to do and you and Adam accomplish something spectacular. Your talents are so many.....thank you for
being so inspiring to so many.
We have changed our email address to_________. I just
wanted to get your emails and make sure I heard about all your
projects. I hope you both are well and I'm sure you are so excited about yourlittle chicks coming. Wishing you both all the best....

with love, Dale D.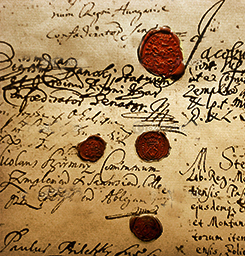 We love to hear from you. Email us anytime~
countryladyantiques@yahoo.com
To view our special photo galleries click on the RED LINK at the bottom of the HOME Page~
Take a tour of our home and gardens on the TOUR page.
Our move-in ready, period home is now FOR SALE~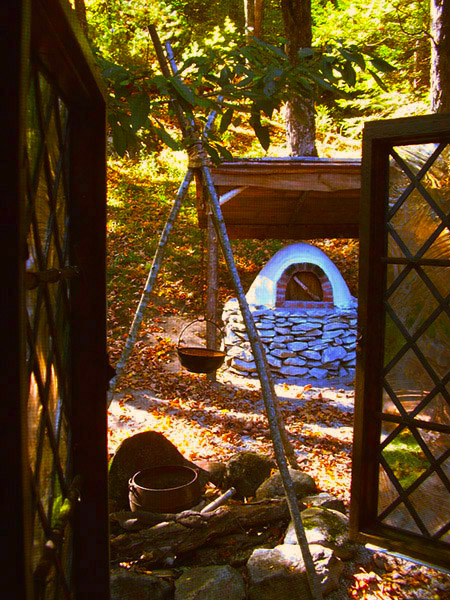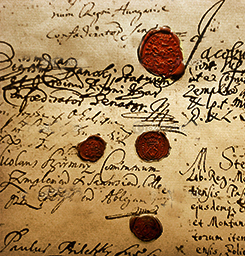 If you enjoy our website, let us hear from you. Your comments are always appreciated~
__________
OUR HOME IS FOR SALE~
FOR INFORMATION
email us any time at
countryladyantiques@yahoo.com